Restaurant Review: Kin Is The Latest Restaurant By Chef Icon Damian D'Silva at Straits Clan, Singapore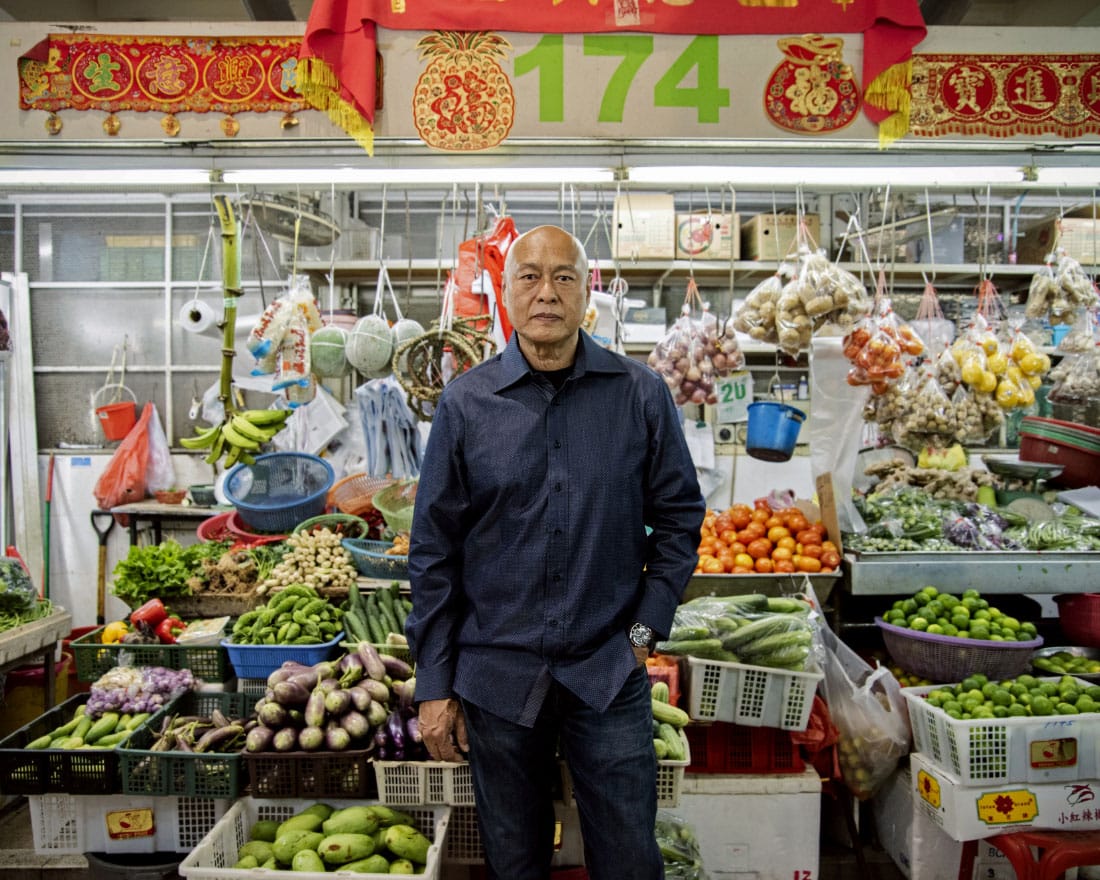 PUBLISHED December 9th, 2019 06:00 am | UPDATED February 9th, 2020 07:40 pm
The last time we met culinary icon Chef Damian D'Silva, he was still helming the kitchen at Folklore, one of Singapore's best Peranakan restaurants. Even back then, the tall, steely chef was no stranger to the local restaurant scene, having run Soul Kitchen in the early 2000s and Immigrants in Joo Chiat some five years ago.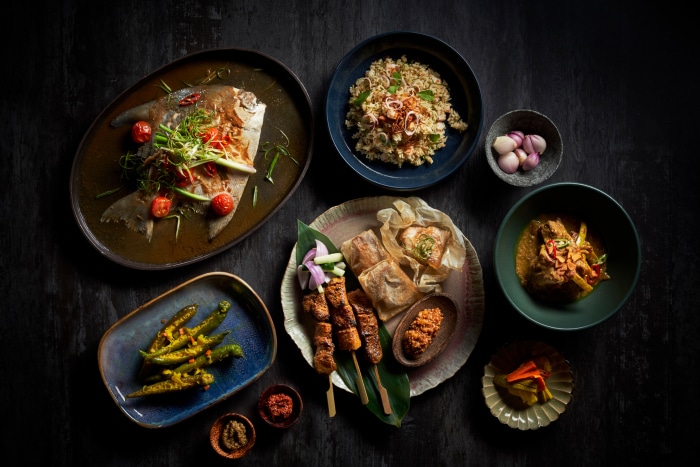 At 63 years of age, he shows no sign of laying down his knives — his latest project is Kin, a restaurant in the lobby of Straits Clan serving heritage cuisine that celebrate the the Singaporean identity. And as far as projects by The Lo & Behold Group go, this is one we can say is rather close to our hearts. Damian clearly loves feeding people, so in an ambitious setting like the Straits Clan, it's as suitable a match as gula melaka and sago.
"We're so fixated on searching for our shared identity that sometimes we lose sight of the differences that make us beautiful. I want to bring this sentiment out through my food, by resurrecting forgotten recipes and showcasing underappreciated local ingredients." – Chef Damian D'Silva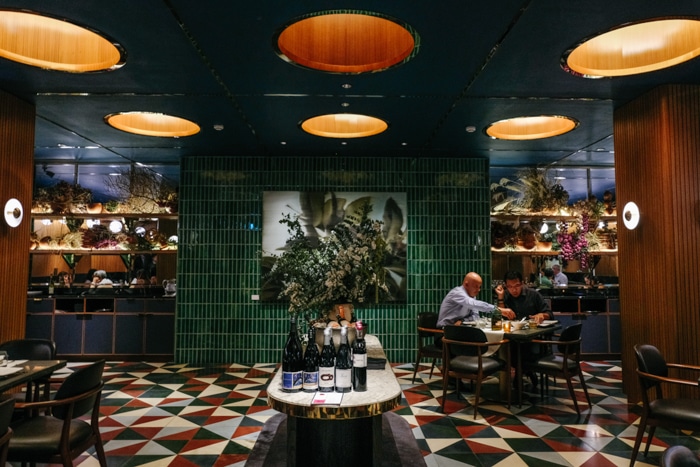 That said, foodies will recognise Damian's ability to adapt his recipes to the modern palate. He balances robust gravies and stews with cleaner options that showcase local produce at the same time – like the Daun Pegaga (S$15), an Asian pennywort salad with shallot oil, tomatoes, and winged bean, or Heritage Salsa (S$15) — seasonal herbs and fruit that he picks from the market each morning tossed in a citrus-spice dressing.
The chef's decades of experience and observation clearly come into play. From his longtime fishmonger he gets the ingredients for his Fishmonger's Haul (market price), a rotating whole fish dish that's either grilled in a banana leaf with sambal, or like on the night we visited, lightly steamed with tau cheo (fermented soybean paste) that he gets from a small-batch maker.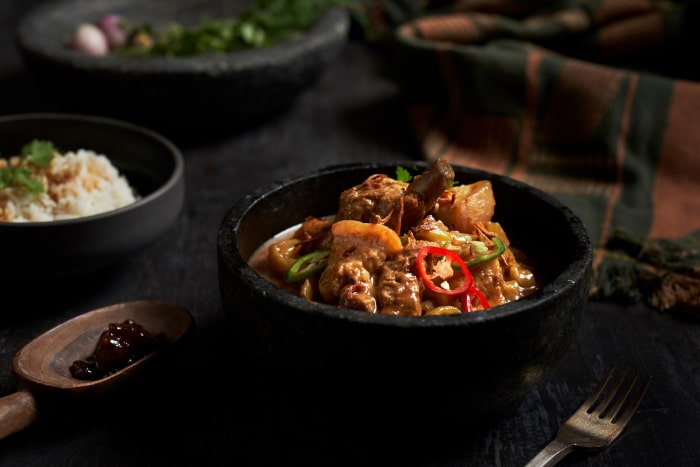 Then there are the dishes interpreted from old handwritten recipe books and Damian's personal memories. He does an indulgent Gulai (S$38), which originates from Indonesia, with beef that's been slow-cooked to a seductive tenderness and gravy that resembles rendang, but with Indian spices. It's as good as his take on Babi Masak Assam (S$38), featuring pork belly and ribs simmered down with salted vegetable and Chinese mustard. You'll want to spoon both on the restaurant's free-flow turmeric basmati rice (there's a charge of S$4 per head, but it's worth every cent).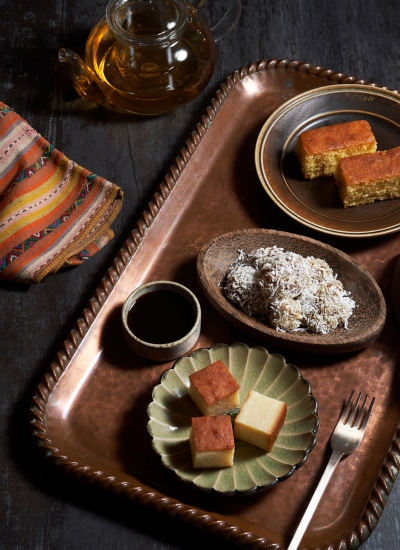 Other signatures at Kin include Chi Pow Kai (S$15 for four), a type of Cantonese paper-wrapped chicken in a marinade taught to him by his grandfather — who was also a chef — and Chap Chye Masak Rempah Titek (S$30), a variation of the Chinese vegetable stew classic that he makes with prawn stock, coconut milk, and a robust rempah. The latter is almost like bisque, and we slurped everything up.
Anyone would be stuffed after all that, but we remember Damian's fabulous kuehs. It is tempting to get them all: the wobbly Kueh Kosui (S$12) with palm sugar rolled in grated coconut, the baked tapioca Kueh Bengkah (S$12) with gula melaka syrup and vanilla ice cream, and the nutty Sugee Cake (S$15) made with semolina and chopped almonds.
Our advice? Be greedy and do it anyway.
Kin Restaurant is located at Straits Clan Lobby, 31 Bukit Pasoh Rd, Singapore 089845, p. +65 6320 9180. Open 12pm – 1.30pm, 6pm – 9.30pm. Closed Sun.