The Bar Awards Kuala Lumpur 2017 Ranked Results: The Best Bars for Cocktails, Craft Beer, and Food in Malaysia's Capital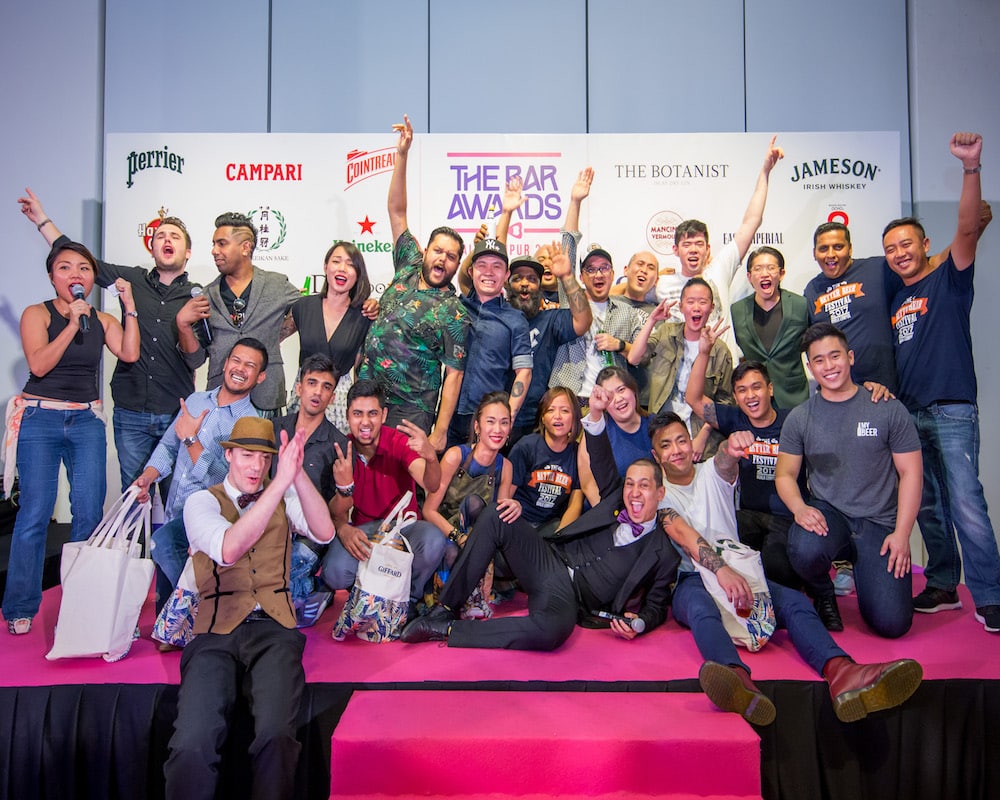 PUBLISHED November 1st, 2017 10:00 pm | UPDATED May 18th, 2020 04:24 pm
Held two Sundays ago at art event space White Box at Publika, the debut of The Bar Awards Kuala Lumpur culminated in a night of cheers, tears, and a good friend of the industry who took off his shirt when the well-loved and well-respected CK Kho (who owns Coley and Pahit) went on stage to collect the award (hint: it was more than once).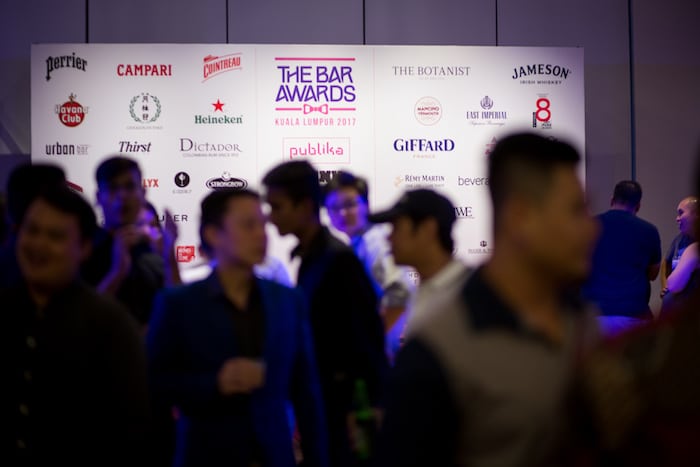 The four-day weekend officially kicked off with an opening party at restaurant bar Opium featuring guest bartenders and winners from the Bar Awards' other cities, including the Singaporean contingent that included Symphony Loo of Neon Pigeon (Singapore's Rising Star 2017) and Kelly D'Cruz and Malcolm Blake of The Secret Mermaid, and David Quek from Nutmeg & Clove. Friday night bar-hopping from one guest shift to another while Saturday saw the first event in four years of Bar Awards history paying tribute to barbacks.
The Barback challenge – an obstacle course of sorts where participants have to take inventory and make lime cordial, amongst other tasks – was won by Junglebird's Ahmed Al Imran "Bossman", which saw him taking home the Barback of the Year award, presented by Tequila Ocho, at the party on Sunday.
In other words, it was worth my six-hour drive up, and here are the full results, ranked in the order of the Top 10.
The Rising Star, presented by Perrier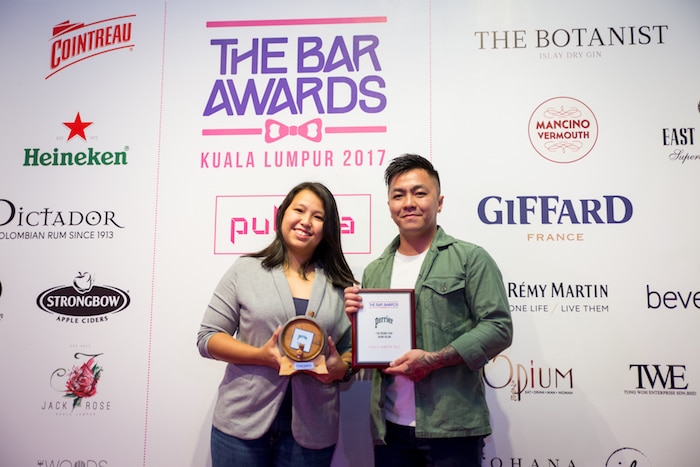 Young bartenders born before 1 January 1989 qualify for the The Rising Star award. And having turned 27 this year and already Head Bartender at Hyde at 53M, Jason Julian is a great role model for new blood joining the industry.
Jason Julian, Hyde
Janice Lau, The Pawn Room
Osmond Bernard, Ikki
Catzeno Clitus, Junglebird
Joe Ngui, Omakase + Appreciate
Giri Pancha, Botak: Liquor Bar
Suruj Babu, PS150
Alvin Yong, formerly of Birch
Mitchell Raymond Soh Andu, 61 Monarchy
Nik Izatul Syafiz, The Locker & Loft
Best Restaurant Bar, presented by East Imperial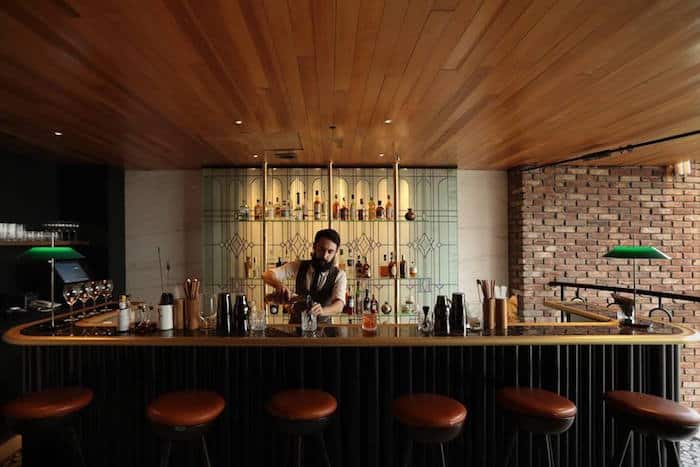 Located at the top of WOLO Hotel in Bukit Bintang, Mr. Chew's Chino Latino Bar & Restaurant dishes out cocktails with the same inventiveness in the execution of their food menu. The view and the Manhattan loft meets Art Deco aesthetic probably don't hurt either.
Mr. Chew's Chino Latino Bar & Restaurant
Fuego
Ril's (Bangsar)
Mercat Barcelona Gastrobar
Bait (Bangsar)
Pinchos Tapas Bar
Souled Out (all locations)
Marini's on 57
Shelley Yu's
Taps Beer Bar (Changkat)
Best Beer Bar, presented by Heineken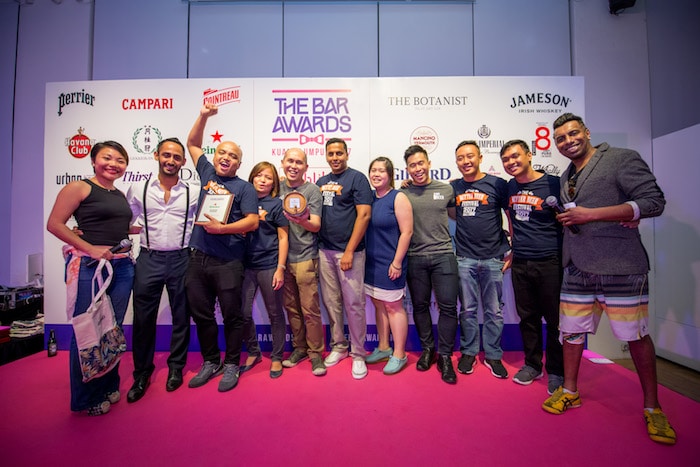 Taps is a craft beer institution in KL started by a group of cousins who keenly felt the need for a bar dedicated to craft brews in the city. With a friendly space, live bands playing three nights a week, and a good 14 taps (not even counting the bottles), we'd say they've achieved their goal.
Taps Beer Bar (Changkat)
The Great Beer Bar
Ales & Lagers
Sid's Pubs (all locations)
Bricks & Barrel
The Sticky Wicket
Tom, Dick & Harry's
Paus
Brussels Beer Café (all locations)
The Beer Factory (all locations)
Best Culinary Team, presented by Mancino Vermouth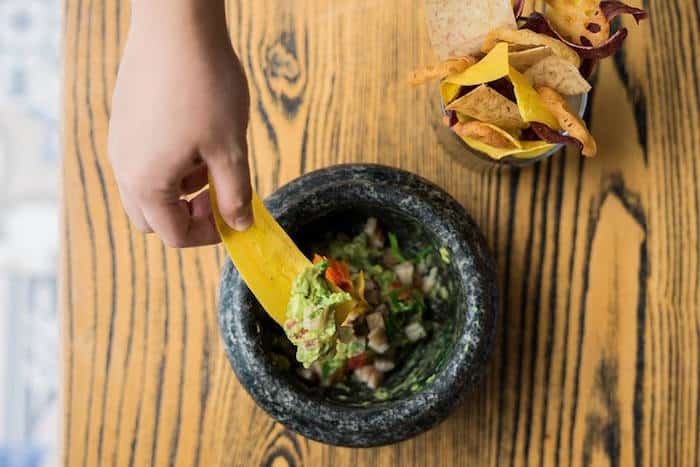 Meaning fire in Spanish, Fuego is the tapas restaurant bar concept at Troika Sky Dining. The restaurant is consistently popular – and no wonder, with five types of guacamole on the menu – with two seatings for dinner every night.
Fuego, Troika Sky Dining
El Cerdo
Bonfire Restaurant & Bar
Bistro A Table
Ril's (Bangsar)
Chew's Chino Latino Bar
The Locker & Loft
Cantaloupe
Taps Beer Bar (Changkat)
Shelley Yu's
Best Hospitality Team, presented by Gekkeikan Sake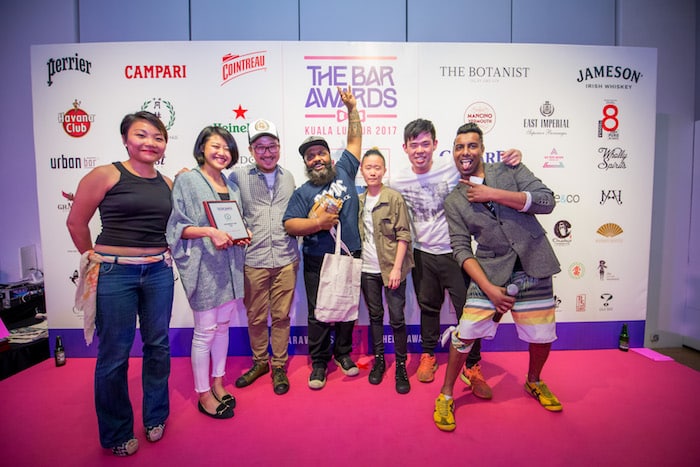 Named after Ada Coleman, who became head bartender at the Savoy Hotel in London in 1903 and now an inspiring figure in bartending history, Coley's team is the best in the city when it comes to making barflies feel at home.
Coley
Junglebird
PS150
The Locker & Loft
Hyde
Naughty Nuri's (Desa Sir Hartamas)
Souled Out (all locations)
Jack Rose
Omakase + Appreciate
The Beer Factory (all locations)
Most Creative Cocktail Bar, presented by Cointreau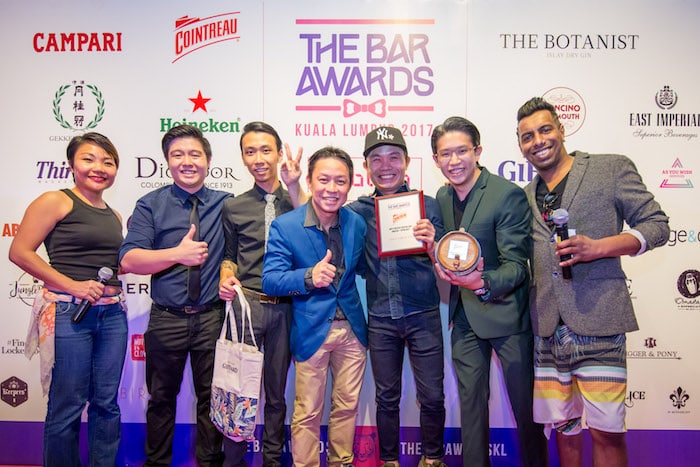 Having won regional recognition by being the only Malaysian bar on Asia's 50 Best Bars 2017, we're glad that Omakase + Appreciate founders Shawn Chong and Karl Too have also felt the love (in a more tangible manner) from their local bar community.
Omakase + Appreciate
Coley
PS150
Coppersmith
Hyde
Pahit
Junglebird
Jack Rose
Birch
The Pawn Room
Best New Cocktail Bar, presented by Campari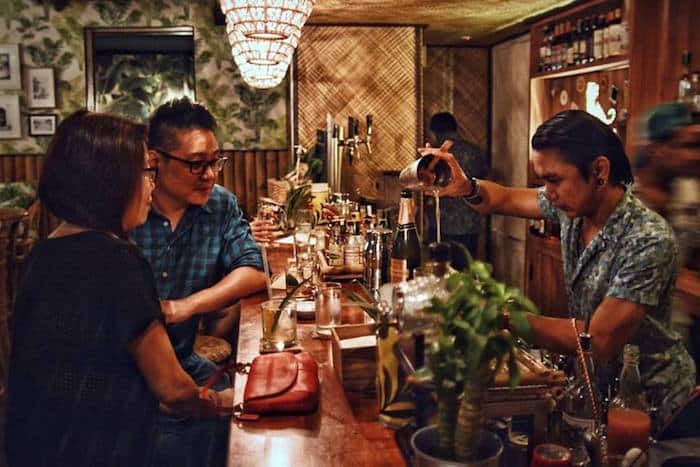 Out of all the bars I visited in KL, Junglebird is one that seems to be able to whisk people from a metropolis to a tiki bar on some tropical island – until the smoking starts (yes, you cans still smoke indoors in KL). With more than 100 rums behind the bar and tasty cocktails, we're convinced it's a deserving win.
Junglebird
Pahit
Jack Rose
Chew's Chino Latino Bar
Suzie Wong
The Rum Bar
Shelley Yu's
Botak: Liquor Bar
Birch
Bonfire Restaurant & Bar
The Ada Coleman Award, presented by Havana Club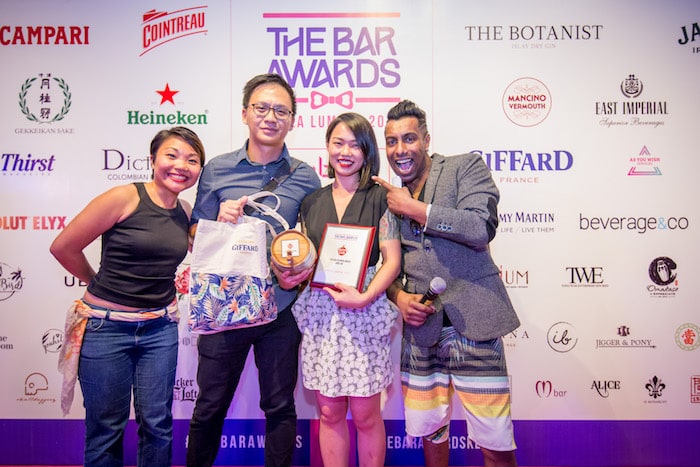 The same Ada Coleman inspired The Bar Awards team to name the award recognising female contribution to the industry. Not only is Singaporean Angel Ng is the co-founder and head bartender of PS150, where she shakes up cocktails with Southeast Asian flavours in Chinatown, she's also one of the founders of community organisation MY Bartender Handshake.
Angel Ng, PS150
Kim Choong, Thirst Magazine
Shareen Yew, Single & Available
Michelle Loh, TWE
Eiling Lim
Shirmy Chan, 61 Monarchy
Trudy Ho, Werner's Group
Isadora Chai, Bistro A Table)
Monica Tindall, The Yum List)
Mili Lim, Taps Beer Bar
Bartender of the Year, presented by Jameson Irish Whiskey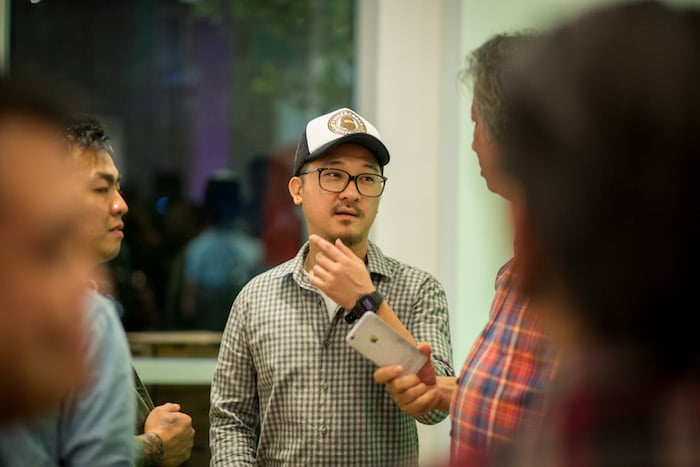 Whether it was because of or in spite of 14 years spent in the bartending industry, it was obvious at the Bar Awards party that CK is a well-respected and well-loved member of the bar community in KL!
Chee Kheong "CK" Kho (Coley and Pahit)
Shawn Chong (Omakase + Appreciate)
Angel Ng (PS150)
Rizal Junior Johari (Marini's on 57)
Josh Ivanovich (Junglebird)
Arsenio "Ash" Mariano Jr. (The Vault)
Andrew Tan (Hyde and 61 Monarchy)
Karl Too (Omakase + Appreciate)
Alvin "Loco" Nimal George (Coley)
Mohd Erik Fiza bin Zulkife (formerly of Suzie Wong)
Best Cocktail Bar, presented by The Botanist Gin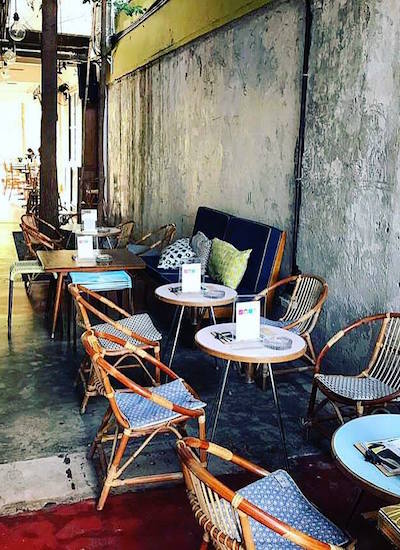 CK's Coley has managed to charm the industry and consumers alike over the last year and the half it was open. We chalk it down to the unpretentious space, friendly team, and a 'koktel' menu (featuring tipples inspired by drinks you find a in kopitiam) on top of a cocktail menu.
Coley
Omakase + Appreciate
PS150
Junglebird
Pahit
Hyde
The Bar Kinugawa
Coppersmith
The Locker & Loft
The Pawn Room
The Kuala Lumpur cocktail scene might not be as sophisticated as the likes of Singapore, Hong Kong, or Bangkok, but we're definitely keeping tabs on the drinking scene in this city now.