Wander From Home: Uncover Iceland's National Treasures With This Virtual Expedition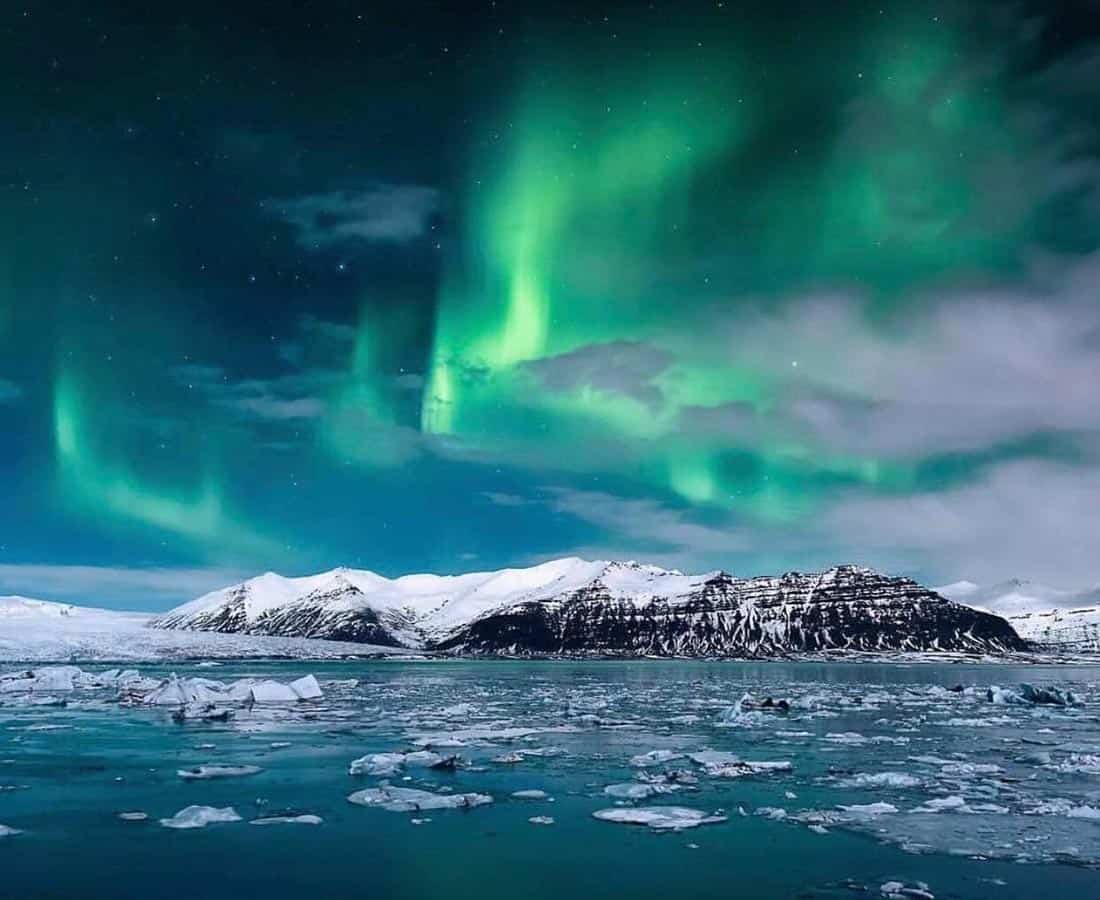 PUBLISHED May 19th, 2020 06:00 am | UPDATED May 31st, 2020 05:33 pm
Meet Iceland, the land of fire and ice. This Nordic country is the meeting point of geological contrasts, being the home to some of the largest glaciers and most active volcanoes in the world. Wander the quaint cobblestone streets of Reykjavik, marvel at the myriad of majestic natural wonders and wind off the day at one of their aesthetically pleasing black sand beaches. We are bringing Iceland to you with virtual tours, mind-blowing drone shots and live cams. 
Reykjavik
Home to two-thirds of Iceland's population and the world's northernmost capital city, Reykjavik boasts a wealth of captivating sights and activities. Only in Reykjavik can you witness the seamless intermingling of historical monuments and new buildings that ooze modernity and sophistication. 
Cleanse Your Spirit at Hallgrimskirkja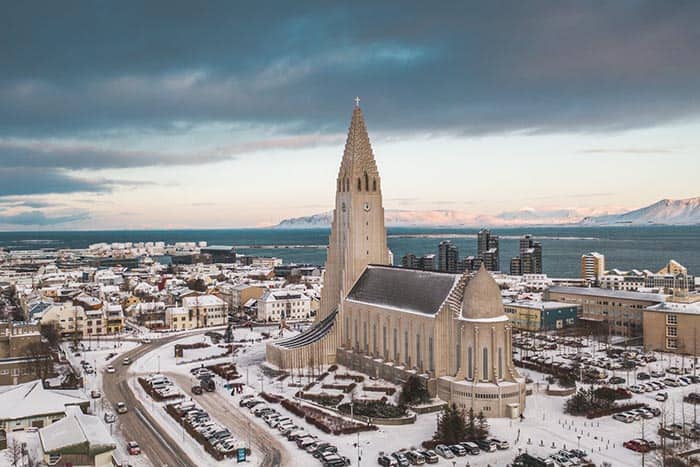 Towering 74.5m above ground, it's hard to miss this architectural beauty. A Lutheran parish church modelled after the beautiful basalt columns at Svartifoss waterfall on the South Coast of Iceland, it also doubles as an observation tower, offering a breathtaking bird's-eye view of the entire city. Marvel at the brilliance of this remarkable structure designed by the late Guðjón Samúelsson and stroll down the church's nave with this virtual tour.
Icelandic Phallological Museum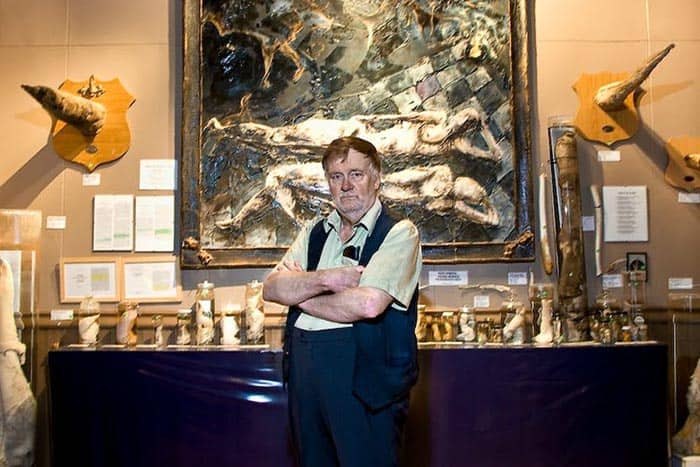 Yes you read that right, a penis museum. It may have started off as a joke when Sigurður Hjartarson's friends gave him a pizzle (dried bull's penis), but today, it is the only museum in the world to house a growing collection of over 200 penises and penile parts. From the smallest hamster penis (less than 2mm) to the mammoth eight to ten feet long Blue Whale phallus, this unusual attraction has a total of 282 biological specimens from 93 different species of animals – even a Icelandic folklore collection. If you still don't believe the existence of such a well-endowed museum, explore it yourself through this video. It may be NSFW so proceed with caution.
Stroll down the Streets of Reykjavik
Immerse in the laid-back street culture of Reykjavik with a walking tour. Wander down the city's main shopping street, Laugaveur, home to a number of fashion boutiques, vintage stores and gift shops. As you stroll down charming streets lined with vibrant multi-coloured houses and stores, try to catch glimpses of the Hallgrimskirkja church and Sun Voyager structure, amongst other iconic monuments. What's more, explore the award-winning cultural jewel of the city, the Harpan Concert Hall, in all its kaleidoscopic architectural glory. 
Discover Icelandic Flavours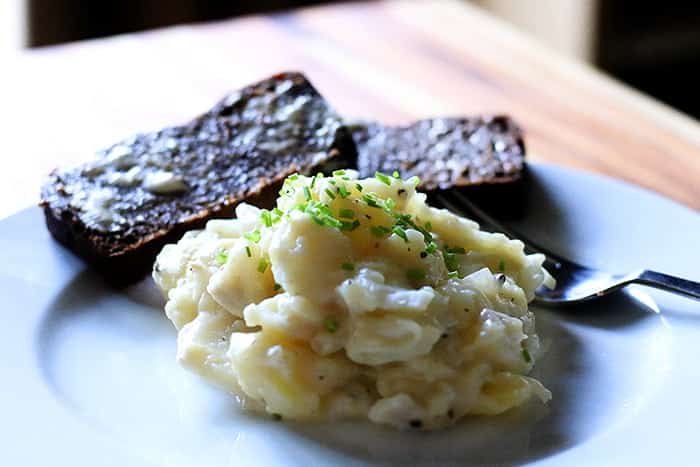 Since the Vikings arrived over a millennium ago and established fishing as the main industry, seafood and fermented food have been at the forefront of Iceland's gourmet world. That said, there's more to the Icelandic culinary scene than oceanic delights as Michelin-starred restaurants like Dill head the New Nordic movement.
While dining in Iceland may have to wait, there's nothing stopping you from whipping up your own hearty bowl of Plokkfiskur – a traditional Icelandic fish stew – with this recipe. For a low-effort classic treat, try Skyr, a cultured dairy product that is a cross between a soft cheese and yoghurt. You can find this creamy delight in Singapore at Cold Storage.
Golden Circle
Your trip to Iceland stays incomplete till you cover the famous Golden Circle sightseeing route that comprises three stunning locations in Southwest Iceland. Here's how you can coast through the rich countryside to see spouting geysers, thundering waterfalls and dramatic cliffs.
Reconnect with Nature at Thingvellir National Park
At Thingvellir National Park,  incredible geology meets fascinating history. Not only did this park host the world's first parliament, it's also the meeting point of the North American and Eurasian tectonic plates making it a cultural keystone of Iceland. Game of Thrones fanatics might recognise this iconic spot from the gruelling fight scene between Brienne of Tarth and the Hound in Season four. Dive right into the crystal-clear glacial waters of the Silfra fissure and swim right through the continental divide between the two tectonic plates in this video.
Geysir Geothermal Area
Next stop – the Geysir Geothermal Area located within the  Haukadalur Valley, that will have you swept off your feet with its bubbling geysers, steamy hot springs and vivid mineral-soaked land. While the larger Great Geysir rarely erupts nowadays, its more active sibling Strokkur Geysir spoils us with equally spectacular views, blasting gallons of water high up into the air every two to six minutes. Keep your eyes peeled for mother nature's grand show in this video. With magnificent views of super hot water rocketing out the vent and sounds of it crashing back down onto earth, you can almost feel the heat through your screen.
Take a Breather at Gullfoss Falls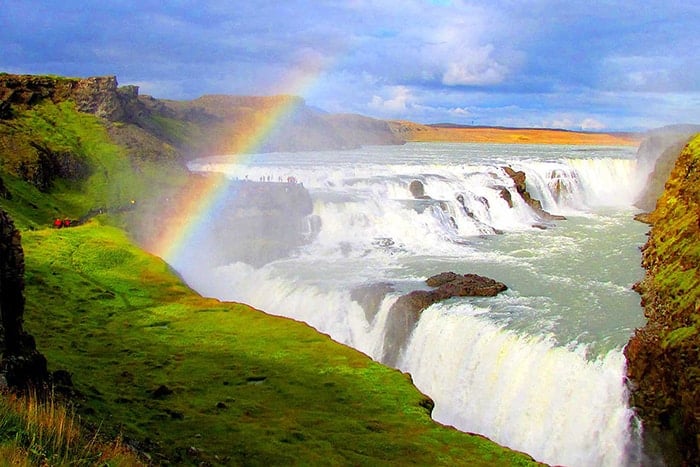 There's something unexplainably calming about watching water plummeting down the dramatic valleys and dissipating into billowing clouds of mist. If you need a little escape from reality watch this mesmerising video of Gullfoss Falls, one of Iceland's most beloved waterfalls and the last gem of the Golden Circle. Teeter over the edge of the cliff and witness the two-tiered waterfall cascade down rocky ledges. In winter, the falls are no less alluring, as it freezes over into rippling waves of glistening ice.
South Coast of Iceland
If the Golden Circle is a tasting of what Iceland has to offer, the South Coast is a complete degustation. They have got it all –  waterfalls, beaches, glacier lagoons and many more awe-inspiring attractions. Hope you have a huge appetite for the visual treat that awaits you.
Indulge in an Exotic Beach Escapade
 When one thinks of beaches, images of golden shores and aquamarine waters would come to mind. The beaches in Iceland, however, are blanketed by pitch-black volcanic pebbles. Of all the black sand beaches in Iceland, Reynisfjara takes home the trophy with its insane hexagonal basalt columns, domineering rock pillars and caves. Soak in the views of this monochromatic wonderland with this video.
Chill at Jokulsarlon Glacial Lagoon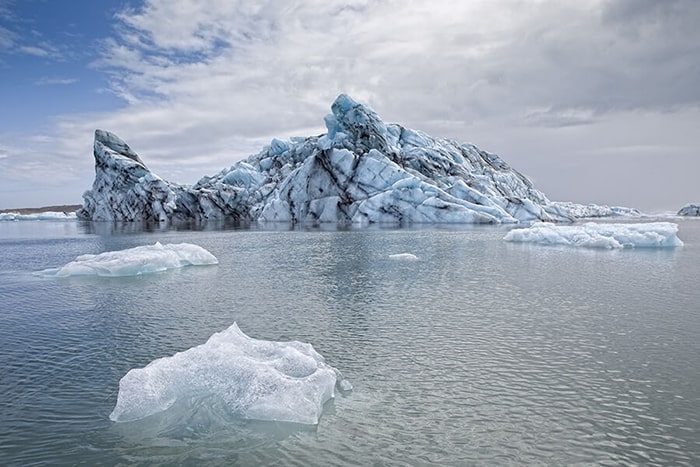 Iceland's natural crown jewel has to be the Jokulsarlon Glacier Lagoon. The vast expanse of the glass-like lake is dotted with glistening icebergs that have broken off the Oraefajokull glacier. Its pristine beauty hasn't gone unnoticed –  Jokulsarlon has been a backdrop for numerous major films and productions including Die Another Day, Lara Croft: Tomb Raider and more recently Justin Bieber's music video I'll Show You. Sit back and enjoy the enchanting dance of the floating glacier chunks as they reflect the ever-morphing hues of the sky through this live cam.
Some of these icebergs also wash up onto the shore of Breidamerkursandur giving the beach a jewelled appearance due to the contrast between the crystalline ice fragments and black sand – this has also earned the location the name, The Diamond Beach. Check out this video of the mystical Diamond Beach here.
Meet the Wildlife at Dyrholaey
Beside the coastal village of Vik lies the Dyrholaey peninsula famed for its phenomenal views of Iceland's South Coast, its historical lighthouse and not to mention the adorable migratory puffins. The promenade's name literally translates to "the hill island with the door hole' thanks to its instantly recognisable Dyrholaey Arch – a massive black structure of lava anchored to the sea bed. Get your dose of cute Atlantic Puffins with this video.
Top Image: Inspired by Iceland