Just Opened February 2019: New Restaurants and Bars in Singapore to Check Out this Month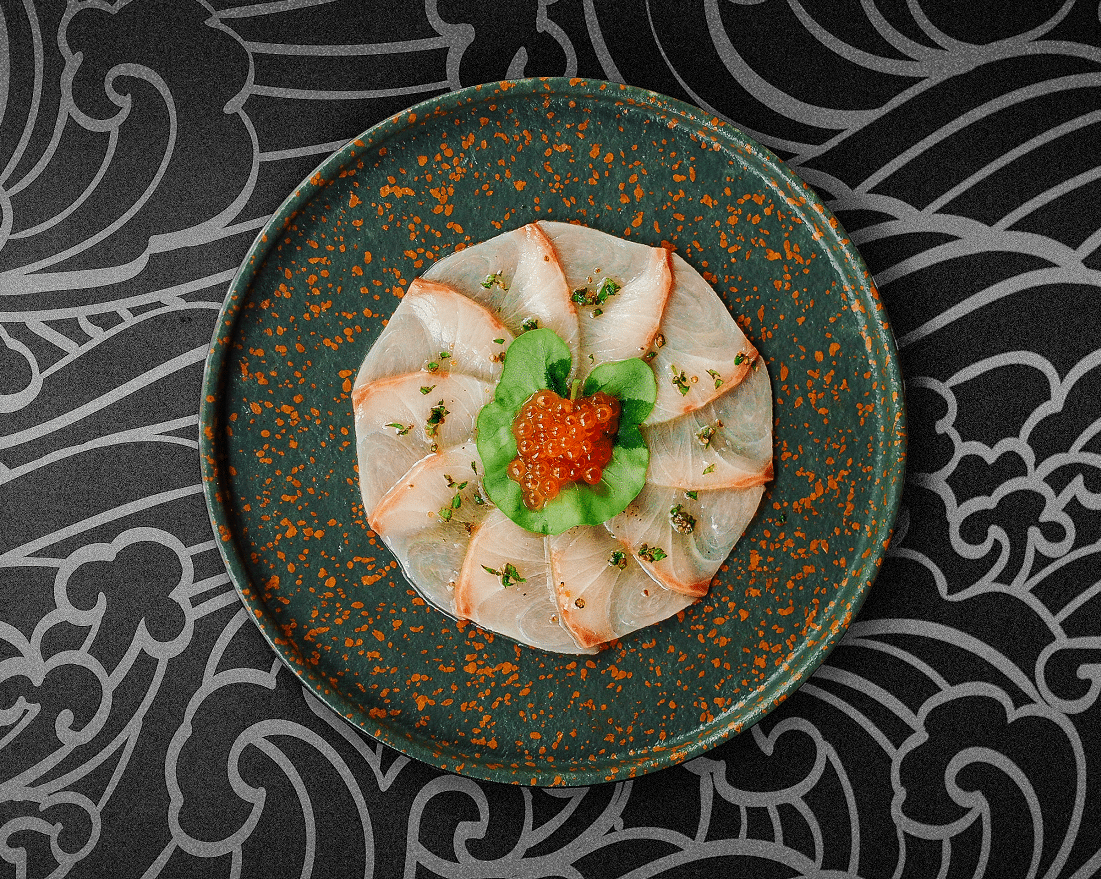 PUBLISHED February 2nd, 2019 02:21 pm | UPDATED May 18th, 2020 07:13 pm
It's a busy month with Chinese New Year and Valentine's Day incoming, but we're pretty sure you'll still have time to try a couple of the newly-opened in Singapore. From Kafe Utu's Kenyan culture to Chi Kinjo's upscale omakase, to fine dining comfort food at JAM at Siri House, have a little me-time in February. Three new watering holes are still up for exploring too!
Restaurants
Chi Kinjo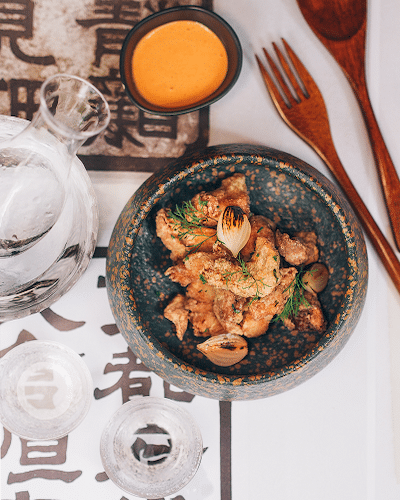 From the makers of  Hong Kong retro glamour inspired Sum Yi Tai, Coterie Concepts brings yet another time period to to life with Chi Kinjo in the CBD. This high ball and sushi den offers an intimate setting to enjoy curated Japanese fare with modern and western influences.
ChopeDeals: Save 15% off at Chi Kinjo
The Oniontako (S$18++) starts your meal on a bright and citrusy note, featuring Spanish grilled octopus amongst a medley of vegetables and Tamanegi dressing, finished with caviar.
Their range of Aburi Nigiri (S$12++ for 2 pieces), such as the Buri Cheese, utilises the highest grade of fresh fish while the Hot Menu offers sharing plates, such as Kaffir Lime Karaage (S$15++), a zesty twist on the traditional bar snack.
Those working nearby are in luck; lunchtime sees bento sets like the Kong Bak (Chinese braised pork belly) Sushi Sandwich. Don't forget to try the refreshing Japanese-influenced cocktails by Group Chief Bartender Sam Wong such as the Shiso Watermelon (S$14++).

Chi Kinjo is located at 29 Stanley Street, Singapore 068738, p.+ 65 6260 5284. Opens Mondays to Fridays from 5pm – 1am, and Saturdays 6pm – 1am. Closed Sundays.
Duckland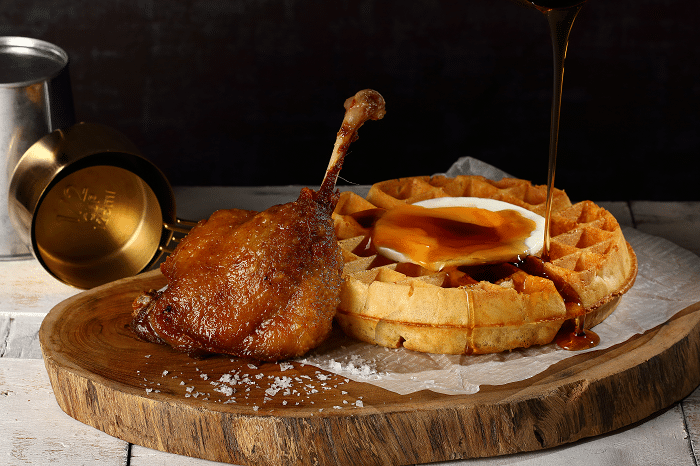 ChopeDeals: Save up to 50% off at Duckland
As its name suggests, the newest restaurant to hit Novena celebrates all things duck. A cross between Peking Duck and Aylesbury Duck specially bred for its density and porous skin, the free-range Irish Silver Hill Farm duck is the star of this establishment. Besides their signature roast duck, look forward to a worldly menu including Duck Confit & Waffle, Duck Fried Rice, and even Spaghetti Duck Bolognese. Diners can also expect non-duck specialties feature other Irish produce like Irish Lamb Stew, Irish Oysters, and Bacon Cabbage & Colcannon.
Duckland is located at United Square Shopping Mall, 101 Thomson Road, #B1-09 & 64/65, Singapore 307591, p.+ 65 6259 5668. 
Teppan Kappou Kenji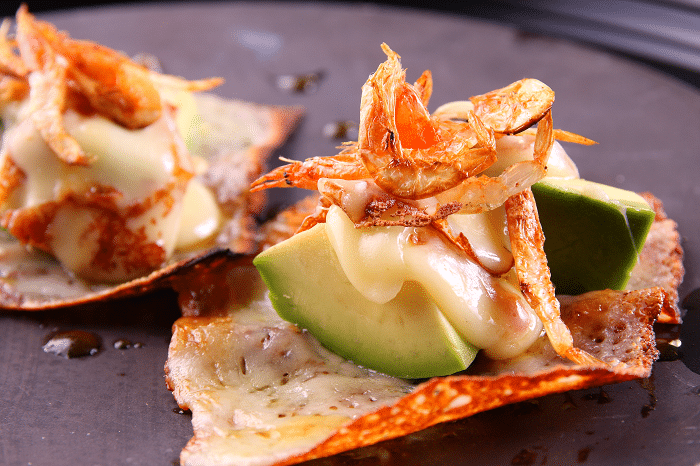 Experience Kappou-style and Teppanyaki-style dining in Tanjong Pagar with the skillful Chef Kenji Okumura, who was formerly the Executive Chef of Takumi Kacyo. Set menus for lunch and dinner start from $50 and $60 respectively while omakase prices start from $150. The a la carte menu offers premium wagyu from the likes of Miyazaki, as well as seafood from the Mie Prefecture including abalone, king crab, and live spiny lobster.

Teppan Kappou Kenji is located at 99 Tanjong Pagar Road, #01-01, Singapore 088520, p.+65 9152 3118. Opens Monday to Sundays. Lunch hours are at 11.30am – 2.30pm (Last order at 2pm). Dinner hours are at 6pm – 10.30 pm (Last order at 10pm). For reservations, click here.
Murray Terrace Brasserie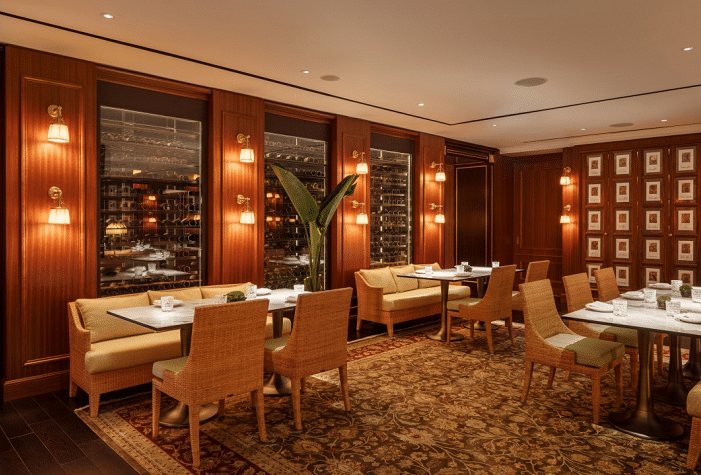 Built into its namesake heritage building, Murray Terrace Brasserie is European styled and influenced both in design and food. Accompanying the opening of Six Senses Maxwell, the emphasis on sustainable and organic ingredients. Enjoy the classic fare like seafood platters and classic French onion soup; Three and four-course lunch menus and five and seven-course menus for dinner; try their latest – A Wine Affair by Domaine Boutinot ($110). Wash it all down with a glass or two from their impressive selection of wines or explore their centrepiece tasting table.

Murray Terrace Brasserie is located at 2 Cook Street, Singapore  078857, p.+ 65 6914 1425. Opens Tuesdays to Saturdays from 6.30am – 2.30pm; and 5.30pm – 10.30pm. Opens Mondays and Sundays 6.30am – 10.30am.
JAM at Siri House
JAM at Siri House's eclectic interior and cushy seating meshes sophistication with comfort in Dempsey Hill. Start your night with a cocktail off their cocktail trolley – we love the Siri House Negroni that's infused with aromatic smell and tannic finish of Thai red tea – and indulge in JAM's Fried Chicken takes a step out of the norm using brined chicken oysters alongside herbs and tangy lemon and garlic flavours. Go big on mains with their handmade Pappardelle in a umami-bomb of lobster and prawn reduction and don't miss on the S'mores for dessert.
JAM at SIRI HOUSE is located at Blk 8D, #01-02 Dempsey Hill, Dempsey Road,
Singapore 239672, p.+ 65 9667 0533. Lunch opens from 11.30am – 2.30pm, and Dinner from 6pm – 10pm. For reservations, click here.
Kafe Utu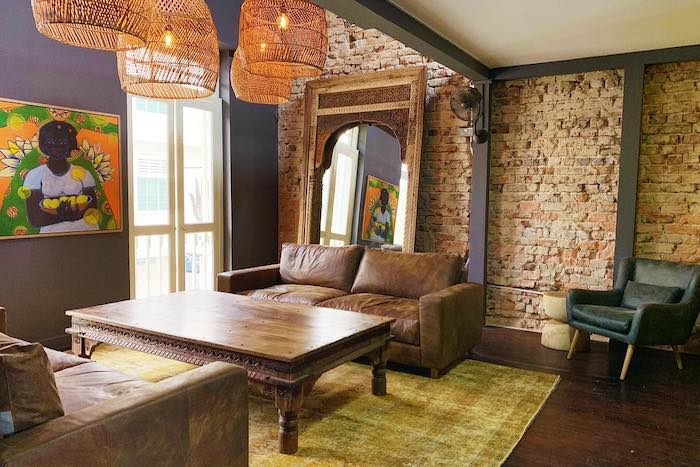 With custom-commissioned decorative pieces and interiors featuring Swahili carving styles and art, prepare to feel transported to Kenya at the newly-opened Kafe Utu on Jiak Chuan Road. In the day, fill up with hand-crafted coffee and a hearty UTU Plate, featuring runny poached eggs over goat cheese and tomato with curried avocado held up by sourdough. At night, savour cocktails like the Watermelon Chilli Martini over refreshing plates like a Butternut Squash Kale Salad. Bring the plastic though, this place is cashless!
Kafe Utu is located at 12 Jiak Chuan Road, p. +65 6996 3937. Open Tuesdays to Sundays, 8am – 5pm.
Little Sheep Hot Pot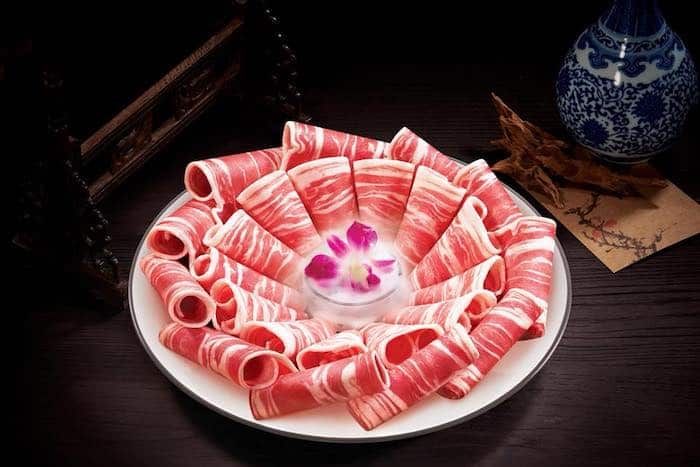 From the same folks of No Signboard Seafood, One Fullerton welcomes a new little gem along the river. Little Sheep Hot Pot serves up casual comfort hot pot in savoury soups with Mongolian influences and familiar Asian spices and only the freshest mutton and pork slices. Little Sheep offers comfort food at its best; a perfect respite from the glitz and glam of the city centre.
Little Sheep Hot Pot is located at 1 Fullerton Road #01-05, p. +65 6222 9959. Open Monday to Sundays, 11am – 11pm.
Bars
The Monarchy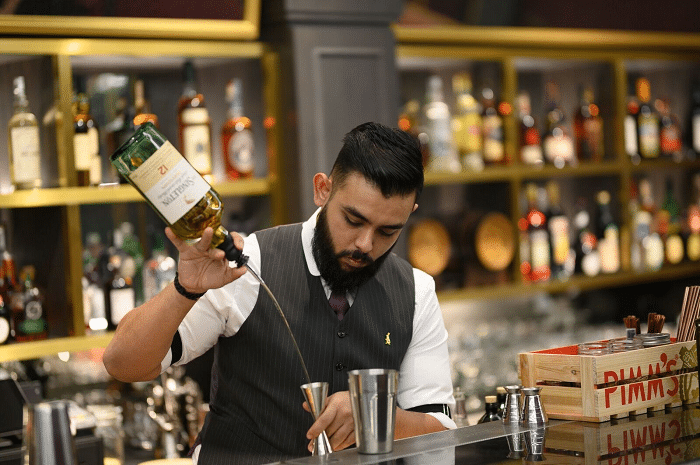 The Monarchy Cocktail Bar & Ultra Lounge opens its doors this month as the first permanent nightlife venue of its namesake event at OUE Bayfront. With interiors taking inspiration heavily from upscale British decor, gather round the eight-metre cocktail bar and sip on the Stairway to Heaven, a delightfully light and refreshing bouquet of fruit in apple liqueur; or try the crisp and minty flavours of the Champagne Supernova. Stick around till late to watch the chill cocktail atmosphere transform into a party palace at night on weekends and eve of public holidays from 10pm.
The Monarchy Cocktail Bar & Ultra Lounge is located at 56/58 Tras Street, Singapore 078995, p.+65 82685001. The Monarchy Cocktail Bar is open Tuesdays to Fridays from 6pm – 3am and 4am on Mondays and Saturdays. The Ultra Lounge opens from 10pm – 3am on Fridays and 4am on Saturdays and eve of public holidays.
Bar Intermezzo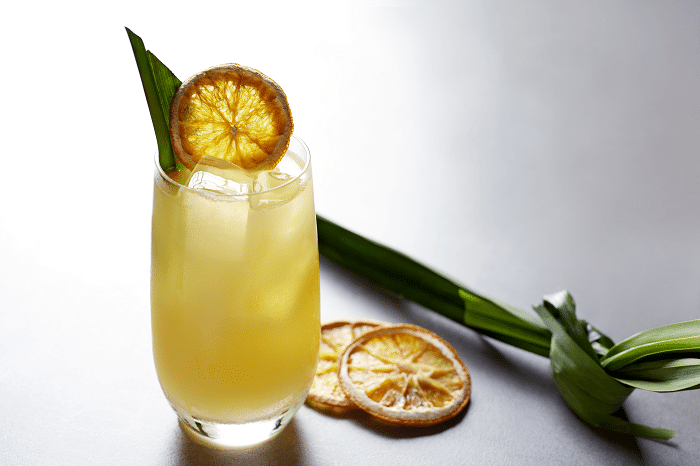 Orchard Hotel's new-and-improved craft cocktail bar, Bar Intermezzo, features 12 artisanal creations inspired by the tropical landscape of our sunny island. Watch old classics come alive, such as the gimlet-inspired Sugarcane ($24), or the apple-pie version of a Tom Collins in Cinnamon ($24). The sides also echo local dishes, evident from the Grilled Stingray Fins with Black Pepper Sauce ($18).
Bar Intermezzo is located at 442 Orchard Road Singapore, 238879 Singapore, p.+65 67396668. Open Monday to Sunday from 10am – 1am. 
BeGIN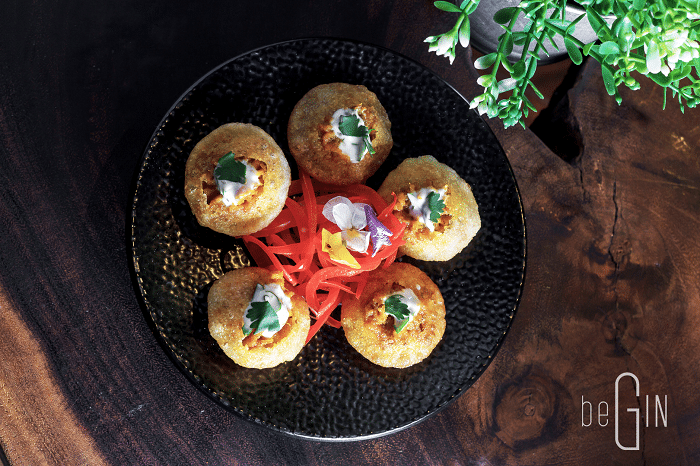 Located above The Penny Black (Singapore's oldest traditional English Pub) on Boat Quay, beGIN has more than 50 different brands on juniper juice in the house. Besides gin cocktails, they've curated a gin flight including the ancient "Dutch Courage" of Genever, then progress towards Hayman's Old Tom Gin,  Tanqueray London Dry, and the modern Hendrick's Gin. The peckish can look to a menu of British-Indian bar bites such as the hearty Crab Bomb-a ($13), a curried version of pani puri, or the Nacho Del Goa ($15) for an elevated version of the classic butter chicken.
beGIN is located at  27a Boat Quay, The Penny Black Upstairs, Singapore 049817, p.+ 65 65380584. Opens Monday to Saturday, 5pm – 1am.
RPM by D.Bespoke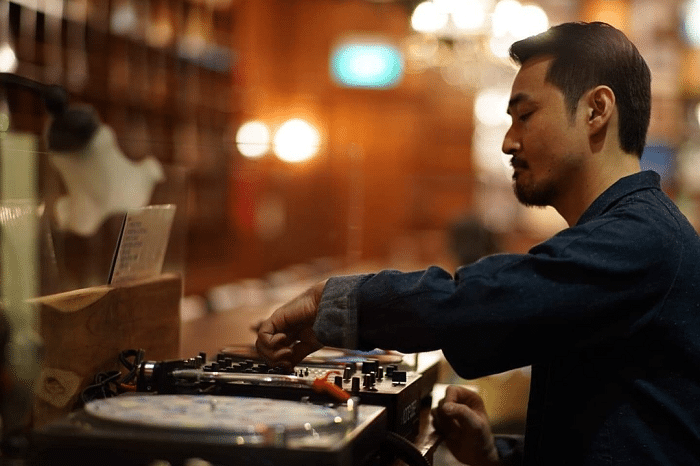 D.Bespoke's newest creation, RPM, offers guests the luxury of tuning out to vintage tunes while knocking back a good drink. Vinyl records are played through a handmade sound system created by no other than the co-owner himself, Daiki Kanetaka, and the music selection varies from Soul, to Funk, to Rock. The casual Japanese bar brings in a range of sakes, sojus, whisky, and low ABV cocktails for you to choose from.
RPM by D.Bespoke is located at 16 Duxton Road, Singapore 089482. Opens Tuesdays to Thursdays from 6pm – 1am, Fridays to Saturdays 6pm – 2am, and Sundays 5pm – 12am. Closed Mondays.