Restaurant Review: Michelin-Starred Meta in Singapore Launches Summer Menu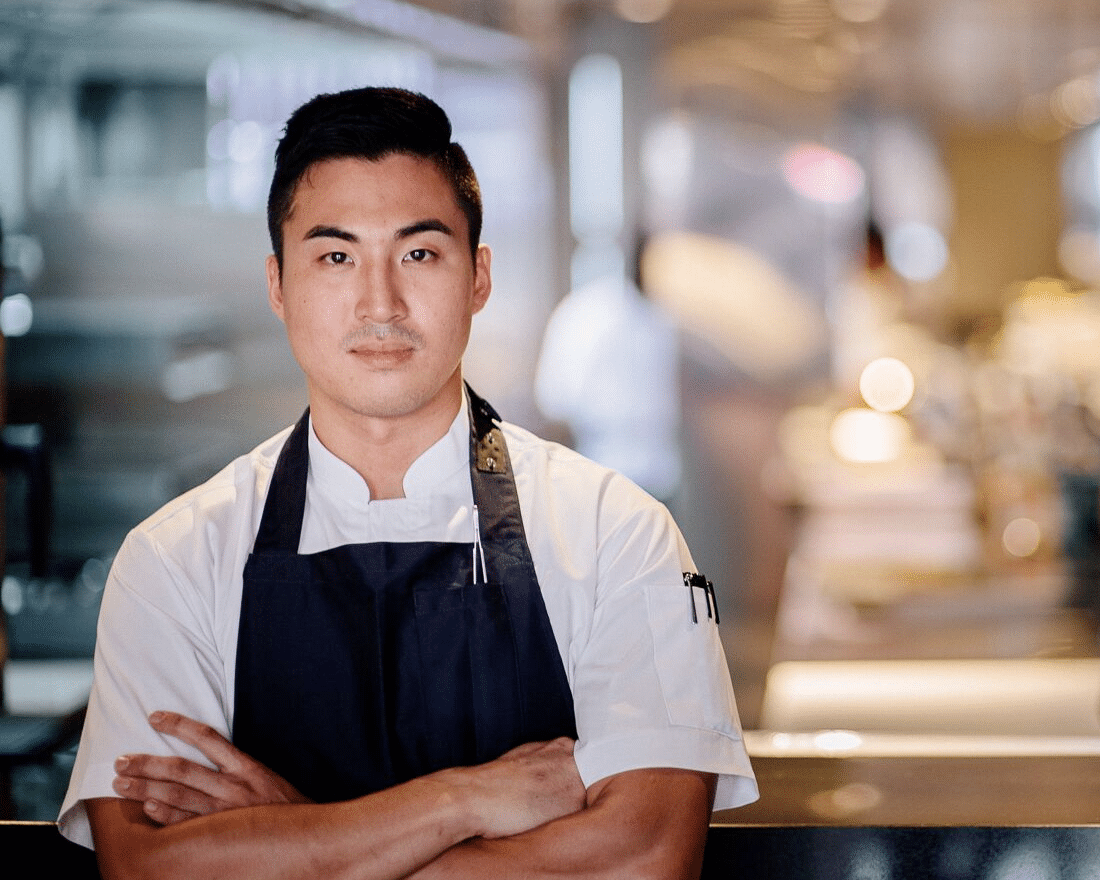 PUBLISHED July 30th, 2018 06:00 am

It's been a year since Chef Sun Kim's Meta won a Michelin star (and continuing keeping it this year) and more than two since the restaurant first opened. Curiously, I never got about dining here until last month, when its new summer menu was launched. The spunky Meta, located on the vibrant Keong Saik Road, dishes up French-inspired cuisine with a touch of East Asian flavours.
Essentially, Sun's cooking has always been synonymous with his heritage and training. He built his French and Italian foundations in Seoul, and later sharpened his skills alongside world-acclaimed chef Tetsuya Wakuda in Sydney's Tetsuya's and later at Waku Ghin in Singapore. If you're the sort that dislikes tasting menus, you can probably close the tab now (and see our list of the best chilli crab spots instead). At five courses for $118 and $158 for seven, Meta is hardly considered affordable. But is it worth taking out a hefty chunk from your dining expenditure? You bet.
You see, a meal here is an experience that goes beyond what's on the menu. There are several excellent appetisers: a dainty mushroom tart with charred broccolini and aged parmesan; a briny seaweed sago cracker with ikura and gochujang-marinated octopus; and a scallop and clam chawanmushi that's served cold – it's summer, right? Sun then brings out his first course: Japanese Bonito, because nothing says summertime like the tasty dark fish, lightly seasoned atop horseradish crème fraîche and a splash of umami-rich oyster sauce. There are sliced mandarins and endives for freshness, and then shaved dried oyster flakes – just like katsuobushi.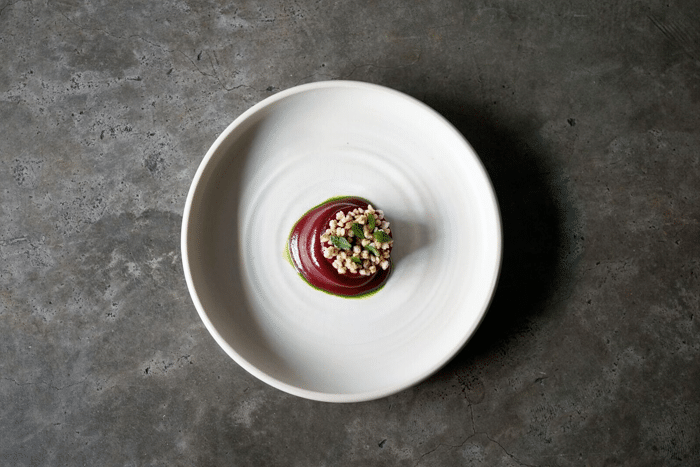 If you remember Kimme, you'd know that Sun has a penchant for making herb-flavoured oils. In Beetroot, a bed of basil oil sits beneath foie gras mousse, beetroot and port puree, and a slice of confit beetroot. I take in the earthiness, acidity, sweetness, and savouriness all at once. It's a layer bomb; the sort you get with hamburgers and tiramisu, but with infinitely more finesse.
When you order the seven-course menu, you will get the truly delicious Carabinero Prawn, which if you're unaware, is highly coveted for its deep-red colour and strong yet sweet flavour. It's cooked a la minute with prawn oil and butter, then paired with butternut squash puree and curls of kaffir lime leaf for an edge of bitterness. That's not all too. The dish comes with housemade sambal Korean rice, lovingly sheathed under some charred Brussel sprout leaves.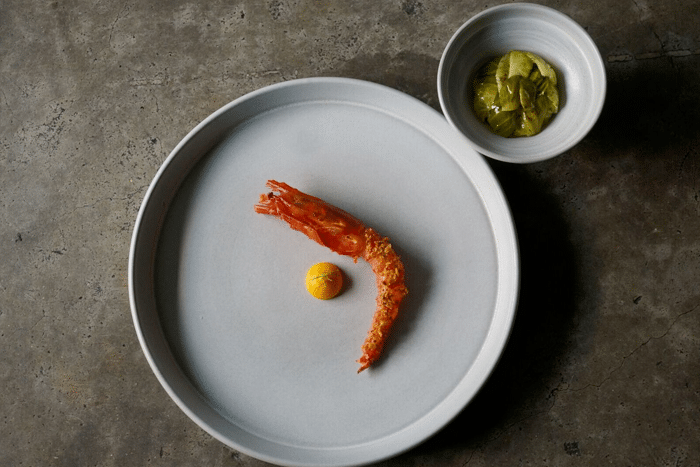 Then comes the meats, both superb. French baby chicken is split in a Spatchcock, then poached and pan-fried. The bird is topped with a lot of vegetables in varying textures: caramelised celeriac puree, green peas, confit daikon root, lily bulbs. Later, a New Zealand Rack of Lamb is charcoal-grilled precisely to medium rare (of course) and served with creamy zucchini puree and charred garlic shoots for a bit of mellow sweetness. It's studded with drops of fermented black beans.
By now, I am quite satisfied, but the meal is not over. There is the same cleverness to the desserts. The one named Tropical Summer is an intensely refreshing concoction of creamy coconut glutinous rice, coconut granita, kiwi sorbet, tangy burnt pineapple, and buttery coconut and pineapple crumble. How you eat this is to dig your spoon in like a trifle. It's dessert, but it tastes healthy.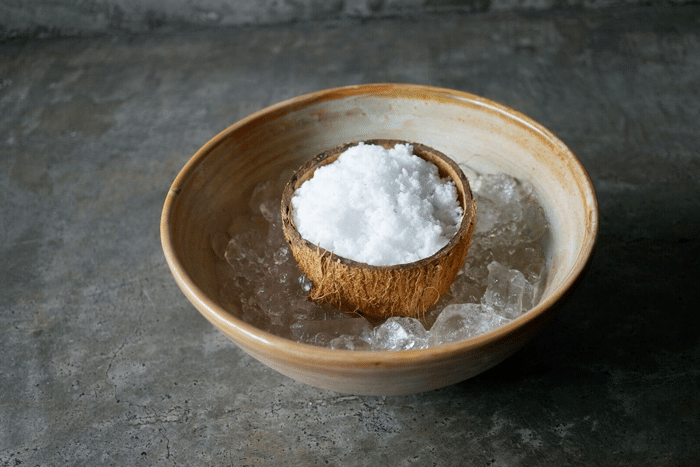 The second one, for those on the seven-course journey, is a Black Sesame Cake. With black sesame sponge paired with charcoal meringue and quenelle of liquorice ice cream, it's a rather acquired taste, one that would have stood out more if not for all the amazing courses before. At the end, I am presented with a plate of petit fours: a tiny passionfruit-salted caramel macaron and banana cream puff. They are interesting bites, but by that time we are already loosening our pants.
Meta is an exceptional restaurant worth visiting more than once a year; preferably when a new menu pops up. It is premium, yes, and for grown ups, but it is not too highbrow. Better still, they're not holding back the good stuff just for the more expensive menu. Sun is definitely doing it right.

Meta is located at 9 Keong Saik Road, Singapore 089117, p. +65 6513 0898. Open Mon-Fri 12pm – 2.30pm, 6pm – 11pm, Sat 6pm – 11pm. Meta will move to 1 Keong Saik Road by end of September 2018.