10 Useful Lifestyle Classes and Workshops To Attend in Singapore
PUBLISHED January 31st, 2017 12:21 pm | UPDATED November 10th, 2017 12:36 pm
If you're like us and think life is a never-ending journey of learning, how about taking up one or more of these creative pursuits in 2017? You might just discover a hidden talent; but at the very least, it'll make for a more eventful and fulfilling 2017!
Learn to appreciate coffee (better)
Our local kopi is great and all, but sometimes you want more than just instant 3-in-1 brews in the morning. Papa Palheta, one of the pioneering bean roasters in Singapore, regularly holds Espresso for Home classes that teaches everything you need to start making espresso-based beverages at home, while a Coffee Appreciation and Cupping class gives you a broad overview of the artisanal coffee industry. Similarly, The Coffee Academics (an esteemed brand from Hong Kong) offers Latte Art, Coffee Cupping, and coffee certifications at its Scotts Square Singapore flagship store.
Cost: from $145
Be the next home MasterChef

If winning the next MasterChef Asia – or simply not poisoning your family and friends – is somewhere on your agenda, you might just benefit from taking a basic cooking course at CulinaryOn. One day, you'll be able to cook anything tasty you see in the YouTube videos (or so we hope) with enough practice.
Cost: from $88/session
Stop photographing like a 'tourist'

Want to up your Instagram game? Get past scary terms like aperture, ISO, and shutter speed with a Practical Photography foundation course by Phocus Academy. There'll be minimal classroom time and maximum shooting time, because putting theories to practice is the best way to get it right. By the end of the course, the rule of thirds and low-light photography will be no problem for you. The only requirement: you'll need your own compact or DSLR camera.
Cost: $480
Craft your own artistic crockeries from scratch
Imagine throwing a house party and having your friends commend on your homeware…only to find that you made them yourself. Goodman Ceramics Studio offers an extensive array of ceramic programmes from trial throwing sessions and pottery painting courses to a comprehensive basic hand-building programme, which skips the electric wheel altogether and goes full manual. Decided you've found your new calling? Advanced pottery classes are available at the Contemporary Clay Studio.
Cost: from $55/session
Explore the world of tea

With tea consumption on the rise here and innovative connoisseurs, baristas, and sommeliers popping up around the world, why not join in on the fun? The Australian Tea Masters course covers everything from Singapore's tea landscape to the art of tea brewing and appreciation. It also teaches you to speak confidently about tea and serve it with knowledge and integrity. If you don't have time to head down for regular classes, you can also opt for an online Tea 101 class in an easy to learn format.
Cost: from $75
Stun your elders with newfound Chinese opera chops

If singing and acting is your type of gig, why not help revive a new generation of Chinese opera practitioners at the Nam Hwa Opera? With both adult and child-friendly courses up on offer, check out everything from Teochew Classical Singing – which is very rarely performed nowadays – and exquisite Opera Makeup to dedicated Vocal Training for the serious folks. Naturally, all classes are conducted by seasoned professionals from China's Fujian province, so you can expect to learn authentic techniques and skills.
Cost: from $10/session
No more storebought greeting cards

Explore the world of brush calligraphy and floral illustration with Liberty Art Jam, as you learn to work with ink and watercolours using three different tools. Alternatively, watercolour painting might just be what you're looking for. Another course here, hosted by self-taught watercolourist Tam Kwan Yuen, introduces you to everything from the mixing and blending of paints and tonal studies to creating texture and basic colour theory.
Cost: from $89
Start doing the thumka like Priyanka Chopra

Feel the bhangra beat and get into the Bollywood groove! Originating from the heart of Bollywood that is Mumbai, the lessons at Bolly Dancing Studio is as authentic as you can get in Singapore. For starters, think of the colour and the energy. Plus, nothing quite catches the eye as effectively as the classic Thumka. More than just a fitness class, you're looking at real dance experience that's a real confidence booster.
Cost: from $159/eight classes (trial class for $10)
Learn to DJ like your favourite club veterans

Want to learn more about what goes on behind the decks at your favourite club? At DJsenter, you'll find plenty of DJ and Electronic Music Production classes for beginners imparting both modern techniques with the latest gear as well as traditional DJ methods used in the past (and today in some parts of the world). Plus, your first lesson is totally free!
Cost: from $200
Get certified as a tour guide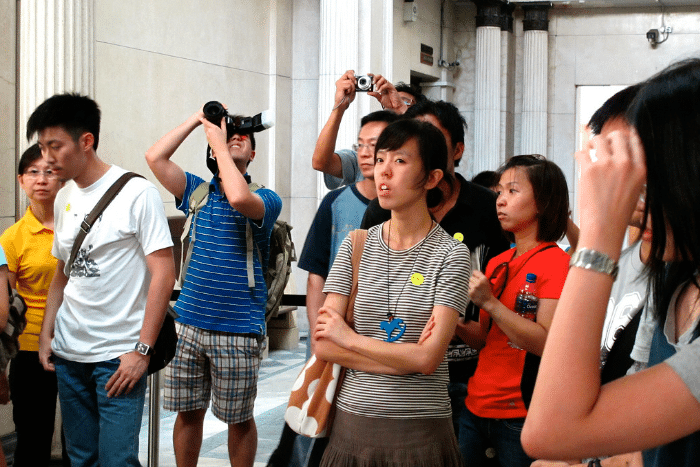 If you're usually the one leading the way when out with friends and enjoy meeting new people, you may want to consider becoming a tour guide – whether as a hobby or as a potential career. The Tourism Management Institute of Singapore (a subsidiary of NATAS) offers a six-month course that takes you through all you need to know about speaking to people about our city's best offerings. Even if you don't follow up with any steps after the course, you'll still be armed with an impressive knowledge of Singapore's history.
Cost: $4712 (subsidies available)
Bonus: Flip it like you mean it

Supper cravings can often strike at the most inopportune times, so why not learn to make your own prata at home? Prata Journey is a hour-long prata demonstration and hands-on session that teaches you the art of prata flipping and even how to make teh tarik. After which, we bet you'll greatly appreciate the skill and effort that goes into making these seemingly simple items.
Cost: $15/session