Restaurant Review: POLLEN Gets a New Head Chef and Contemporary Mediterranean Concept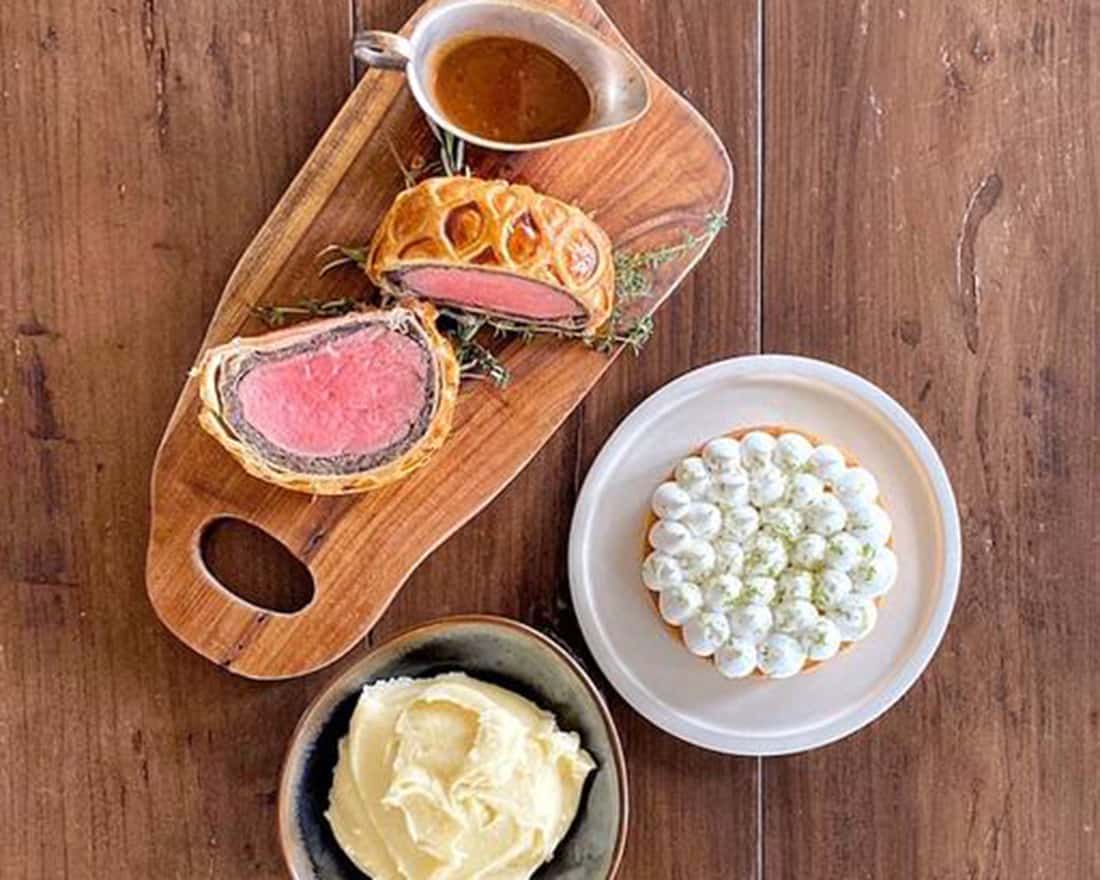 PUBLISHED May 1st, 2020 05:00 am
Pollen, the stunning fine-dining spot nestled within the lush garden in Flower Dome, blooms once again as it welcomes a new head chef and concept. The new menu plays with old-world Mediterranean flavours, reworked to suit the modern palate – a switch from its previous modern French cuisine.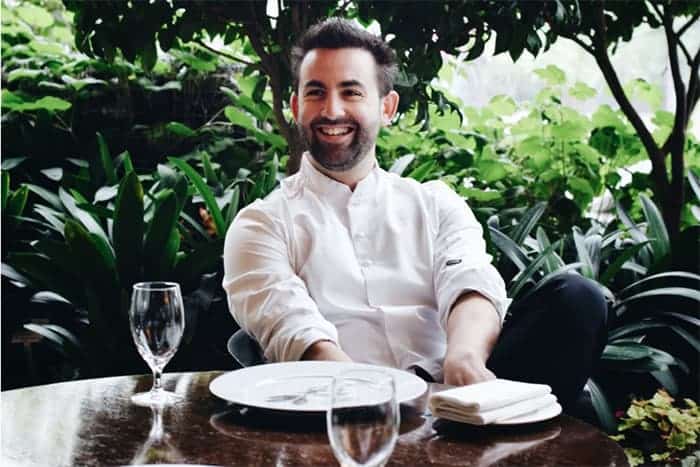 Taking over the kitchen from Chef Steve Allen is Chef Michael Wilson, formerly of MICHELIN-starred PHENIX at The Puli Hotel and Spa in Shanghai. At POLLEN, minimalism is his core guiding principle, as his culinary prowess and premium ingredients take centre stage of the evolving eclectic menu.
Pre-Course Snacks like the olive jelly encased velvety ricotta cheese and delicate scallop filled potato cigars set the bar high from the get-go, leaving us pretty psyched to dig into the dishes that followed in the Chef's Menu. Priced at S$148++ per person, we start with a Lettuce Gazpacho.
Think liquid salad but no, we don't mean a green health-concoction that we tortured ourselves into drinking. A departure from the traditional gazpacho made using stale bread and tomatoes, this version makes use of lettuce and cucumber that gives it its vibrant green hue. Shreds of soft brown crab, icy chunks of whey granita and an added spicy kick from the Espelette pepper, enhance the refreshing chilled soup with an interesting medley of flavours and textures.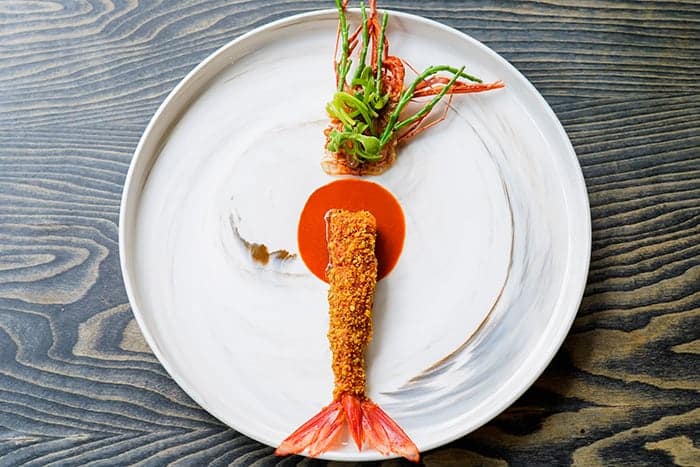 Not a portion of the prized King Carabinero Prawns from Spain goes to waste in the next dish, which showcases Wilson's ability t0 meld and marry various flavours and mouthfeels. The tender body is wrapped in a seductively buttery layer of lardo, coated with a flavour-packed onion and herb crocante. The head, on the other hand, is baked to a crisp and served with grapefruit gel and crunchy sea succulents that are not only a textural delight but also accentuates the dish's ocean on a plate aesthetic. A tangy prawn jus essence is drizzled as a finishing touch – exactly what was needed to bring together the distinct elements and mellow out the saltiness of the dried prawn head.
For the main course, we tucked into the Duck Neck Sausage served with aged duck breast, distilled rhubarb, duck jus and parsnip vanilla puree. And we were in for a surprise. In preparing this dish, duck neck is gutted and its meat is mixed with diced foie gras cubes before being painstakingly stuffed back into the neck, smoked and sliced. Each slice of the smoky sausage melts in your mouths to reveal creamy bits of foie gras and we have to say, we thoroughly enjoyed polishing off every last bite. Balancing the richness of the sausage, the rhubarb was a welcome addition, but other components of the dish didn't fare as well. The dry-aged duck breast was oddly tough and a tad bit difficult to cut through. Though creamy and great on its own, the musky parsnip vanilla puree felt out of place in the already decadent dish.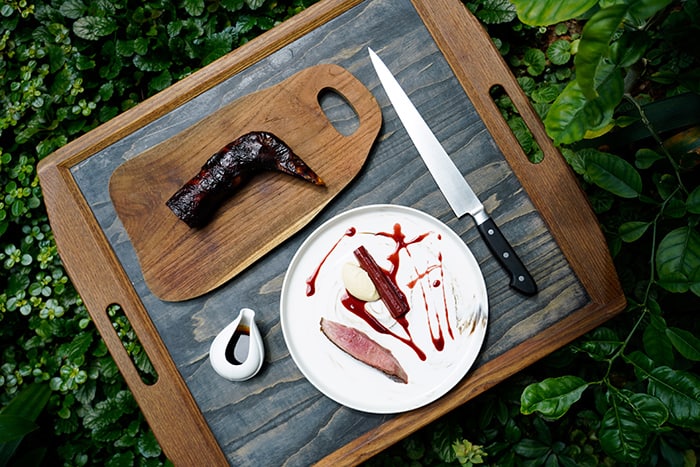 Dessert brought us back back on track with quintessential  Mediterranean ingredients like dates, pistachios and figs making an appearance. Ancient Grains comprises soft chocolate layered with snappy spelt biscuit fragments, rehydrated figs, mini popped kernels and barley ice cream. Mix it up and you have an elevated cereal bowl that we would gladly have for brekkie any day.
The real showstopper, though, is the Mejdool Date Tart topped generously with pistachio and a scoop of mace ice cream. The light, herbaceous ice cream, made using the lacy covering of nutmeg, lifts and rounds off the rich date tart, and make for a heart-stealing dessert.
POLLEN is located at 18 Marina Gardens Dr, #01-09 Flower Dome, Singapore 018953, p.+65 6604 9988. Open for takeaway and delivery during the circuit breaker period from 11am–8pm daily. Free delivery with a min order of S$60. Order here.