Restaurant Review: Take a Walk Down Memory Lane With Capitol Milk Bar in City Hall, Singapore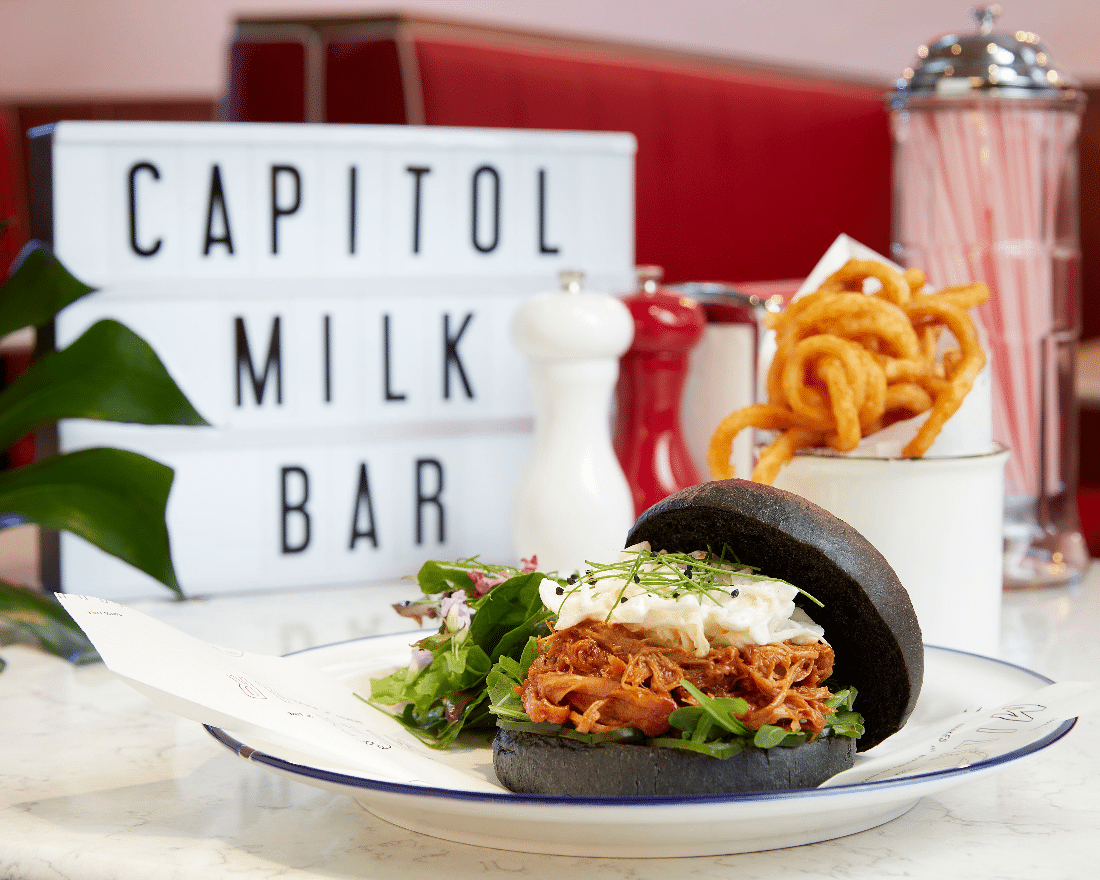 PUBLISHED August 8th, 2019 06:00 am
Red leather booths, transparent jars of old-school biscuits filing the wall shelves, and the blues of the 1950s playing in the background – Capitol Milk Bar looks like a scene straight out of Grease, or for the younger folks, fresh off Riverdale. No surprise, this retro-styled bistro is a revamp of the widely popular Magnolia Snack Bar, a favourite haunt for post-movie bites that eventually closed in the 1980s.
Keeping to its heritage, Capitol Milk Bar names their menu items after famous figures intertwined with the history of the old Capitol Building. Menu items are typical diner fare – burgers, milkshakes, and the like – but up a notch with American-sized portions.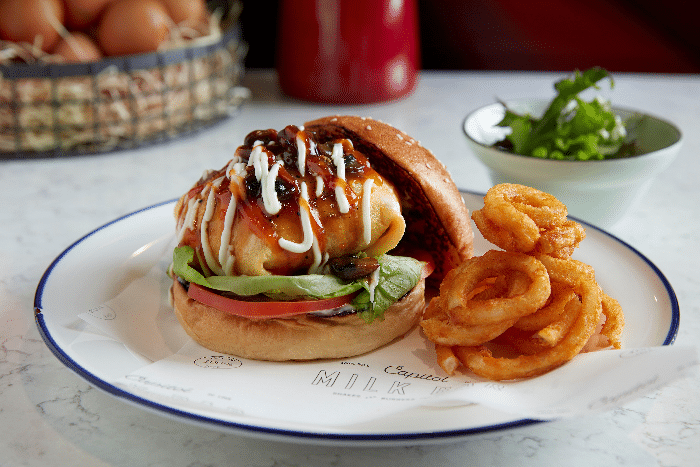 Burgers are rarely made equal, but the ones here are so vastly different in flavour profiles that it's hard to compare. For a refreshing option, try their namesake Capitol Burger (S$20, top image) featuring tender pulled pork, arugula, and a drizzle of apple butter barbecue sauce. It boasts a well-balanced taste. And it isn't overwhelmingly meaty, thanks to the superb pairing with pickled cucumber and yuzu cabbage slaw.
For the beef-lovers, their Stamford (S$21, above) burger is a divine serving of thick black angus beef patty enveloped in an egg wrap. On top of that, a tic-tac-toe of cheddar cheese and black pepper mushroom sauce. Did we mention all their buns are house-made and completely customisable. Take your pick between charcoal brioche bun, multigrain bun, or sesame bun.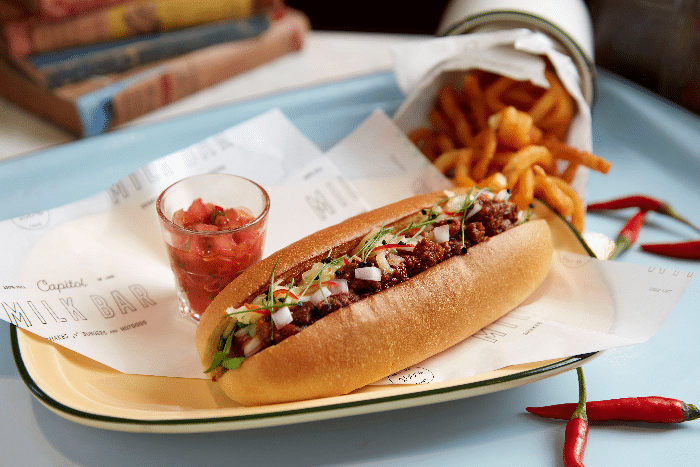 You can't go wrong with their savoury hotdogs either, brimming so generously with ingredients that it's a mouthful with every bite. Choose their Classic "New Yorker"(S$9) for the classic mustard-ketchup combination, or Rio Rita (S$15) for a spicy Mexican twist.
For the brave at heart (and in the gut), get their upsize for an insane metre-long hotdog that's Insta-story worthy. Pair them all with their addictive sweet potato fries; they are finger-licking good, and very complementary to the savoury meals.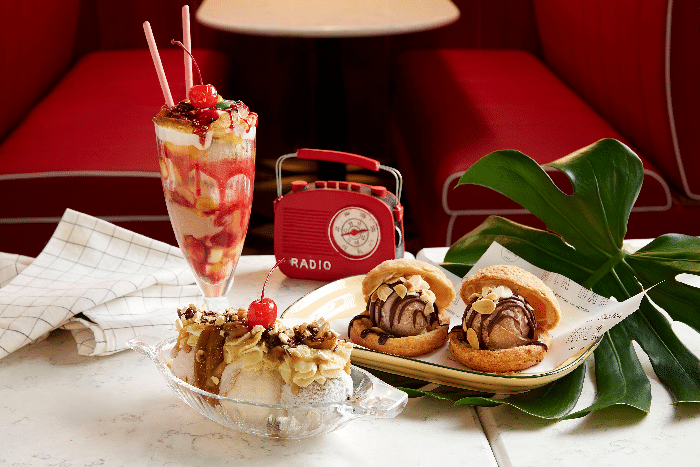 And what's a diner without milkshakes? Capitol Milk Bar serves pretty solid milkshakes that's completely indulgent yet worth every calorie. Choose from favourites like Nutella (S$14) and Strike Me Pink Strawberry (S$14), or opt for local dessert inspired creations like the Singapore Dash (S$14) for a chendol take with pandan jelly, red beans, and gula melaka.
With milkshakes this tasty, you know their ice cream definitely passes the test. Have it their Profiteroles (S$15), where vanilla ice cream is sandwiched between choux pastry, or opt for the very-adult Banana Split (S$15), which is a level up from the classic with the use of caramelised banana raisins and banana rum glaze. Be warned: the sundaes are huge, so a single ice cream or sorbet scoop (S$4) will do it if you're stuffed but still want something sweet.
Capitol Milk Bar is located at Arcade @ The Capitol Kempinski, 15 Stamford Road, Singapore 178906, p. +65 6715 6874. Open 11am-9pm daily.