Restaurant Review: Day Club 1-V:U Brings Progressive Asian Flavours To Outpost Hotel on Sentosa, Singapore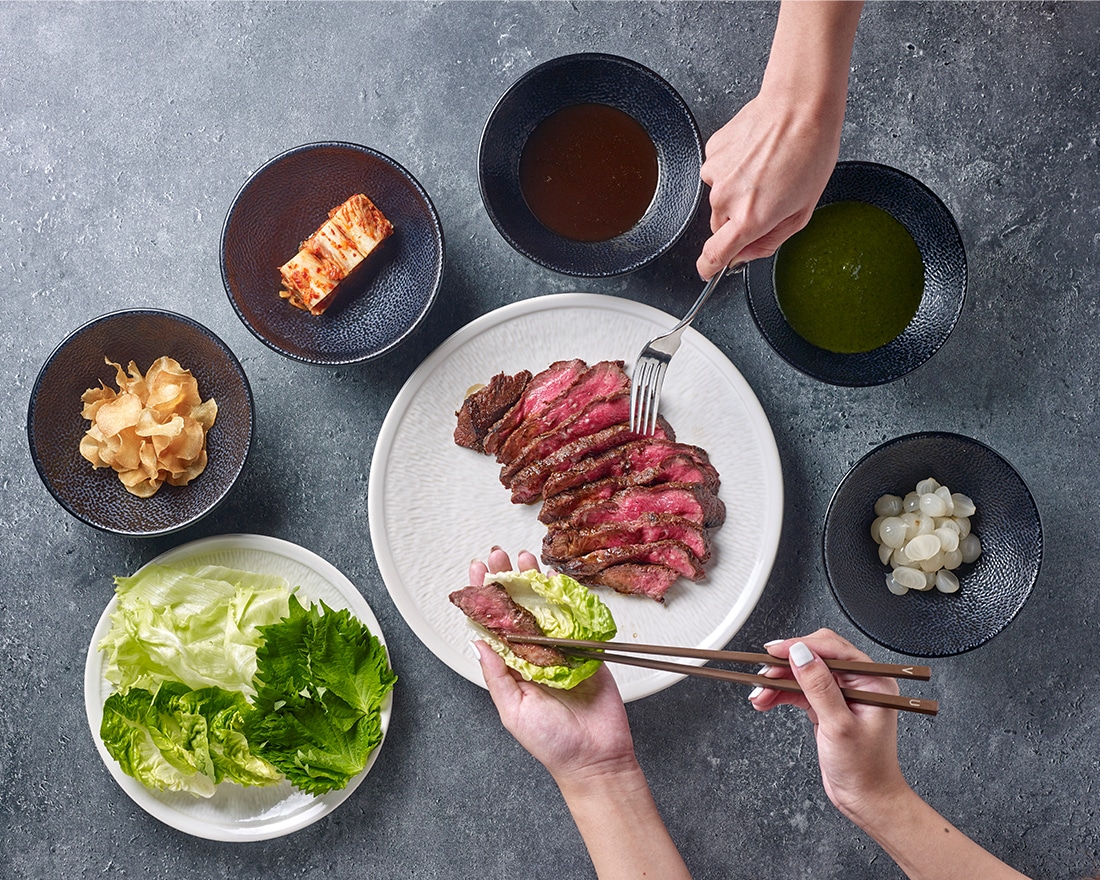 PUBLISHED February 11th, 2020 05:00 am | UPDATED May 18th, 2020 06:52 pm
The 1-Group hospitality umbrella is clearly no stranger to rooftop lifestyle destinations. After the award-winning 1-Altitude and Monti in Singapore comes yet another spot to socialise under the clouds, this time in the form of dual-concept day club and restaurant 1-V:U. It's also the group's first concept to be located inside a hotel — on Sentosa Island, no less.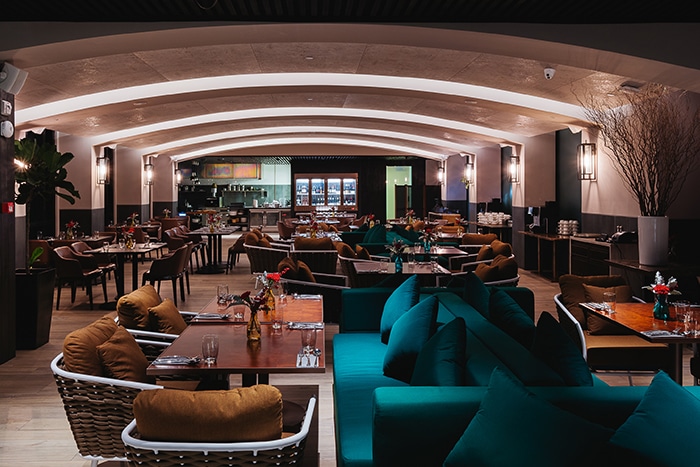 Fitting of a cool resort destination, the Day Club evokes a vibrant atmosphere that makes you feel like it's forever summer. But it's the smartly-appointed restaurant that we pay attention to. A buzzy energy flows indoors to the 60-seater space, where an open-kitchen at the corner anchors the warm dining room. It's also here where guests from Outpost Hotel take their breakfast, which you can read about in our review of the hotel.
With past stints as top names like Les Amis, Pollen, and Bacchanalia, this is where Singaporean Chef Ace Tan takes on North East Asian cooking through a progressive lens. It's not something he's unfamiliar with, seeing as he was most recently the Executive Chef at the now-defunct Restaurant Ards, another progressive Asian concept with white tablecloths and rigid square tables. You could say his bold, playful approach to cooking sits right at home here, under chic vaulted ceilings and other contemporary features.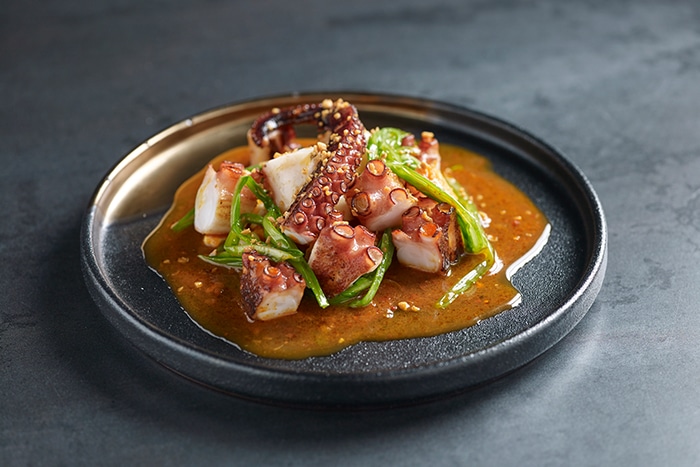 And boy, does he go to town exalting Asia's diverse culinary cultures. After a quick welcome drink, Barley Amazake. We start with a French Beans & Winged Beans Hot Salad (S$12) that he flavours with the nutty umami of natto and Indonesian 'bumbu' sauce. Garlic chips are thrown on top, and it's a slimy crunchy mess — the delicious kind. Then, an ode to the classic Chinese Huiyang dish with Lion's Head Asian Hamburg ($20), that's quite a sight. A massive pork meatball that's already plenty juicy comes paired with sautéed shimeji mushrooms, black garlic sauce, and plum compote for some overt richness.
There's a Glazed Oyster Blade Steak dish (S$40 for two to three people) that's presented with a plate of coral lettuce and a selection of banchan that's evidently inspired by Korean barbecue The beef can be eaten on its own with a housemade pesto sauce, or you can toss the meat inside a lettuce leaf with yam puree and kimchi. Chef Ace did spend a year cooking in Korea, after all.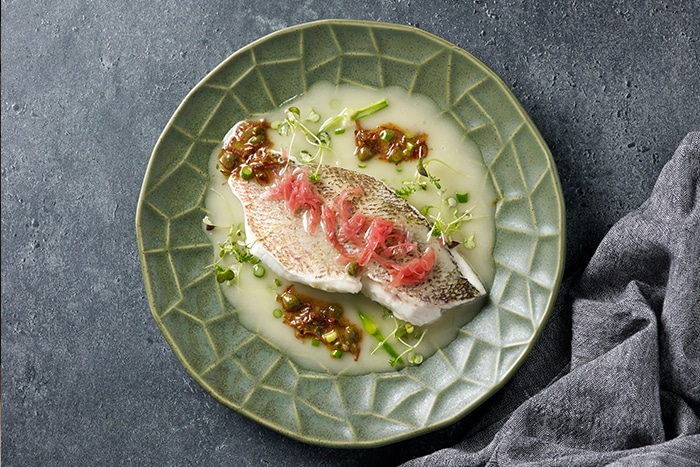 Another thing for sharing is the Red Snapper Fillet (S$38 for 180g, S$70 for 360g), poached and dressed in a blanket of garlic shoots, beurre blanc, housemade XO sauce, and pickled myoga. It's like Chinese-style steamed fish, but y'know, Western. Or the Octopus with Gochujang Emulsion (S$32), fired to a smoky tenderness in a Josper oven and served in an emulsion sauce made from cooked down pineapples, tomato sauce, and gochujang. You'll be hooked on this.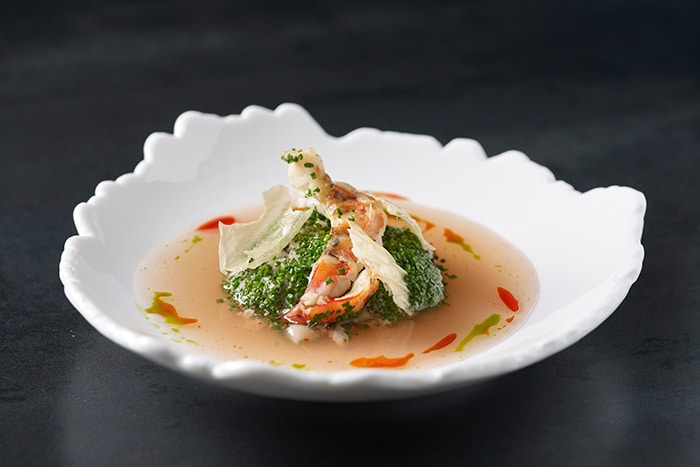 Before dessert, we get a sample of Chef Ace's tasting menu (S$98 for five to seven seasonal courses): a five spice seasoned minced pork roll dubbed Granny's Ngo Hiang 2.0 that's a take on his grandmother's recipe. It's steamed instead of deep-fried, and served in a pink chilli oil and myoga sauce with crispy soy milk skin. It's not the best gateway into the sweeter stuff, but we still enjoy the desserts: a colourful one with plump Chitose Strawberries surrounding a bed of hojicha jelly and elderflower yoghurt sherbet (S$15); and a monochrome bowl of Black Rice Pudding topped with a fragrant dollop of coconut kaffir lime ice cream (S$12) — the latter is the winning pick on our table, and almost worth travelling to Sentosa for.
1-V:U is located at Level 7 The Outpost Hotel, 10 Artillery Ave, Sentosa Island, Singapore 099951, p. +65 6513 7708. Open Sun-Thu 6pm – 9.30pm (rooftop bar open until 1am), Fri-Sat 6pm – 10pm (rooftop bar open until 3am). Closed Mon.