A Guide to Restaurants We Love with Delivery Options in Bangkok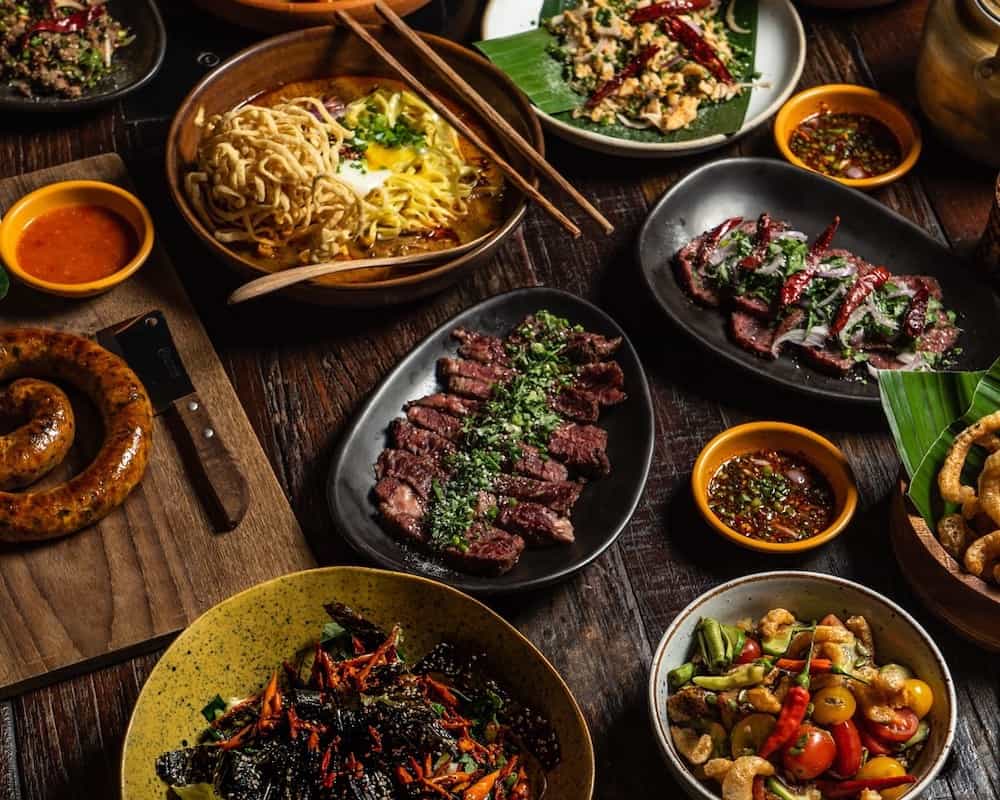 PUBLISHED April 13th, 2020 06:21 pm | UPDATED May 18th, 2020 11:54 pm
In the middle of pulling this article together, the Thai government announced a ban on alcohol sales from 10-20 April 2020 to discourage social gatherings over the Songkran public holidays, on top of a daily curfew from 10am-4pm. There have been mumblings of the ban being extended till end of the month, so we've decided to save the alcohol for another list. Hopefully, if you're stuck in Bangkok (like me with my adopted soi cat), you'll find this list helpful like what we've done with lists of restaurants, bars, and cafes that deliver in Singapore!
Thai
Bangkok Bold Kitchen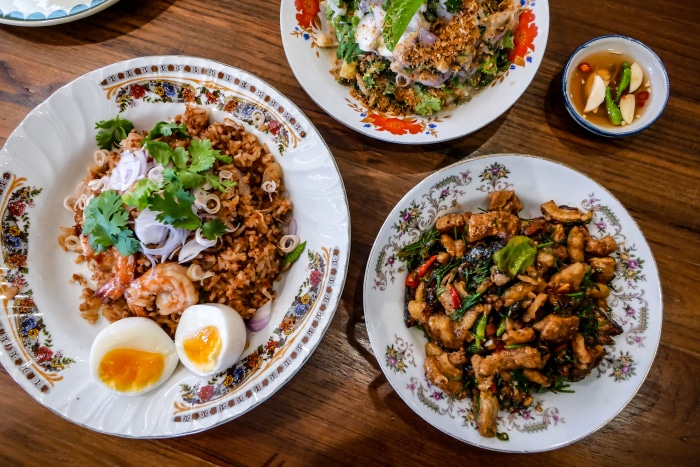 What started out as a food blog by Chortip "Nhoi" Ouypornchaisakul, who later graduated with a certificate in the culinary arts from the States, has become three old school Thai diners across Bangkok. Must-tries include the spicy and umami Shrimp Paste and Toasted Coconut Fried Rice (THB190), Fermented Pork Rice Croquette Salad (THB170) with betel leaves, and a full-flavoured stir fried Thai Mackerel and Chillies (THB190). Diners can look forward to a 15% discount on all orders till 30 April 2020. Menu here; see our full review here.
Available via: Wongnai or call +66 96 954 4292 (Central Embassy), Wongnai or call +66 91 424 4292 (Central Bangna)
Bangkok Bold Kitchen is located at Riverside Plaza (opening 1 May), Central Embassy, and Central Bangna. Open 
Charmgang Curry Shop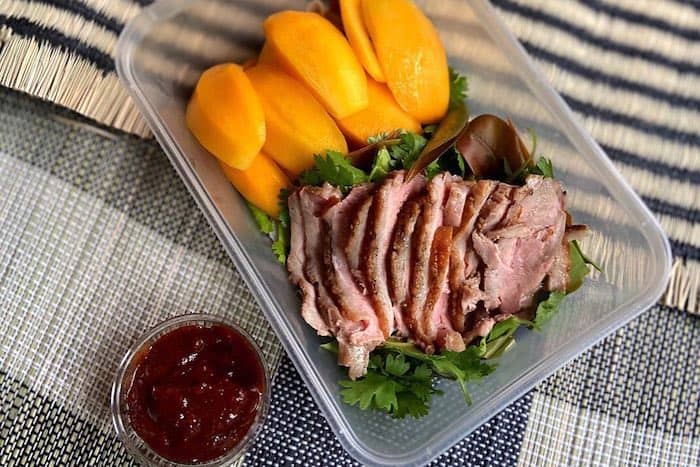 Set up by a trio of former David Thompson-era Nahm chefs, this Charoenkrung curry house has a weekly rotating menu and is delivering Wednesdays to Sundays, twice a day at 12pm and 5pm. Last orders are an hour before delivery time. You can't go wrong with their signature Charmgang Rice Noodle (THB420) with crispy pork belly, prawns, and veggies, For something more exotic, there's the Grilled Catfish (THB240) with sweet fish sauce over rice and the Smoked Kingfish Curry (THB480) with rice noodle and deep fried prawn.
Available via: direct message on Instagram
Charmgang Curry Shop is located at 14 Nakhon Kasem 5 Alley, Khwaeng Talat Noi, Khet Samphanthawong, Krung Thep Maha Nakhon 10100, p. +66 98 882 3251.
KROK
Opened by the same people behind the one Michelin-starred 80/20, Krok is putting the spotlight on the humble Thai chili relish (nam prik) with its bold, contemporary approach.
At home, you can still expect their organic rice sets that make a filling lunch with a protein, a relish, veggies of the day, pickles, and an onsen egg. Try the Grilled Pork (THB175) with dried shrimp nam prik or Braised Tofu (THB135) with eggplant relish for a meat-free option.
Ordering for more than one? They've come up with larger combo meals that feed two to four from THB295. And you love their relishes enough – they make a tasty addition to any home cooked meal – you can also now buy them in 60g formats at THB80 each. Menu here.
Available via: Line ID @krokbkk or Grab Food
KROK is located at 78 Yotha Road, Talat Noi, Samphanthawong, Bangkok 10100, p. +66 98 940 3406. Open Tue-Sun 11am-7pm. Closed Mon. 
Mayrai Pad Thai Wine Bar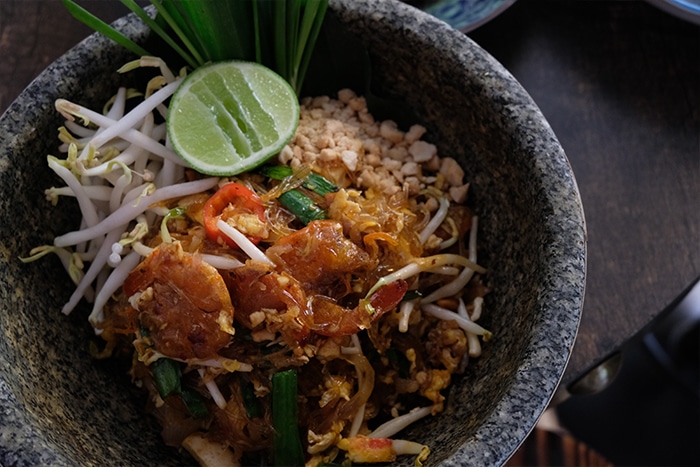 You might be surprised by how swimmingly the quintessential Pad Thai pairs with natural wine. Opened by Chef "Ton" Tassanakajohn of the Michelin-starred Le Du and his sommelier brother, "Tam" Tassanakajohn, the basic Pad Thai May Rai (THB79) is fantastic with large slices of dried shrimp that add a lot of umami. Pad Thai with juicy Grilled Pork Jowl (THB189) and Grilled River Prawn (THB690) are also available, or try Chef Ton's Khao Soi (THB390, beef or pork).
Available via: direct message on Facebook or call +66 81 432 4050
Mayrai Pad Thai is located at 22 Maha Rat Rd, Phra Borom Maha Ratchawang, Khet Phra Nakhon, Bangkok, p. +66 81 432 4050. Open Mon, Wed-Sun 12pm-8pm. Closed Sun.
Somtum Der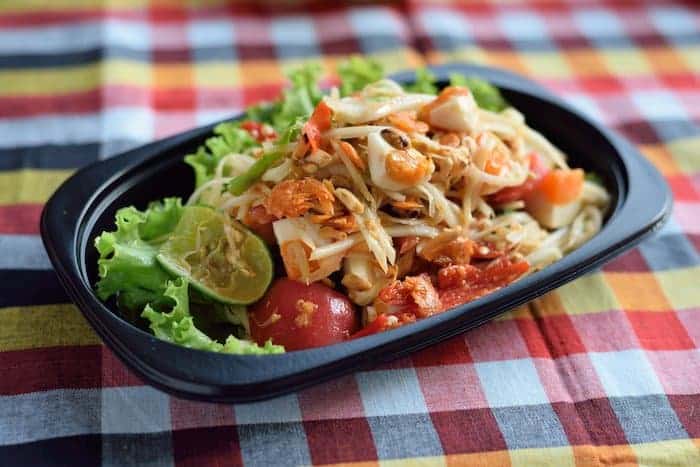 For northern Isaan food, there's always Somtum Der helmed by Head Chef Korn, who grew up in the region and is the restaurant's gatekeeper of its heritage flavours. Besides a variety of somtum (papaya salad), there's a selection of larb and meats like the grilled crying tiger beef Nua Rong Hai Der (THB110) and pork jerky Moo Dad Diao (THB85). Sets complete with sticky rice, dessert, and drinks start from THB289. There's a 15% discount on takeaways and direct orders from now till 31 May 2020.
Available via: Somtum Der's website, Line ID @supannigagroup, call +66 2 714 7608, or Grab Food
Somtum Der is located in Thonglor and Sala Daeng (see here for more information), p. +66 2 714 7608. Open 10am-8pm daily.
Supanniga Eating Room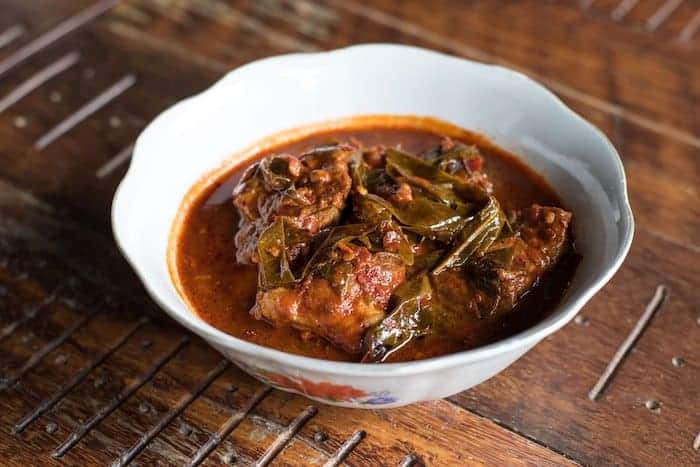 The recipes at Supanniga Eating Room mostly come from the coastal provinces of Trat and Chanthaburi – the home of the owner's grandmother – with a hint of Isaan influence. Besides fan favourites like the pork stew Moo Cha Muang (THB240) and fried Chinese cabbage with fish sauce Ka Lum Tod Nam Pla (THB170), they're also offering lunchboxes from THB 99 like Chicken Thigh in Massaman Curry on Rice and Grilled lsaan Pork with Stick Rice Skewers. They're offering a 15% discount on takeaways and direct orders till 31 May 2020. See our full review here.
Available via: Supanniga Eating Room's website, Line ID @supannigagroup, call +66 2 714 7608, or Grab Food
Supanniga Eating Room is located in Thonglor and Charoenkrung 38, , p. +66 2 714 7608. Open 10am-8pm daily.
100 Mahaseth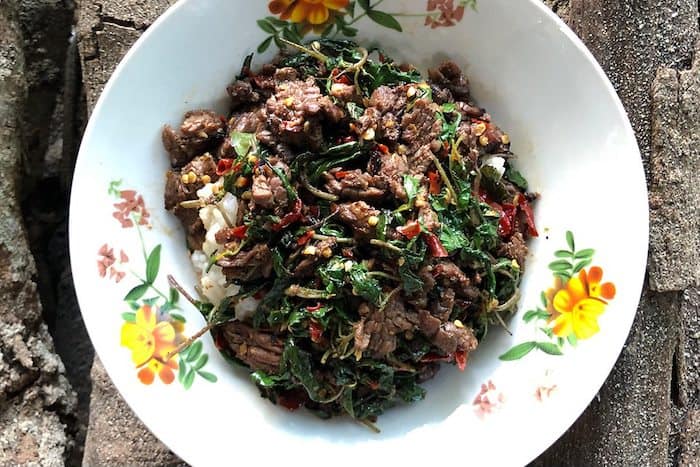 100 Mahaseth takes the nose-to-tail culinary philosophy to another level through its interpretations of Isaan and northern Thai food. Go on a culinary adventure at home with their a la carte highlights like the Black Pudding Sausage Larb Muang (THB290) and bile-brined crispy Duck Leg (THB320) served with caramelised fish sauce. They've also come up with quick one-dish meals for delivery, including the Basil Beef Jerky on Rice (THB250) and Fried Rice (THB180) with salted mackerel, boiled egg, and jaew plara.
Available via: Line ID @100mahaseth
100 Mahaseth is located at Si Phraya and Ekkamai, p. +66 2 235 0023. Open 11am-8pm daily.
Japanese
Akimitsu Tendon
Amongst healthy food collective Cherchim's offerings during this extraordinary period is Akimitsu Tendon. With a fifth generation recipe in place and 128 years of history in Tokyo, their signature  Akimitsu Tendon (THB260) stars a variety of tempura: shrimp, two types of fish (Japanese halfbeak and Spanish mackerel), okra, lotus root, and eggplant.
Also try the Nojo Tendon (THB160) with chicken and smoked egg, or complement your meal with izakaya classics like Tamagoyaki (THB70) or an avocado-wrapped Dragon Roll (THB270). You can also mix it up a little with Cherchim's clean-eating Thai dishes like the Green Curry Rice with Chicken (THB70) and Soft Shell Crab Salad (THB150).
Available via: Cherchim's website
Akimitsu Tendon is located at 555 Soi Chokchaijongjamreon, Bangpongpang, Yannawa, Bangkok, p. +66 63 438 8725. Orders taken 9am-8pm daily; delivery 11am-8.30pm daily.
Kenji's Lab
An experimental space of Chef Kenji Nakayama (remember him as a judge on Iron Chef?) in Thonglor, Kenji's Lab has a delivery menu full of well-executed Japanese staples like the Roast Beef Rice Bowl (THB380+) with onsen egg and Unagi Bento (THB 320).
If you're feeling fancy, they're doing an Omakase Genki Box (from THB1500+) for dinner, limited to five sets daily, or go for a Temaki Sushi Set (THB2500+, sea urchin extra THB1000+ ) for some DIY fun at home.
The best part? They're letting customers borrow the restaurants dishes (to be returned later) to reduce plastic usage!
Available via: Line Official @302bvqpa, or call +66 80 449 3883. Menu here.
Kenji's Lab is located at 808/13 Soi Thararom 2, Sukhumvit 55, Klongtan-Nua, Wattana, Bangkok, Thailand, p. +66 80 449 3883. Open Tue-Sun 11.30am-8pm. Closed Mon.
Menya Itto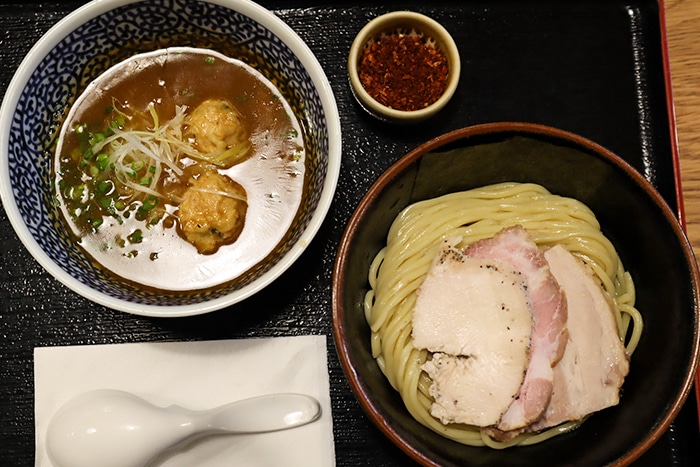 Menya Itto is one of the best ramen joints in Bangkok, and is currently delivering their popular Gyokai Tsukemen (from THB270) across the city. Known for their thick broth made from chicken and seafood (and further reduced with dried Hokkaido scallops) served with al dente cold dipping noodles, other highlights of their menu include the Spicy XO Sui-Gyoza (THB140) and Pastrami Manju (THB220), where the meat brined and smoked in-house at their basement premises of Grand Hyatt Erawan. See our full review here.
Available via: Wongnai, Line Official @871nzlci, or by phone at +66 63 045 0236. Menu here
Menya Itto is located at 494 Phloen Chit Road, Lumphini, Pathum Wan District, Bangkok 10330, Thailand, p. +66 2 250 7669. Open daily 11.30am – 3.30pm, 6pm – 8.45pm.
Ginza Tenharu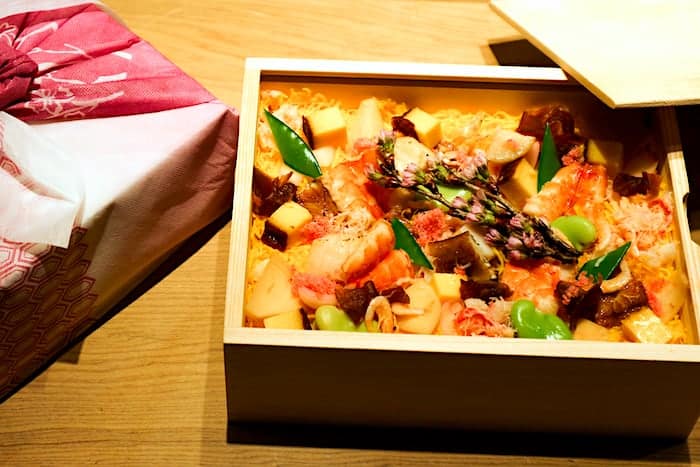 Ginza Sushi Ichi Bangkok's little sister is ordinarily in the business of tempura omakase; during this extraordinary period, they're offering their premium tempura a la carte or in a Tenju Set (THB1200+, includes rice, soup, and pickles) for delivery. You might also want to try their Chirashi Set (THB1350+) and signatures like the Ankimo (THB650+), where monkfish liver is served with fresh wasabi.
Available via: Line ID @ginzatenharubkk. Menu here.
Ginza Tenharu is located at Level 3, Gaysorn Village, 999 Phloen Chit Road, Lumphini, Pathum Wan District, Bangkok 10330, p. +66 2 070 0014.
Shabu Lab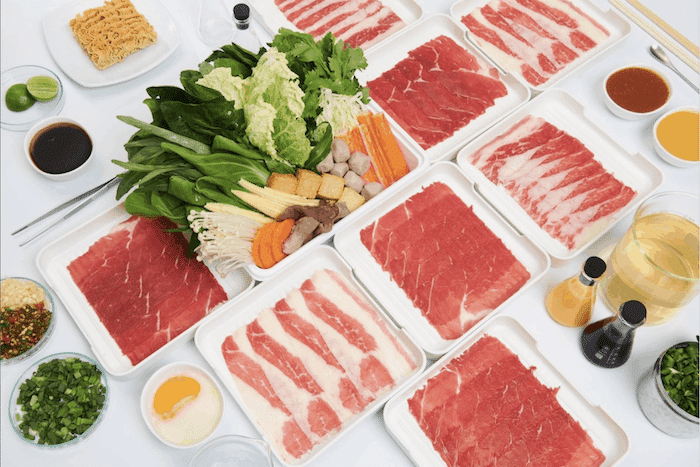 At Shabu Lab, the culinary art is treated like a science, where the diner is encouraged to create the perfect broth. Experience it at home with their sets perfect for feeding two to four people like the Pork Experimenter (THB399, pork neck and belly) and the Large Beef and Pork Set (THB799) with additional beef brisket and Australian beef chuck. Choose from six different broths – like mala, sukiyaki, tom jaew, and bacon butter – as well as a variety of sauces and sides.
Available via: foodpanda and Wongnai
Shabu Lab is located at 430/11-12 Siam Square Soi 10, Pathumwan, Bangkok 10330, p. +66 2 251 7558. Open 10.30am-9pm daily.
Shun by Yanagiya
Omakase sumiyaki kappo restaurant Shun by Yanagiya (the two Michelin-starred parent restaurant is in Gifu, Japan) now has a trio of premium donburi available for delivery.
In the mood for some red meat? Choose between their Picanha (THB890) or Top Sirloin (THB790) on beef stock rice – both cuts are from full blood Wagyu cows in Australia with a marbling score of six to seven.
There's also the Kijiyakidon (THB390) with grilled free-range chicken on Yumepirika rice and tare sauce. All donburi come with their delicious smoked quail eggs. See our full review here. 
Available via: call +66 97 854 2222, LINE ID @shunbyyanagiya, or Wongnai
Shun by Yanagiya is located at Level 3, Donki Mall, 107 Soi Sukhumvit 63, Bangkok, p. +66 97 854 2222. Open 10.30am-7.30pm daily. 
Italian
Bella Napoli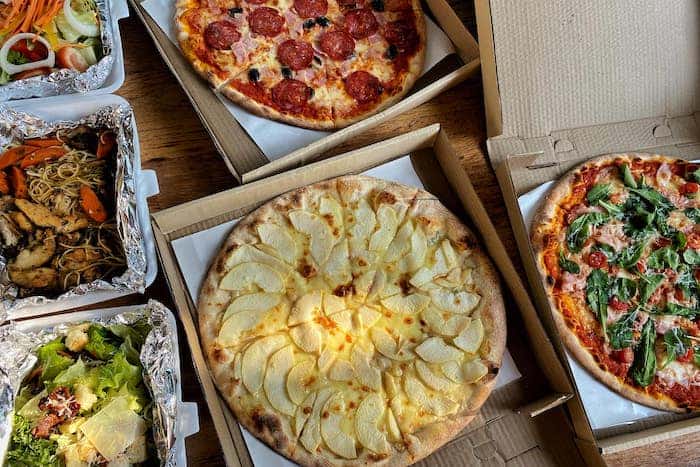 For a laidback night in Phrom Phong, half the time we end up at Bella Napoli, a pocket-friendly neighbourhood restaurant with one of the best pizzas in Sukhumvit, whether you opt for their dramatic tomato-based Titanic (THB450) with prosciutto and fresh seafood or a classic 4 Formaggi (THB350). The pastas are more than adequate, starting from THB250, or try one of their meatier mains like the Ossobuco Di Manzo (THB480) with mashed potato.
Available via: foodpanda or call +66 2 259 0405
Bella Napoli is located at 3/3 Sukhumvit Soi 31, Bangkok, p. +66 2 259 0405. Open from 11.30am daily.
Cantina
Soho Hospitality's Italian kitchen Cantina has two outlets in Nana and Ari, with the former specialising in pizza.
In fact, they have a ridiculously good lunch deal in Nana at THB390 for a pasta or pizza, salad or dessert, and a coffee or soft drink between 11.30am to 2pm. Think options like Piccante Speciale (THB450) with nduja and artichoke and black truffle infused Fettucine Cantina (THB390) with shiitake and porcini.
Its restaurant and wine bar in Ari is offering a special delivery package at THB800+, comprising of  Italian Sausage Salad or Avocado & Prawn Salad, two of their pastas and risottos, and a choice of Panna Cotta or Chocolate Fondant cake.
Available via: Grab Food, foodpanda, call +66 2 038 5114 (Ari) or +66 2 821 5113 (Nana)
Cantina is located at Ari Samphan Soi 3 and Soi Sukhumvit 11. Open from 11am daily. 
La Dotta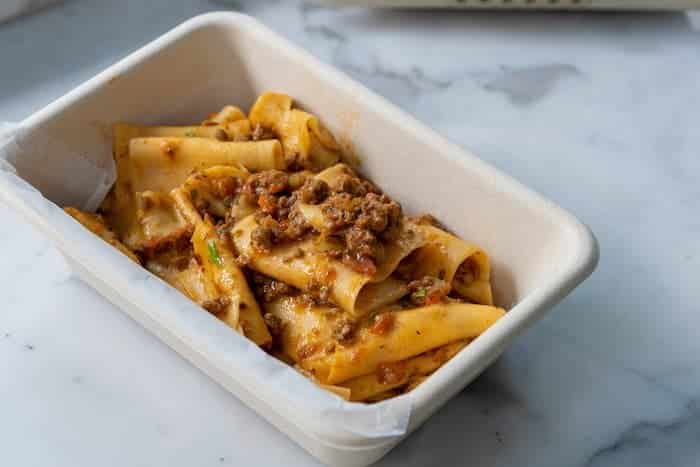 Thonglor's fresh pasta purveyor La Dotta has curated a delivery menu of their signature dishes. Indulge in an Italian feast at home with their special combo sets from THB490 for an appetiser and a choice of pasta. Choose from featured dishes like hearty starters like the flavourful Truffle, Sage & Ricotta Balls (THB340) or the refreshing Strawberries & Italian Winter Black Truffle with Rocket Salad (THB420). Their range of ready-to-eat pastas included Oxtail Pappardelle (THB490) served with sultanas and Pecorino Romano and Ricotta & Honey Agnolotti (THB290), a traditional Piedmontese recipe with cherry tomatoes.
Available via: foodpanda and Grab Food
La Dotta is located at 161/6 Thonglor 9 Road, Wattana, Bangkok, p. +66 2 392 8688. Open 10am-9pm daily.
Asian
Eats Payao Home-Bar Kitchen
A northern Thai kitchen with a farm-to-table story – the majority of ingredients used here come from their farm in Phayao – this northern Thai kitchen has another specialty – uncommon Singaporean fare.
Rather than chicken rice or chili crab, Eats Payao is dish out comfort food like the Nasi Lemak Box Set (THB180) complete with coconut infused rice, fried chicken, and anchovy sambal and the Mee Pok Tah (THB160) – flat noodles served with marinated minced pork, pork and fish balls and slow braised shiitake. Also try their Sambal Okra (THB100) and soothing Herbal Chicken Soup (THB180).
Cutoff times for orders are 11am for lunch and 4.30pm for dinner; delivery will commence between 12pm-1pm and 6pm-7pm respectively.
Available via: WhatsApp +66 83 2626 142 or LINE ID @eats.payao
Eats Payao is located at 8 Soi Ekkamai 6, Sukhumvit 63 Road., Phrakanong Nua, Vadhana, Bangkok, p. +66 62 424 1000. Open 7am-8pm daily.
Funky Lam
One of our favourite spots in Thonglor, Funky Lam is offering their entire menu during this season, with free delivery from Asoke to Phra Khanong.
We never visit this Laotian restaurant and bar without ordering natural wine (from THB1500 per bottle) and Kaipen (THB190), fried Mekong riverweed sheets served with a trio of flavourful Laotian relishes.
Other highlights of the menu include their signature fiery Larb (THB350) – we like the duck – and the grilled-to-perfection half organic baby chicken Gai Ping (THB 360). Going solo? Try their new Lao Bento (THB250) comprising of sticky rice, larb of your choice, norther Thai sausage, and slow braised ox tongue. See our full review here.
Available via: WhatsApp +66 99 005 8435 or LINE ID @funkylamkitchen
Funky Lam is located at The Taste Thonglor, 235 Soi 11, Soi Sukhumvit 55, Khlong Tan Nuea, Bangkok, p. +66 99 005 8435. Open 12pm-8pm daily.
Ping's Restaurant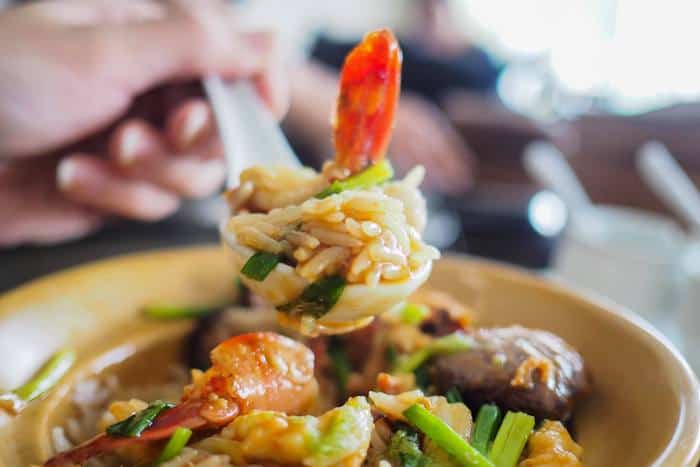 For a nourishing and comforting Thai-Teochew dishes, both outlets of Ping's in Asoke and Pathumwan are delivering their best sellers like the Braised Fish Maw Soup with Crabmeat (from THB300) and Fried Egg Noodle Hokkien Styles (THB120). For a quick, well rounded meal, opt for something from their Braised Rice menu, be it BBQ Pork, Chinese Sausage & Mushroom (THB125) or the Tiger Prawn & Mushroom (THB180). They're also delivering Singaporean-style curry puffs out of Asoke at THB45 each; see here for more details.
Available via: Line ID @pingskitchenbkk, or call +66 2 6617860
Ping's Restaurant is located at Asoke and Pathumwan, p. +66 2 6617860. Open 11am-9.30pm daily.
Yoong Chang Restaurant
The first mover in Bangkok to focus on biang iang mian – a type of noodles from China's Shaanxi Province made from wheat flour – Yoong Chang in Ari serves their hand-pulled noodles in bone broth like the Smoked Barbecue Red Pork with Chicken Soup (THB215) or dry, tossed in Sesame Oil and Fried Onions (THB160) to cater to vegetarians.
Add to your experience with sides such as their Sichuan-style spicy dumplings (THB120) or Rou Jia Mo (THB215), where soft steamed buns are eaten with marinated minced pork. Takeaway orders receive 10% off.
Available via: Line Man or call +66 90 976 4686
Yoong Chang Restaurant is located at 24 Ari Samphan 6 Alley, Rama VI Road, Samsen Nai, Phaya Thai, Bangkok, p. +66 90 976 4686. Open 11am-9.30pm daily.
Western & Fusion
Ash Kickers Brisket & Bourbon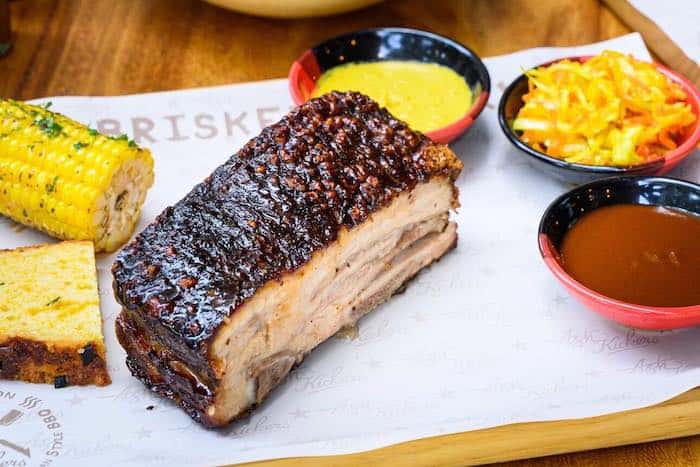 Love your American barbecue? Then you would definitely have heard of this Ekkamai BBQ joint known for their wood-smoked meats including Australian Beef Brisket, which is smoked up to 16 hours, AK Pork Ribs (a unique cut of pork belly on pork rib), and BBQ Pulled Pork slathered in homemade sauce. Priced from THB450, their platters offer a more holistic experience, comprising your choice of protein, jalapeño corn bread, slaw, and a side. Don't miss their three-variety Mac & Cheesyness (THB230) either. Menu here.
Available via: Line ID @ashkickersbkk, call +66 65 120 2018, or Grab Food
Ash Kickers is located at 30/7-8 Ekkamai 12, Khlong Tan Nuea, Watthana, Bangkok, p. +66 65 120 2018. Open Tue-Sun 11.30am-8.30pm. 
Bunker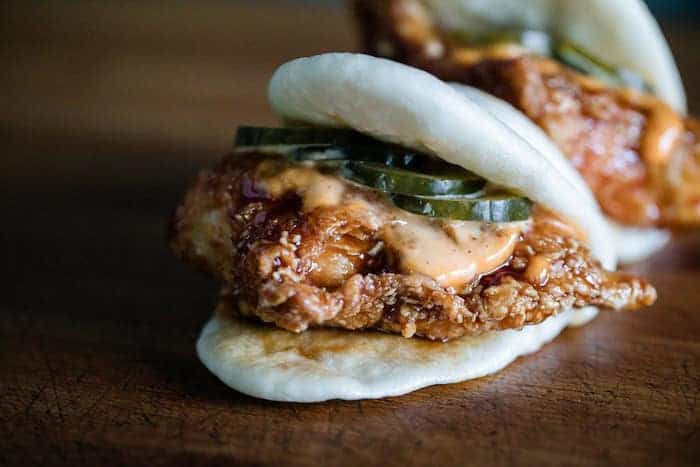 In the mood for abit of everything? The offerings at Sathorn hotspot Bunker is inspired by the culinary landscape of metropolitan American cities and influenced by a multitude of cultures. Look forward to small and large plates like the textural Korean Fried Chicken Bao (THB220 each) with tangy togarashi mayo, oxtail-accompanied Ricotta Cavatelli (THB325) pasta, and a Grilled Pork Chop (THB450) with tamrind sambal and Chinese kale. Menu here.
Available via: Line ID @bunker.bkk
Bunker is located at 118/2 Soi Suksa (Sathorn 12), Bangkok, p. +66 92 563 9991. Open Tue-Sun 11.30am-9pm. Closed Mon.
JUA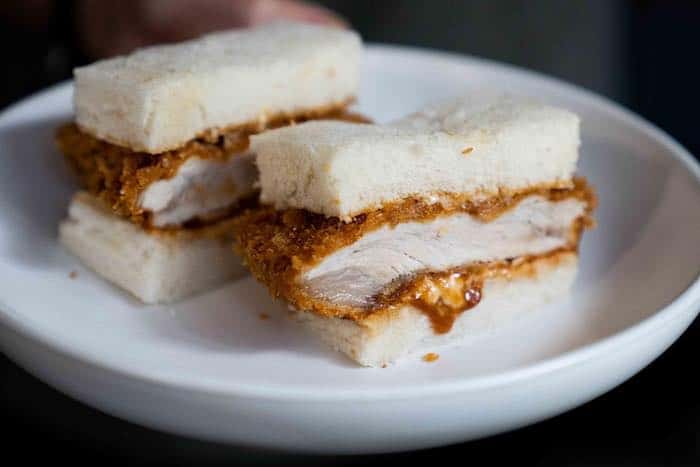 Contemporary social izakaya JUA goes back to delicious basics amidst the Covid-19 shutdown. Look forward to your favourite type of yakitori, be it Thigh with Leek (THB80), innards like Liver (THB90) or Gizzard (THB80), and charred veggies such as Okra (THB70) and Asparagus (THB100). For a quick meal or snack, they have pork and chicken katsu sandos (from THB150) and rice bowls with toppings like Pork Belly (THB280) or Ahi Poke (THB300).
Available via: Line ID @jua.bkk or call +66 2 103 6598
JUA is located at 118/2 Soi Suksa (Sathorn 12), Bangkok, p. +66 92 563 9991. Open Tue-Sun 11.30am-9pm. Closed Mon.
Luka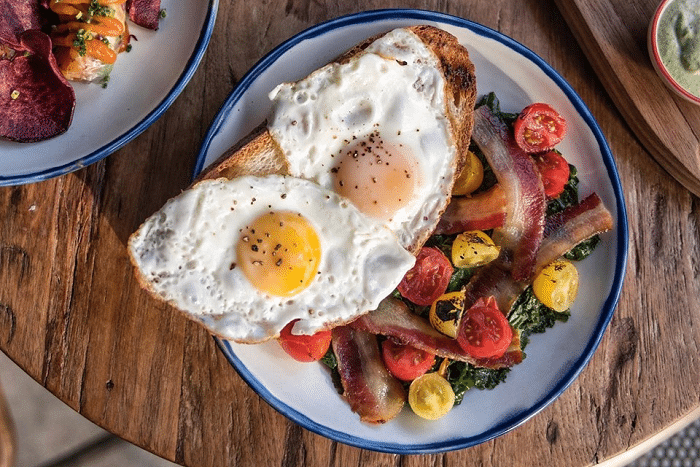 Luka is the ultimate neighbourhood café, so it's not surprising the food veers nostalgic, be it all-day brekkie like the signature Luka Breakfast Burrito (THB 350) and the sweet-savoury Bacon & Butter French Toast (THB265). Luka's food is not the least bit greasy, but folks who'd like lighter options can look to the Japanese Pumpkin Bisque (THB 170) with whisky browned butter and grilled sourdough or herb pesto slathered Green Goddess Grilled Cheese (THB255) sandwich. They're also offering 15% off self collection orders. Delivery menu here.
Available via:  WhatsApp +66 91 886 8717 or call +66 2 637 8558
Luka is located at 64/3 Thanon Pan, Silom, Bangrak, Bangkok, p. +66 2 637 8558. Open 9am-6.30pm daily.
Ms. Maria & Mr. Singh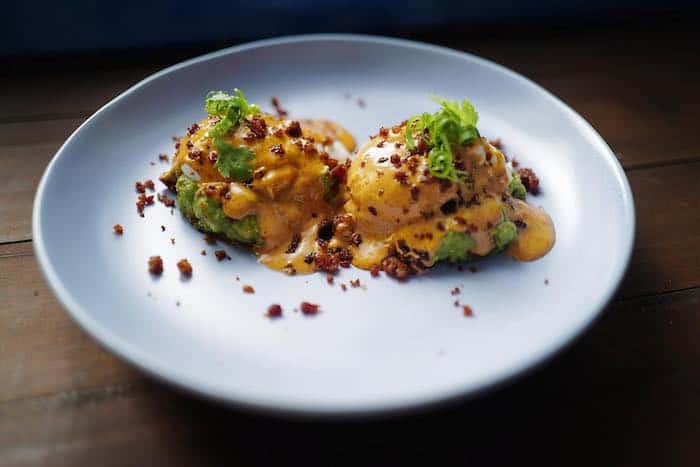 In case you missed it, restaurateur and chef extraordinaire Gaggan Anand opened Ms. Maria & Mr. Singh barely a month ago. A fictional love affair between a Mexican girl and an Indian boy is the backdrop to the actual marriage of home-style Mexican cooking and Indian curries. Look forward to decadent breakfast plates (7am-11am daily) like Chef Gaby's Egg Benedict Mexicana (THB290)  with chipotle hollandaise or Gaggan's 18-hour Pot au Feu (THB390) with Australian tenderloin and truffles. Highlights of their all-day menu include Indian street food snack Gol Gappa (THB200) and Okinawan sugar dusted crispy Churros (THB180).
Available via: Line ID @mariaandsingh or call +66 91 698 6688
Ms. Maria & Mr. Singh is located at 8 Soi Ekkamai 6, Sukhumvit 63 Road., Phrakanong Nua, Vadhana, Bangkok, p. +66 62 424 1000. Open 7am-8pm daily.
Prime Burger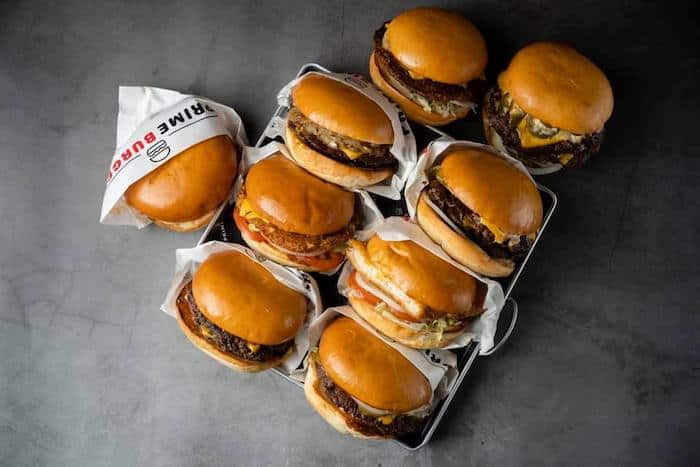 We might be in Bangkok but we can surely try Phuket's best burger of 2019. Having expanded from Patong Beach to Sukhumvit earlier this year, Prime Burger prides itself on having a fresh batch of beef ground daily for their mouthwatering smashed patties. All eight burgers start from THB245 for a single; try the aforementioned award winning Stockholm with both pickled red onions and pickles, classic New York (onions, pickles, ketchup), or Paris , which tops the BLT combi by adding Dijon mustard and truffle mayo.
Available via: foodpanda or Grab Food
Prime Burger is located at 497 Sukhumvit Road, Khlong Toei Nuea, Bangkok, p. +66 93 583 8700. Open 10.45 am-9pm daily. 
Mediterranean and Middle Eastern
Aesop's
This Greek restaurant in Silom has been a destination for many social gatherings…with dancing and plate smashing including. Bring a bit of their signature conviviality into your home with their delivery menu of signatures, rice bowls, and deli items (think hummus and tzatziki).
Served with chicken and beef & lamb kofta, their Mixed Souvlaki Platter(THB850) is a perfect feast for two. Alternatively try one of their new Greeks Rice Bowls (from THB320) with flavours like halloumi and crispy chicken or classic Greek Gyro Wraps (from THB300). Direct online orders receive 10% off – menu here.
Available via: Aesop's website
Aesop's Bangkok is located at 120 Soi Saladeang 1/1 Silom, Bangrak, Bangkok, p. +66 62 567 7751. Open 11.30am-8pm daily.
Nadimos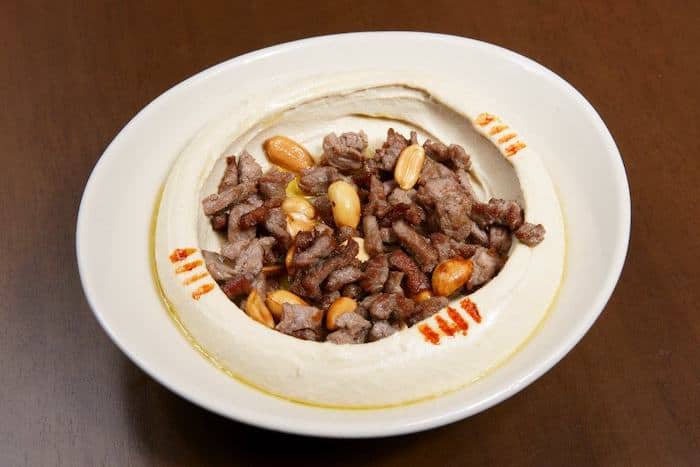 Hummus heads, look no further than local Lebanese institution Nadimos for your fix, where the humble chickpea dip (from THB150) comes with toppings like pine nuts, shrimp, and even kibbeh (bulgur, minced onions, finely ground meat, and Middle Eastern spices). Besides other classics like  Chicken Shawarma (THB240) and lamb Kebab Khachkhach (THB290) with spicy tomato, diners can look forward to specials updated daily on their socials. A 15% discount on all orders throughout this period.
Available via: website or call +66 62 424 1000
Nadimos is located at Sukhumvit 24 and Silom. Open daily from 11.30am.
Indian
Haoma
Situated between Asoke and Phrom Phong, Haoma is a regenerative urban farm restaurant where vegetables, herbs and fish are grown and harvested on site. We'd usually classify their Neo-Indian cuisine using sustainable and local produce as fine dining, but during this period, diners can look forward to Haoma's take Indian classics in heartier portions.
Aside from wholesome Biryanis (take your pick from vegetarian, chicken, and mutton keema), familiar dishes like Paneer Tikka (THB 320) and Butter Chicken (THB420) go with sides such as Chapati (THB40) and Paratha (THB75). Free delivery; see menu here.
Available via:  +66 9 3125 0699 or message them on Facebook
Haoma is located at 231/3 Sukhumvit Soi 31, Bangkok, Thailand, p. +66 9 3125 0699. Open Mon-Fri 11am-8pm, Sum 11am-8pm. Closed Sat.
Punjab Grill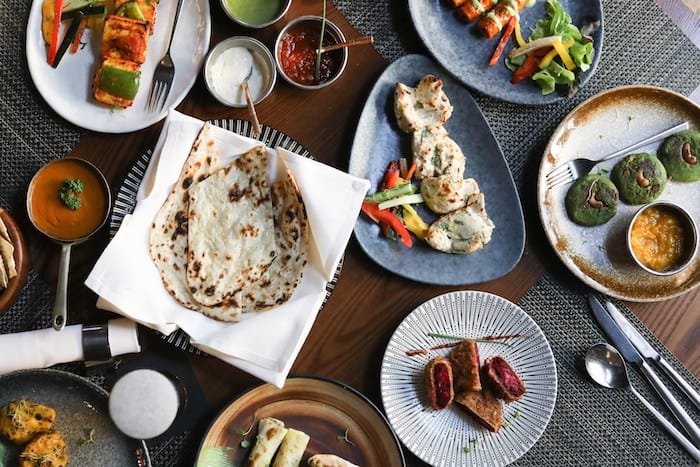 Go regional with your Indian meal, in this case with northern flavours from the Punjab state that borders Pakistan. Apart from a la carte highlights such as the nutmeg-scented Chaamp Masala (THB575) mutton chops cooked with yoghurt and Kashmiri, they have a newly launched express menu with easy meals. Think Indian style pizza (from THB275), wraps and hot dogs with masala fries, and masala burgers with potato wedges from THB240. Punjab Grill is also offering a 15% discount on direct orders. Menu here.
Available via: call +66 91 818 5248 or foodpanda
Punjab Grill is located at 23/2-3 Sukhumvit 13, Radisson Suites, Bangkok, p. 02 645 4952. Open 11am-8pm daily.
Top image: Funky Lam