A Guide To Restaurants We Love with Islandwide Delivery And Takeaway Options In Singapore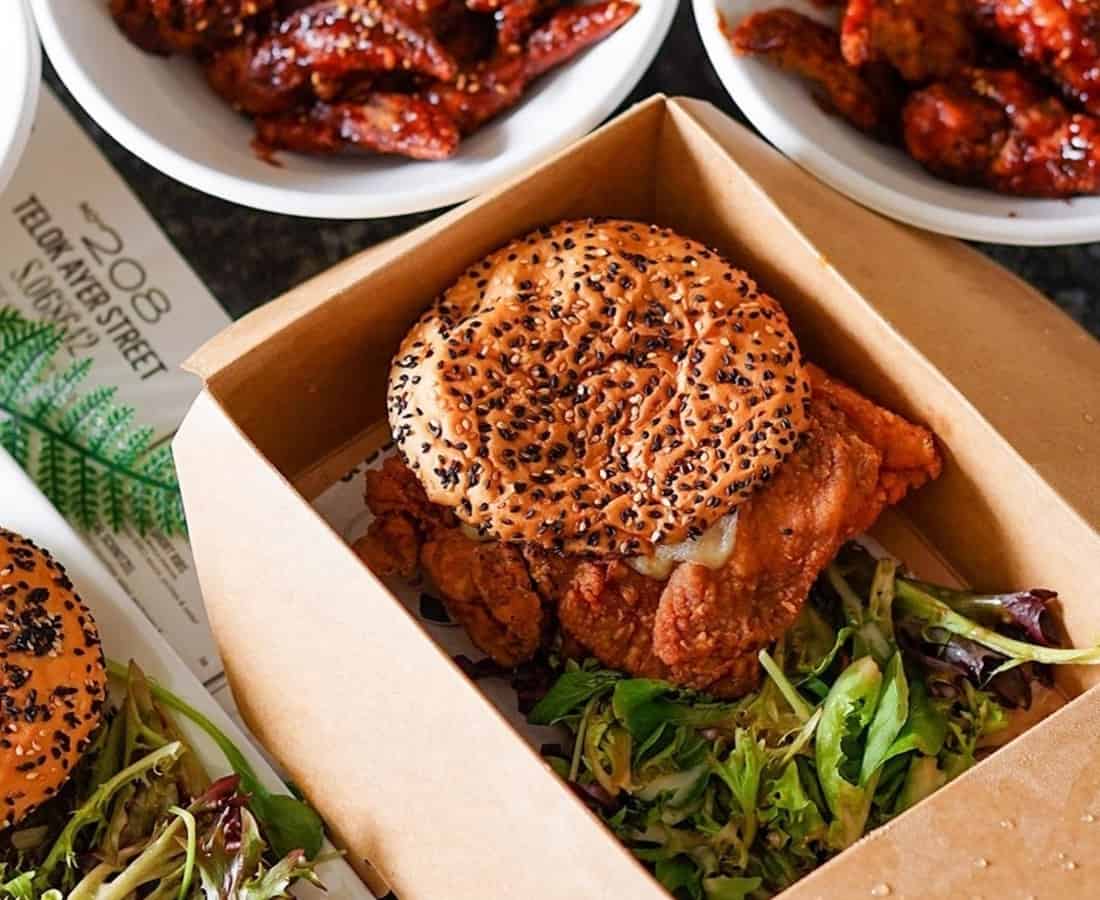 PUBLISHED May 13th, 2021 05:00 am
With COVID-19 community cases ticking steadily upward, staying home is starting to look like a wise idea again. Luckily, that doesn't mean mealtime needs to be lackluster – we've still got our plate full with restaurants cooking up islandwide delivery and takeaway options in Singapore. Whether you're after Western or Asian, steak or sushi, you'll find a fix for all budgets in our ultimate guide.
Western
Da Paolo Gastronomia
PRICE RANGE: $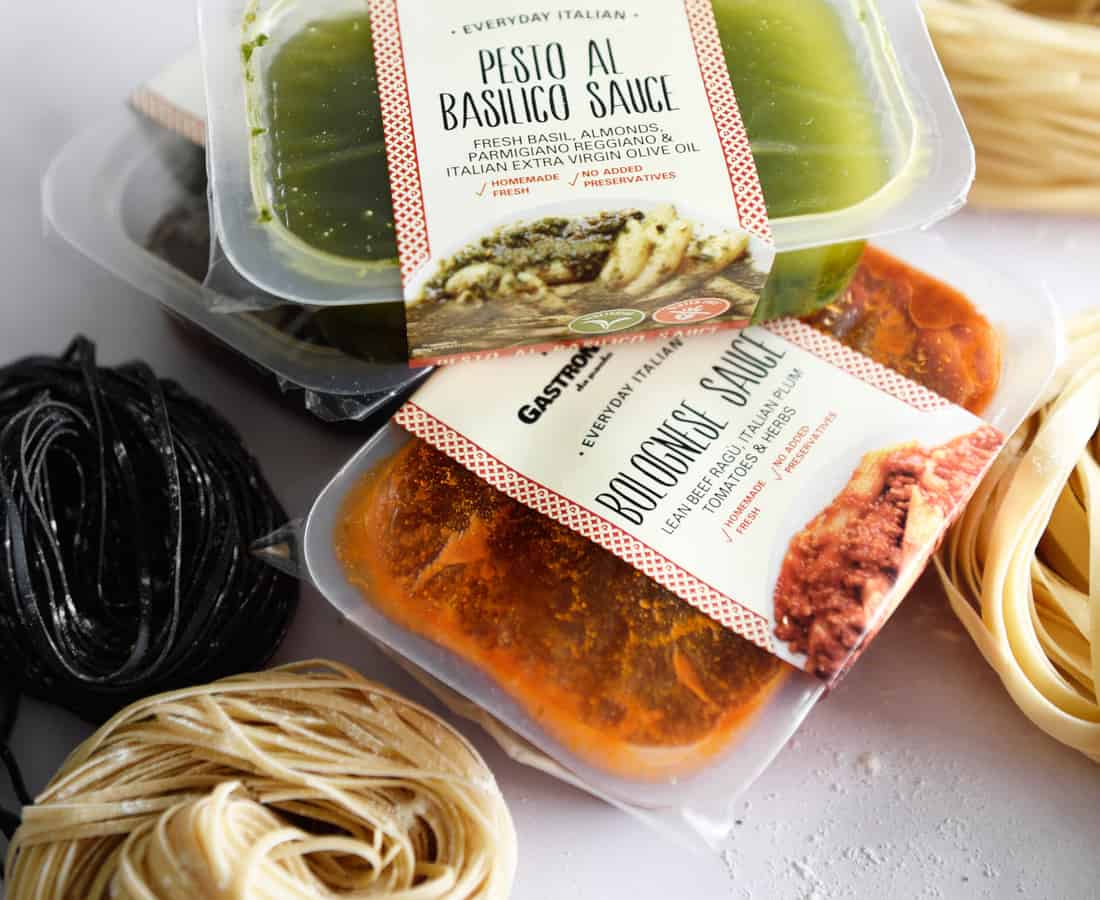 There's nothing a hearty Italian feast can't fix, especially when it comes to Da Paolo Gastronomia's gourmet grub. Their delivery site features a marvellous range of fresh pasta sauces, along with essentials like Egg Tagliatelle (S$8.20), Squid Ink Tagliolini (S$10.80), and San Pietro Black Truffle Oil (S$29.90) – everything you need to whip up a pasta party in your pot. If you prefer your Italian fix to come perfectly al dente, they've also got a sprawling selection of pastas, lasagnes, and pizzas for delivery and self-collection.
Da Paolo Gastronomia has outlets in Bukit Timah, City Hall, Harbourfront, Holland Village, Marina Bay, Orchard, and Raffles Place. Shop groceries and food delivery on their online site here.
Tiga Roti
PRICE RANGE: $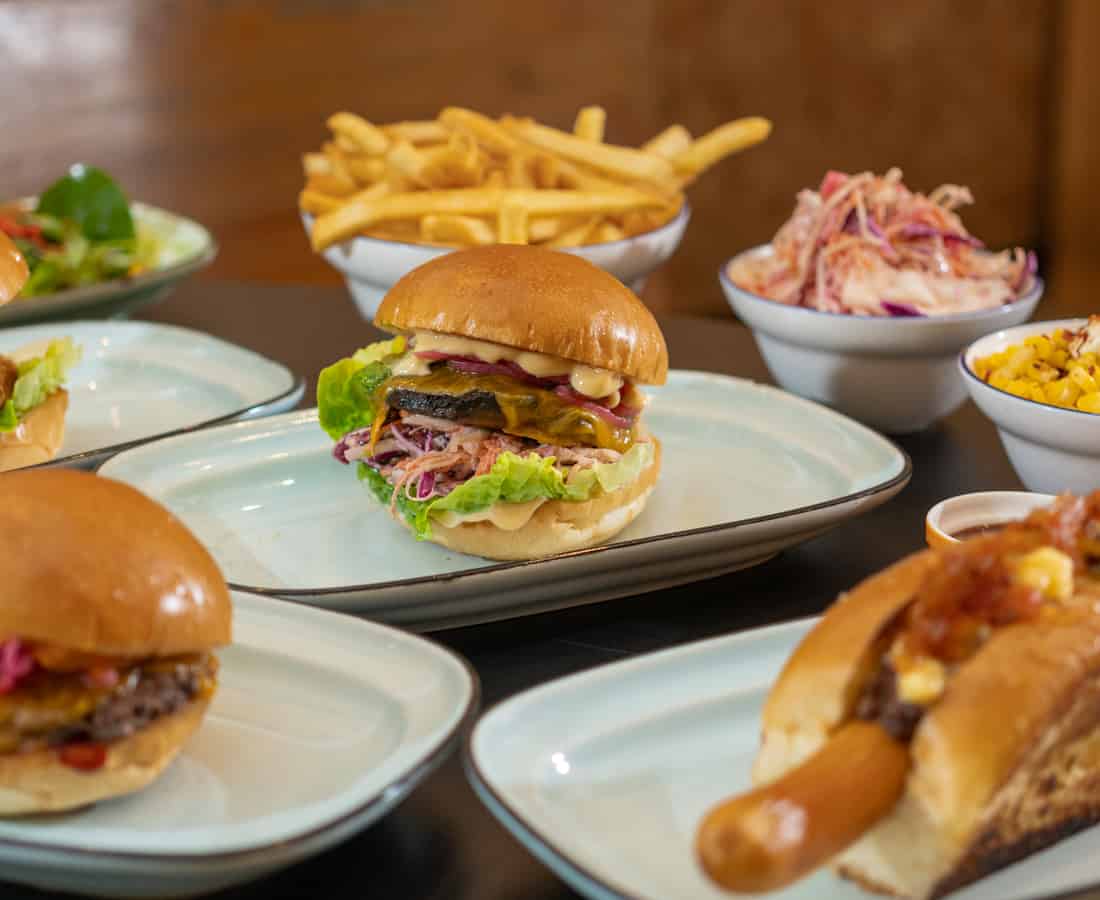 Known for taking the humble burger to new heights, Potato Head Singapore's Executive Chef Adam Penney is at it again with his latest Halal-friendly cloud kitchen. Tiga Roti's thick stacks feature only Halal-certified ingredients, along with fun dashes of local flavour. Hot Dang' (S$15) spices things up with beef brisket slow-cooked for 24 hours and slathered in rendang gravy, while Truff It Up (S$13) sees free-range Argentinian beef and onion marmalade stuffed between pillowy brioche buns. The Fuhhhhh Fries (S$9) – these double-cooked crisps come positively blanketed in minced beef, bawang goreng, and spiced béarnaise.
Tiga Roti's delivery hours run from 10am–11.45pm daily. Order online here. 
Lean Bento
PRICE RANGE: $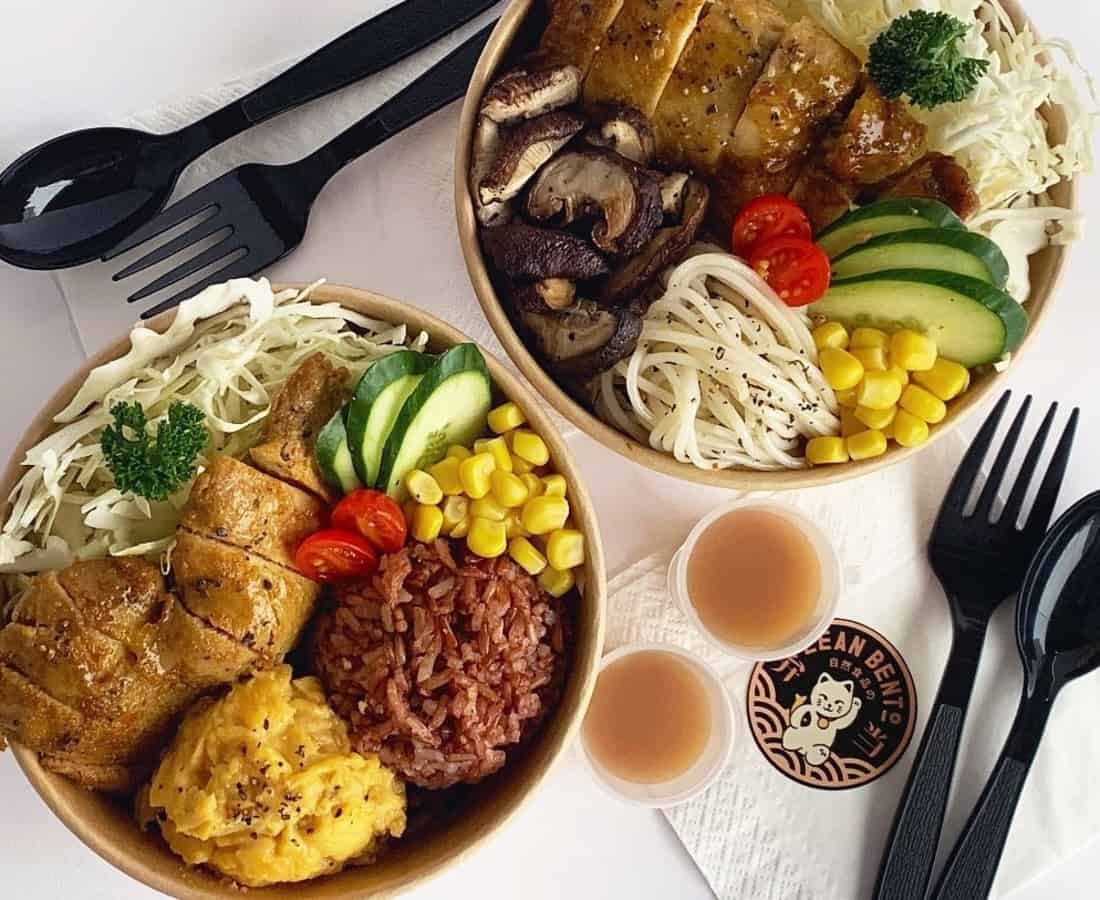 Bringing wholesome eats to our couches is Halal-certified online store Lean Bento. Whether you're planning to go low-carb, high-protein, or vegan, they've got fresh-cooked, tasty bento boxes for all diets. Bulk up with protein-packed options like Roast Chicken Rice (S$14.90) and Sous Vide Salmon (S$14.90), cut back the carbs with Chicken Breast Zucchini Udon (S$14.90), and treat yo' self guilt-free to paw-shaped custard desserts in flavours like Miso & Matcha and Cocoa & Cinnamon (S$3.90).
Lean Bento's pickup centre is located at 1 Irving Place, #03-01, Singapore 369546, p. +65 6750 4504. Delivery and pick-up hours run from Mon-Fri 10am–7pm, Sat 10am–6pm. Order online or via [email protected]
Korio
PRICE RANGE: $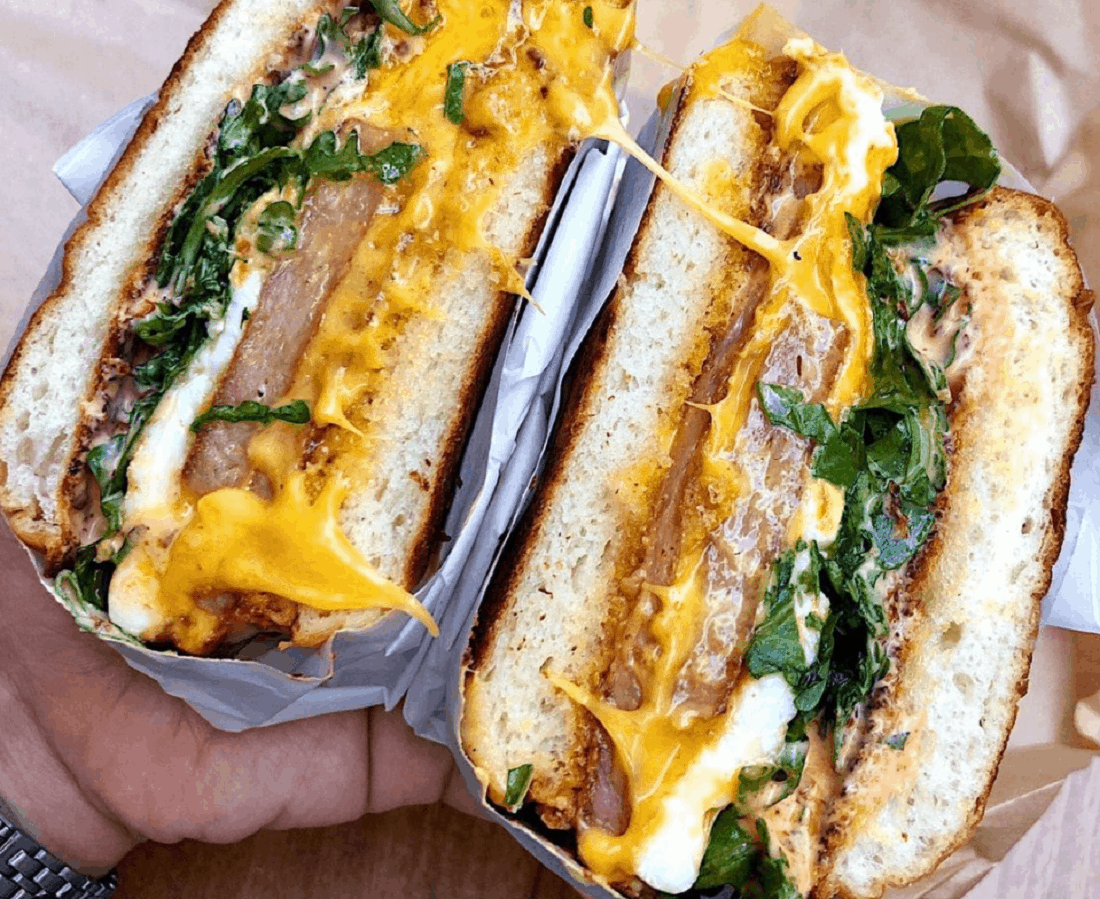 A hole-in-the-wall joint in Amoy Street, Korio's popular sammies and doughnuts tend to be snapped up by the CBD crowd by noon. Get ahead of the game by pre-ordering their famed Grilled Cheese (S$13) online – a melty affair of cheddar and American cheese between whole wheat sourdough. For brekkie fuel, the Breakfast Sammy (S$14) is sure to cheer you up with crisp Spam slathered in tangy sauce gribiche. Get a box of doughnuts (from S$20 for four) and save some for teatime – the words 'honey smoked sea salt' is enough to start the drooling.
Korio is located at 135 Amoy St, Far East Square #01-03, Singapore 049964, p. +65 9771 6491. Delivery and pickup hours run from Tues-Fri 10am–1pm. Order online here. 
The Masses
PRICE RANGE: $$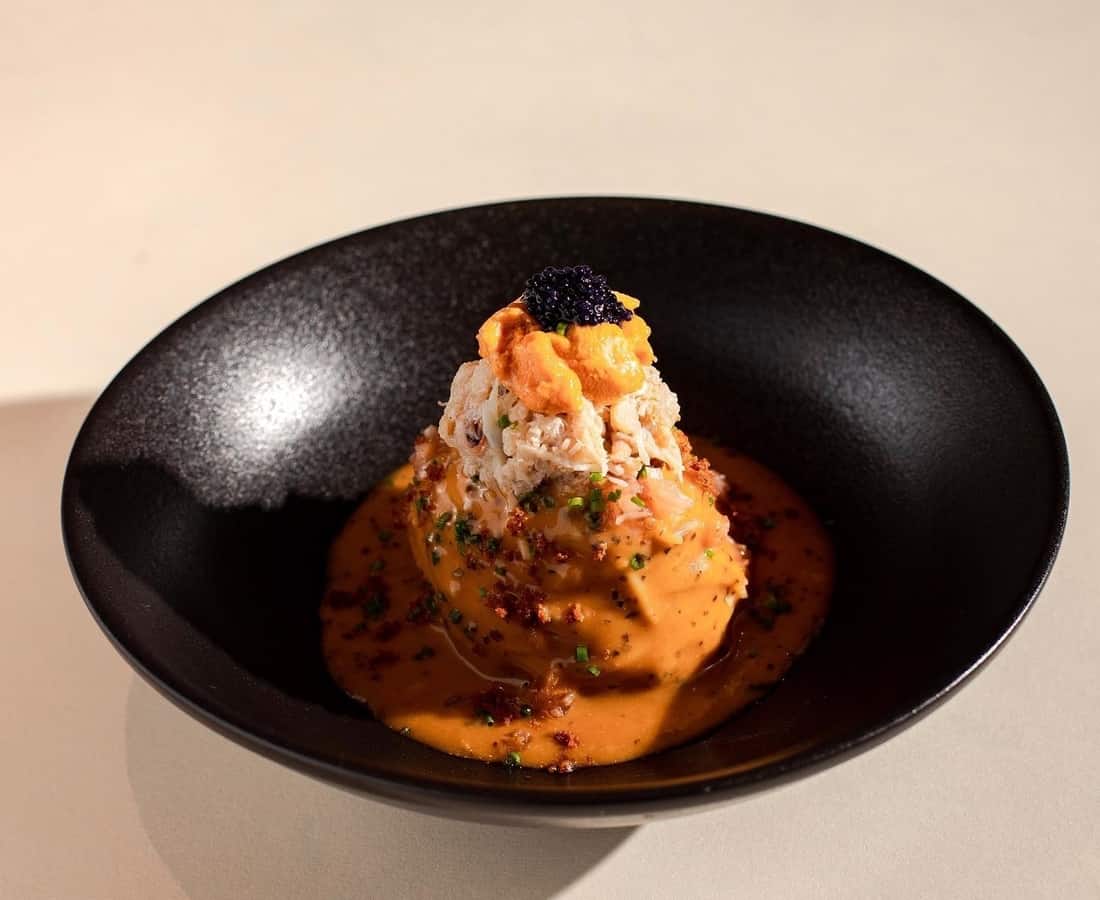 French cuisine gets a bold Asian update at chef Dylan Ong's fusion restaurant The Masses. The menu switches up every few months, but luckily you won't need to miss out whether you're going out or staying in. Savour the quirky marriage of cultures with fork-tender Char Siew Lamb Rib (S$14.90), Frog's Leg (S$17.90) sweetened with piquillo peppers, and their famous C&C&C&C Pasta (S$19.90) heaped with crabmeat and caviar. To top off your home feasting, snag a bottle or two from their biodynamic wine selection.
The Masses is located at 85 Beach Road, #01-02, Singapore 189694, p. +65 6266 0061. Delivery and self-collection hours run from 12pm–9pm daily. Order online here. 
Greenwood Fish Market
PRICE RANGE: $$
Just keep swimmin' with Greenwood Fish Market's scrumptious fresh catch, splashing to your doorstep via islandwide delivery or self-pickup. Seafood classics include the House Fish & Chips (S$11.50) and Grilled Spanish Octopus (S$19.95), though their sprawling range of fresh-shucked oysters have us seriously tempted. For a seafood feast with the fam, dive into the Cold Seafood Platter (S$109.95 for two to four pax) brimming with steamed Boston lobster, tiger prawns, smoked salmon, and more.
Greenwood Fish Market has outlets in Bukit Timah and Quayside Isle. Order online here. 
Salted & Hung
PRICE RANGE: $$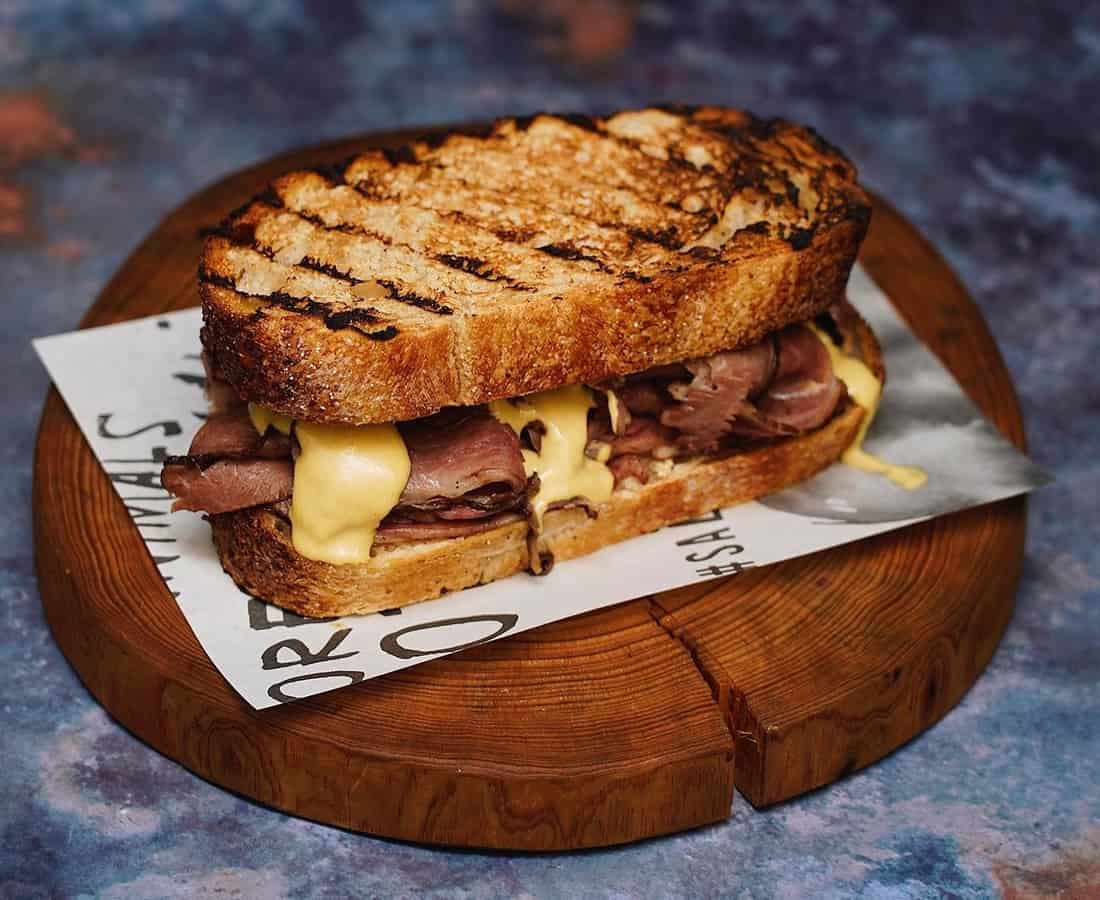 Good meat makes our world go round, and that goes doubly for Salted & Hung's juicy offerings. Their delivery menu brings together comfort fuel such as melt-in-the-mouth Wagyu Pastrami Sandwich (S$20) and decadently oozy Mac & 3 Cheese (S$20), along with ready-to-cook deli meats like Smoked Maple Bacon (from S$11) as well as Whipped Lard (from S$10). Their crackly, fatty Porchetta (S$78 for four pax) is the stuff of carnivores' dreams, and you can now savour it at home with three days' notice required.
Salted & Hung is located at 12 Purvis Street, Singapore 188591, p. +65 6358 3130. Delivery hours run from Tues-Thurs & Sun 12pm–2.30pm and 5.30pm–9pm, Fri-Sat 12pm–2.30pm and 6pm–10pm. Order online here. 
BAKALAKI Greek Taverna
PRICE RANGE: $$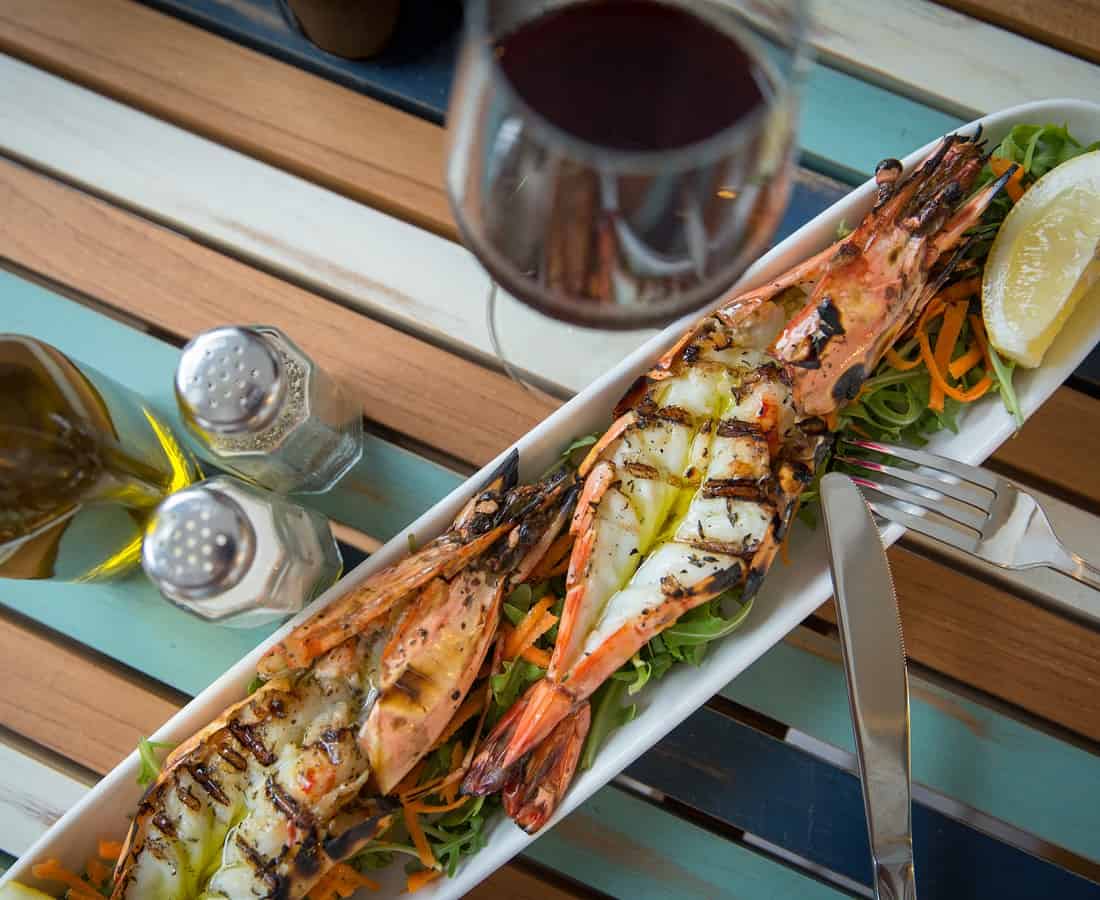 If you're craving fresh sea breeze and Mediterranean sun, here's the next best thing: Greek grub. A light-filled taverna in Tiong Bahru, BAKALAKI flies in its seafood, herbs, wines, and other produce from authentic Greek suppliers. Their Moussaka (S$27.71) is as classic and comforting as it gets, with layers of minced beef, eggplant, and potato adding up to creamy goodness. Other signatures include the Souvlaki Kebab (S$20.22) – a pillowy pita stuffed with minced lamb and beef, then slathered in tzatziki – and Htapodi (S$35.20), a smoke-kissed leg of octopus doused in extra virgin olive oil.
BAKALAKI Greek Taverna is located at 3 Seng Poh Rd, Singapore 168891, p. +65 6836 3688. Delivery hours run from Mon-Thurs 5pm–9pm, Fri-Sun 11.30am–2.30pm and 5pm–9pm. Order online here. 
Plank Sourdough Pizza
PRICE RANGE: $$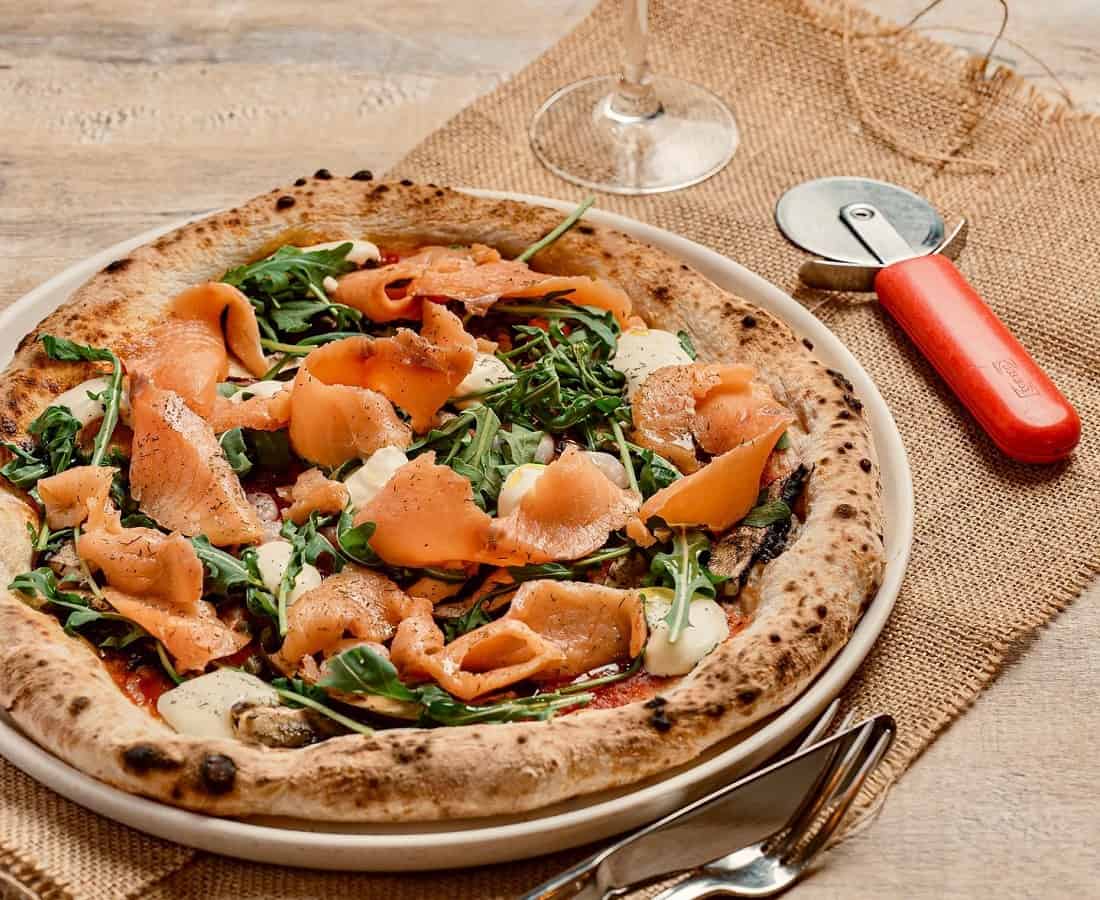 Nothing says stay-home comfort like pizza, but what if you want? As the name suggests, Plank Sourdough Pizza gets serious about dough – its sourdough is fermented for 48 hours, painstakingly hand-stretched, and baked in special Valiorani brick kilns to produce deliciously crisp crusts. The pizzas here are pithily numbered 0 through 10, from the classic pepperoni of Pizza 0 (S$20), to the lamb meatballs-and-buttered leek creation of Pizza 8 (S$26). Make it a feast with their combo meals for two and four, and snag some wines or craft beers while you're at it.
Plank Sourdough Pizza has outlets in Dempsey, Faber Drive, Swan Lake Avenue, Bukit Timah, Eng Kong Terrace, and Serangoon Garden. Order online here. 
The Loco Group
PRICE RANGE: $$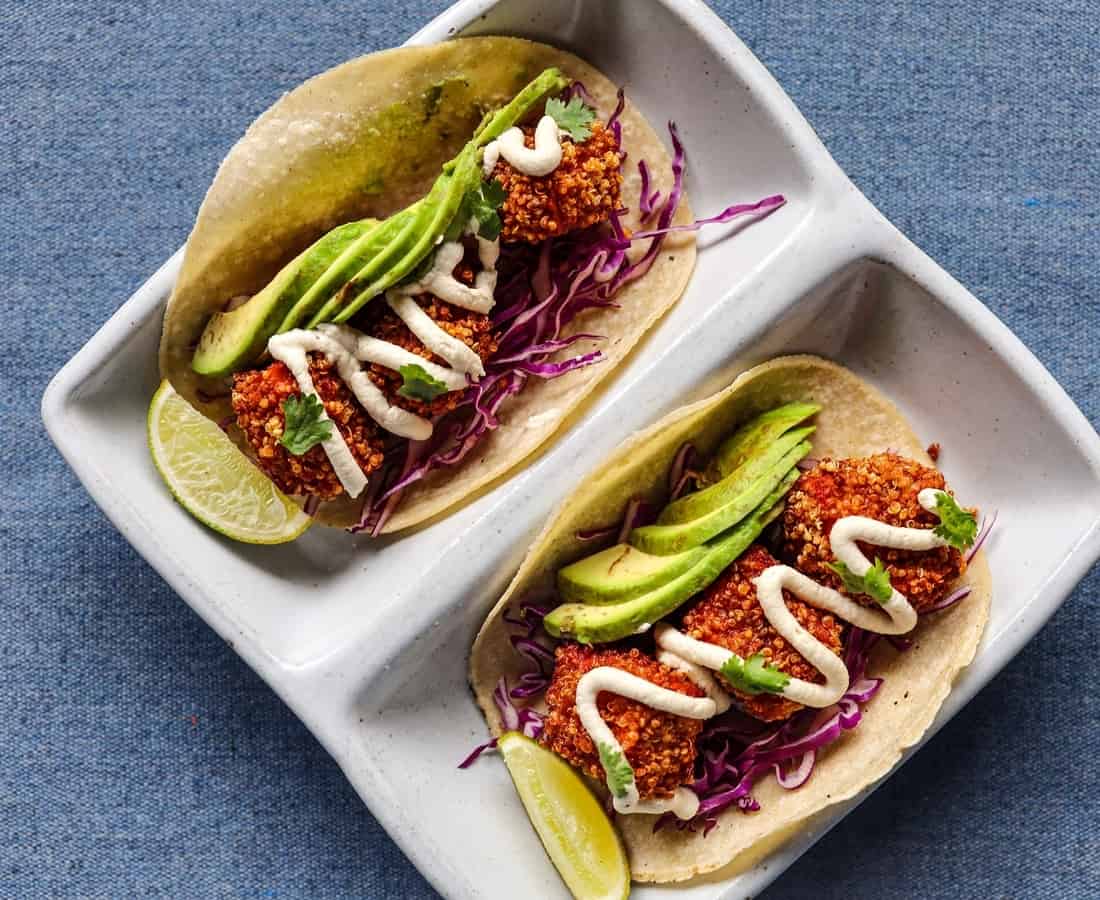 When we're going loco for Mexican nosh, The Loco Group's quartet of restaurants – Lucha Loco, Super Loco Robertson Quay, Super Loco Customs House, and Chico Loco – always have our backs. They whip up well-stuffed burritos and burrito bowls, tacos filled with pork belly and tiger prawns, and quesadillas with cheese and oyster mushrooms spilling from them. Their killer margaritas in fruity flavours are up for delivery and takeaway as well, available as single serves (S$10), doubles (S$18), or jugs (S$42).
The Loco Group has concepts in Duxton Hill, Amoy Street, Robertson Quay, and Customs House. Check out their delivery hours and menus here.    
Rosso Vino
PRICE RANGE: $$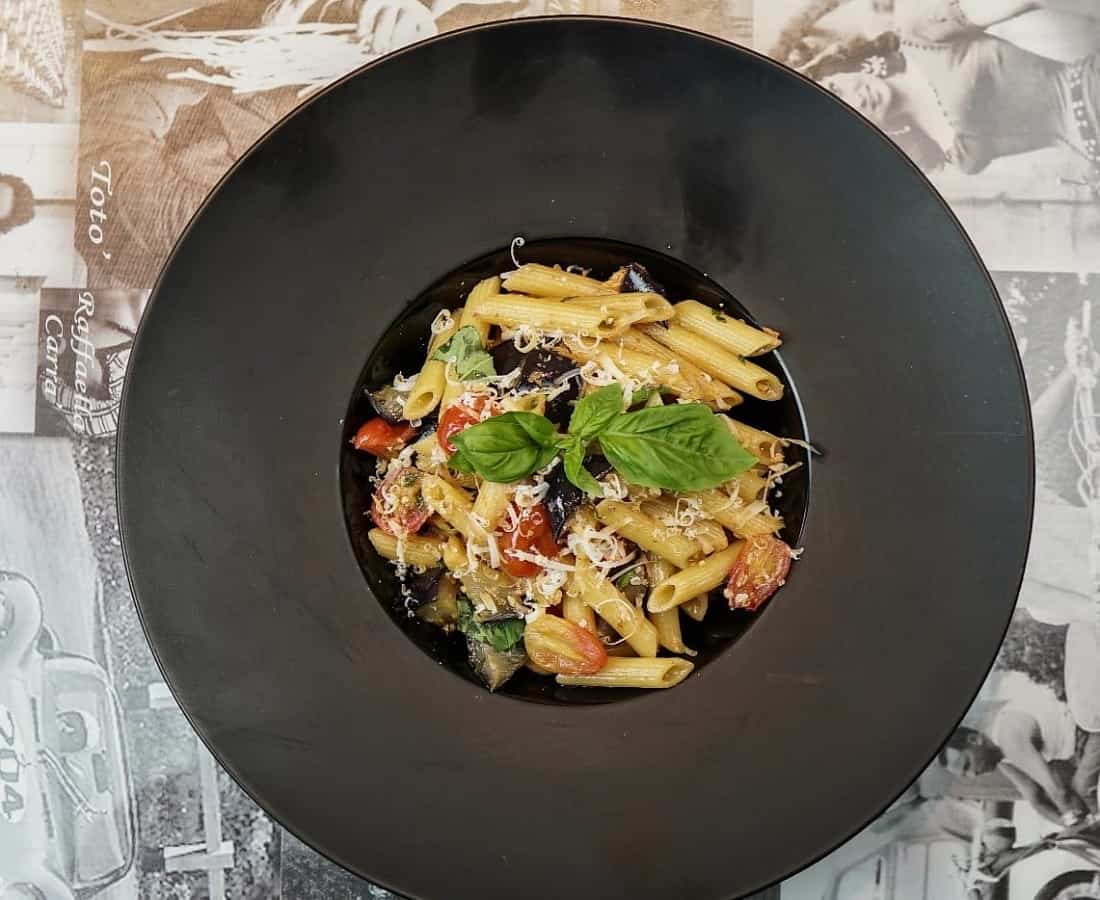 Netflix and carb coma? Yes please. Rosso Vino serves up a slice of Italy with fresh pizzas, pastas, and homemade bread, available for islandwide delivery on Chope and GrabFood. You can't go wrong with a cheesy slice of Prosciutto Crudo (S$29.01), and the prawn-packed Tagliatelle (S$24.47) tossed in fresh pesto is a crowd-pleaser. They've even got options for the gluten-free among us – Penne alla Bolognese (S$25.38) topped with slow-cooked minced beef, or Penne al Granchio (S$29.01) with lobster bisque.
Rosso Vino is located at 15 Merbau Road, Singapore 239032, p. +65 6733 7735. Delivery hours run from 11.30am–12am. Order online here. 
Tablescape
PRICE RANGE: $$$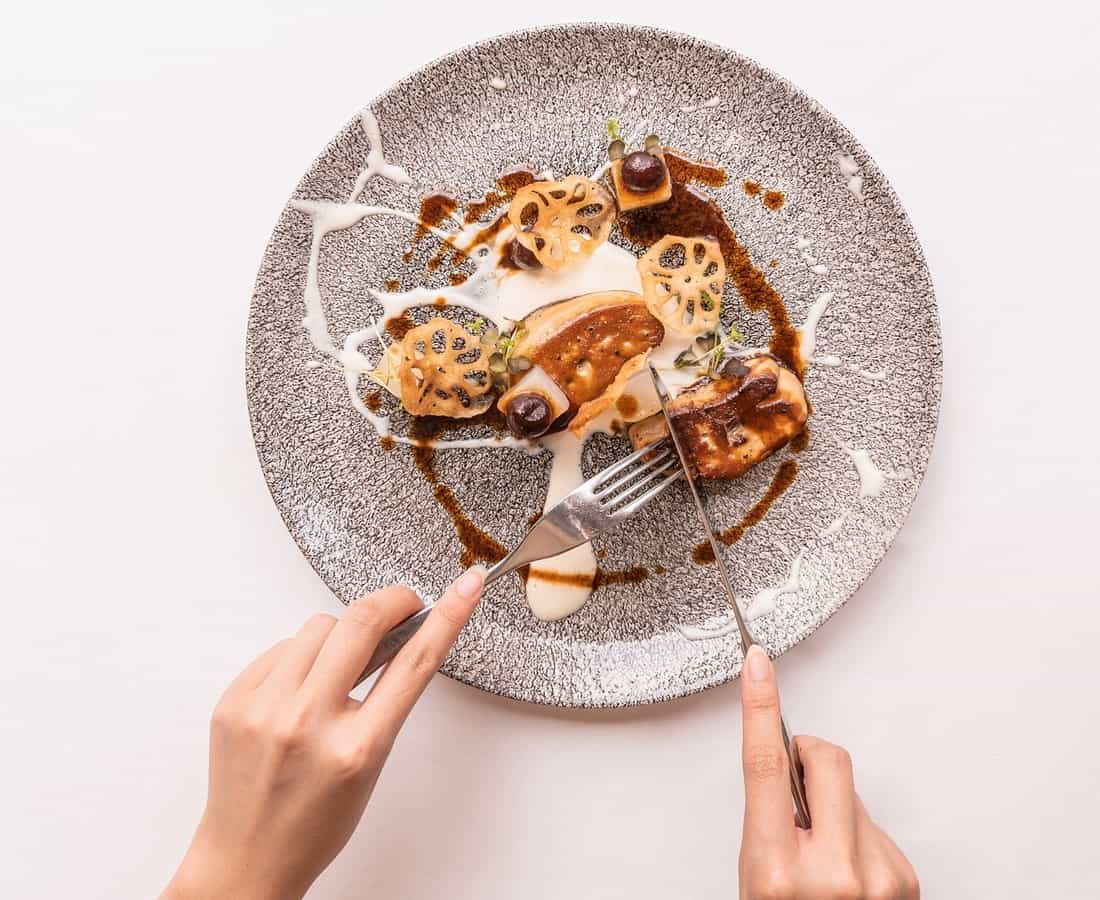 Glamming it up for date night at home? Light the candles, put on some smooth jazz, and sit down to a lavish feast courtesy of Tablescape. Their Weekend Set Lunch and Dinner (S$88.20++ for two) offers nine courses of modern European classics, beginning with octopus salad and pan-seared foie gras, unfolding through luscious roast pork belly and josper oven-baked fish fillet. If you're in the mood for an Afternoon Tea Set (S$61.20), Tablescape's recently refreshed rendition is droolworthy too. Think savouries like foie gras tartlets and sablés topped with bresaola, alongside chocolate hazelnut éclairs and passionfruit pralines.
Tablescape is located at Grand Park City Hall, Level 3, 10 Coleman St, Singapore 179809, p. +65 6432 5566. The Weekend Set Menus are available for delivery and self-collection from Sat-Sun 11.30am–2pm and 6pm–8pm, while the Afternoon Tea Set is available daily 2.30pm–5pm. Order online here. 
COMO Cuisine
PRICE RANGE: $$$
We might not be able to travel the world right now, but we can certainly still eat our way through it at COMO Cuisine. This Dempsey landmark dishes up international signatures from COMO resorts round the globe, and you'll find everything from spiced Lamb Samosa (S$14) to Kurobuta Pork Ribs (S$40) with green papaya salad to an absolutely glorious Lobster Biryani (S$48) on the delivery menu. And since we could all do with an immunity booster, be sure to check out their refreshing salads too.
COMO Cuisine is located at 18A Dempsey Road, Singapore 249677, p. +65 8121 6120. Delivery and takeaway hours run from 12pm–4pm and 5pm–10pm daily. Check out their menus here.
Pura Brasa
PRICE RANGE: $$$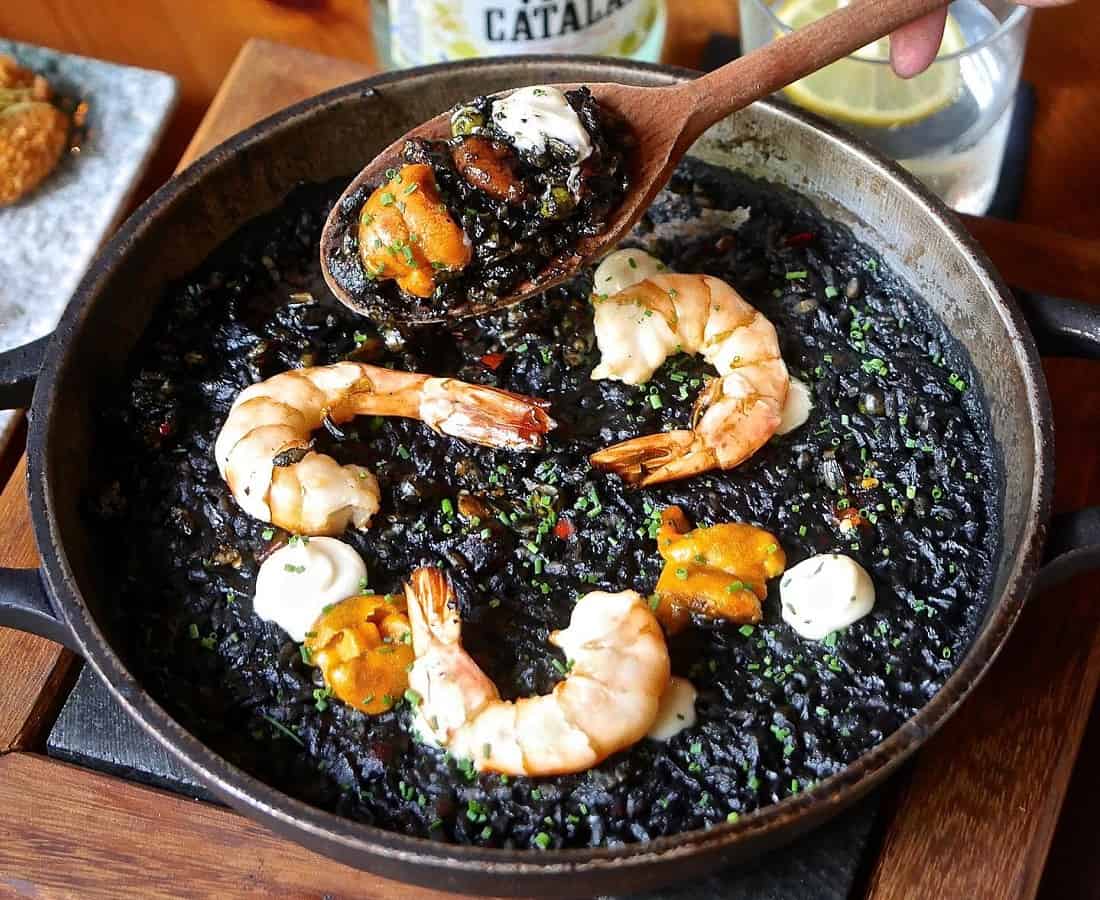 An offshoot of the Spanish restaurant chain by charcoal oven brand Josper, Pura Brasa revolves around the smoky wonders of the grill. Hot from its Josper ovens come a succulent array of classic tapas, meats, and fish. Start off light with snacks like Spanish Omelette with Chorizo (S$16) and Jamon de Bellota Ham on crystal bread (S$38), then dive into Grilled Black Codfish (S$34) fragrant with mushroom ragout. There's no missing out on their Charcoal Seafood Paella (S$36++) either – you'll want to scrape up every last crusty bit.
Pura Brasa is located at 5 Wallich Street, #01-16 Guoco Tower, Singapore 078883, p. +65 6386 9678. Delivery hours run from 12.30pm–9.15pm daily. Order online here. 
The Market Grill
PRICE RANGE: $$$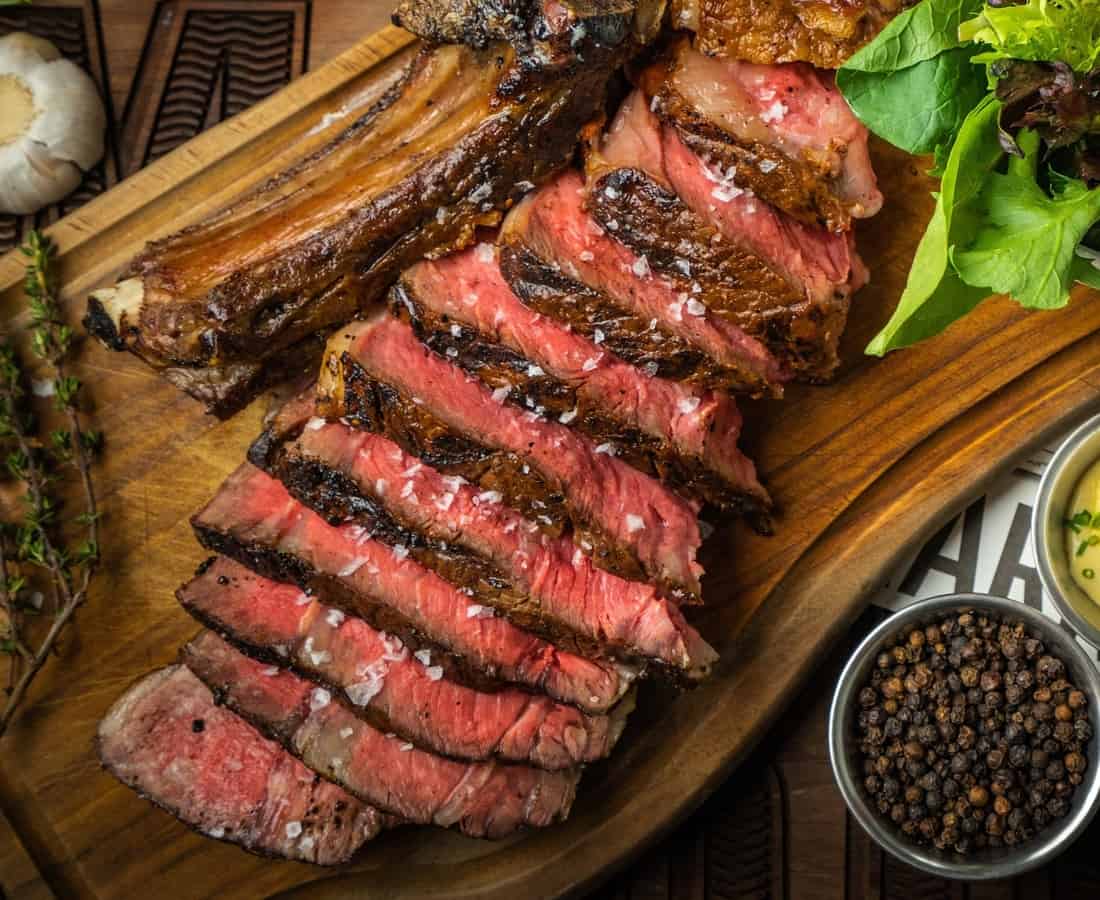 Calling all carnivores: The Market Grill's uber-thick burgs and steaks have your name on them. To satisfy those meaty cravings, the Signature Cheese Burger (S$20++) with bacon and grilled red onions is always a good bet, though the succulent BBQ Pork Short Ribs (S$35++) does the job just as well. For the steak fiends, look no further than the Rangers Valley Black Market Ribeye (S$88++), a melt-in-the-mouth slab of grain-fed MBS 5+ Black Angus beef. If you're having a fuss-free date, check out their burger combos for two (S$60).
The Market Grill is located at 208 Telok Ayer Street, Singapore 068642, p. +65 6221 3323. Pickup and delivery hours run from Mon-Sat 12pm–2.30pm and 7pm–9.30pm. Order online here.
Asian
Dumpling Darlings
PRICE RANGE: $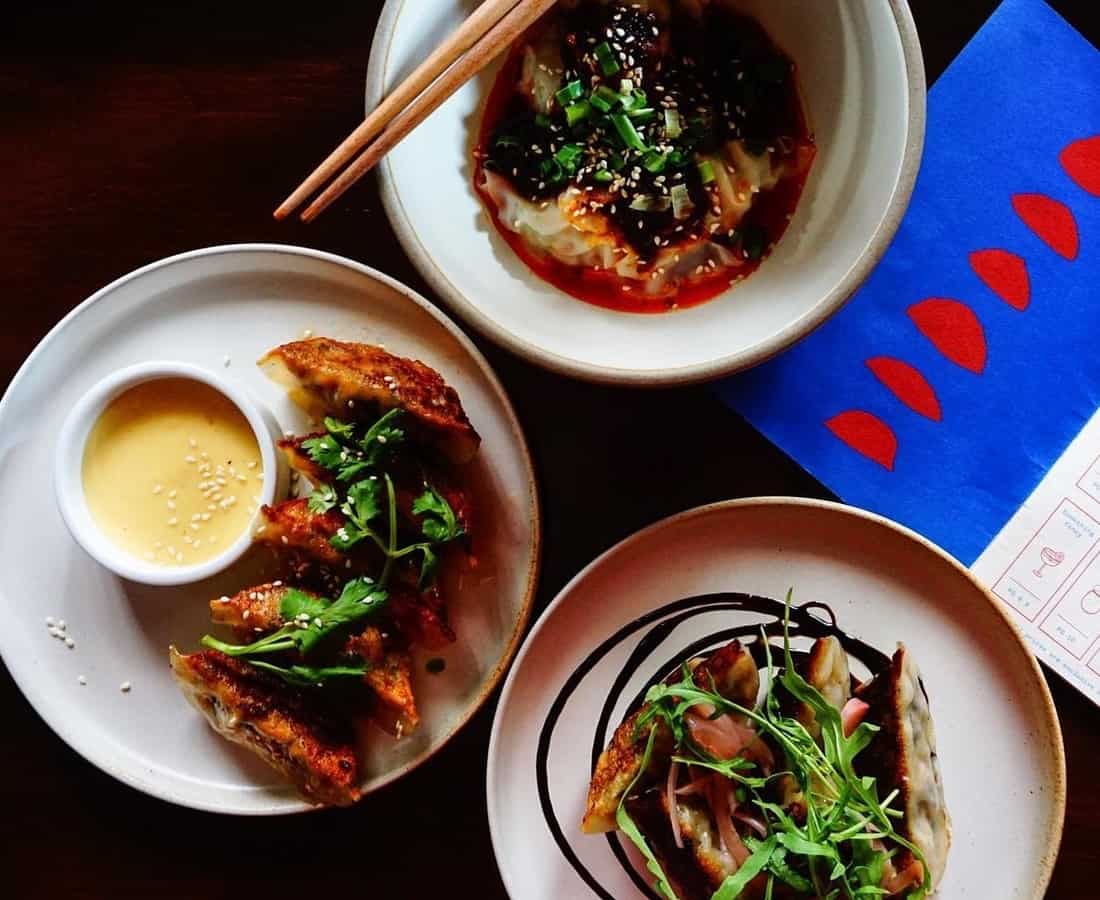 With Dumpling Darlings' delivery and self-pickup menu, you won't need to beat the crowds that regularly stuff this cosy joint. You can find all their savoury dumplings on their online shop in flocks of five (from S$7) or 30, along with their crowd-favourite noods (S$7.50). For the best of both worlds, though, the Dumpling Bento Sets (S$15) are a good bet – each set features your choice of crisp pan-fried dumplings alongside braised pork egg noodles, Sichuan egg noodles, or miso mushroom noodles.
Dumpling Darlings has outlets in Amoy Street and Circular Road. Delivery hours run Tues-Wed & Sun 11.45am–12.45pm, 2.15pm–3.15pm, 6pm–7pm, and 9pm–10.30pm. Order online here. 
Ajumma's
PRICE RANGE: $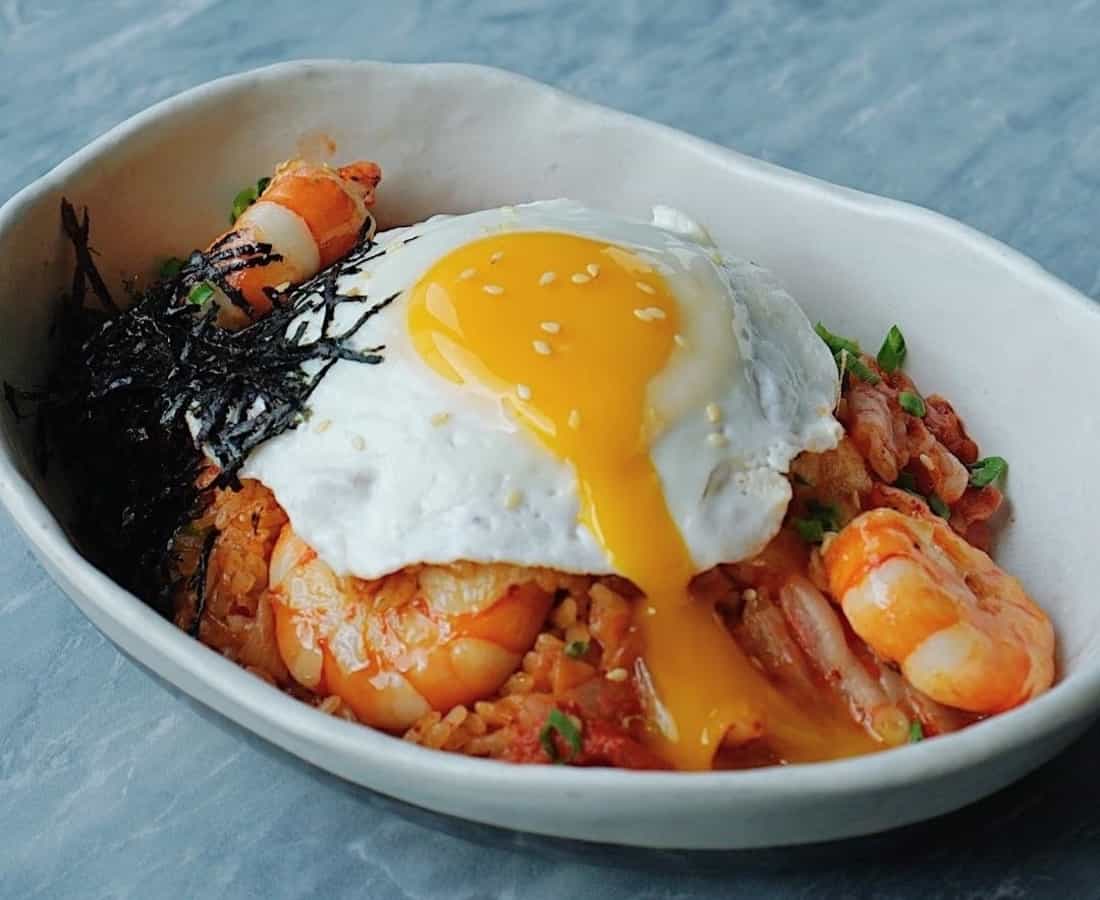 A Korean eatery with wallet-friendly prices, Ajumma's is high on our list of go-tos for belly-warming grub – everything from stews and bulgogi to rice bowls and bundle meals. Homestyle favourites include the Crispy Samgyeopsal with Creamy Scrambled Eggs (S$14.90) as well as the Signature Beef Kalbi (S$`16.90), which stars well-marbled USDA Prime ribs. If you're staying in on a rainy day, their Kimchi Pork Belly Stew (S$15.90) is just what grandma ordered. You won't regret ordering the Fluffy Steamed Eggs (S$6.90) either.
Ajumma's has outlets in Bukit Panjang Plaza and Funan Mall. Delivery hours run from 12.30pm–9.45pm daily. Order online here. 
Kota88
PRICE RANGE: $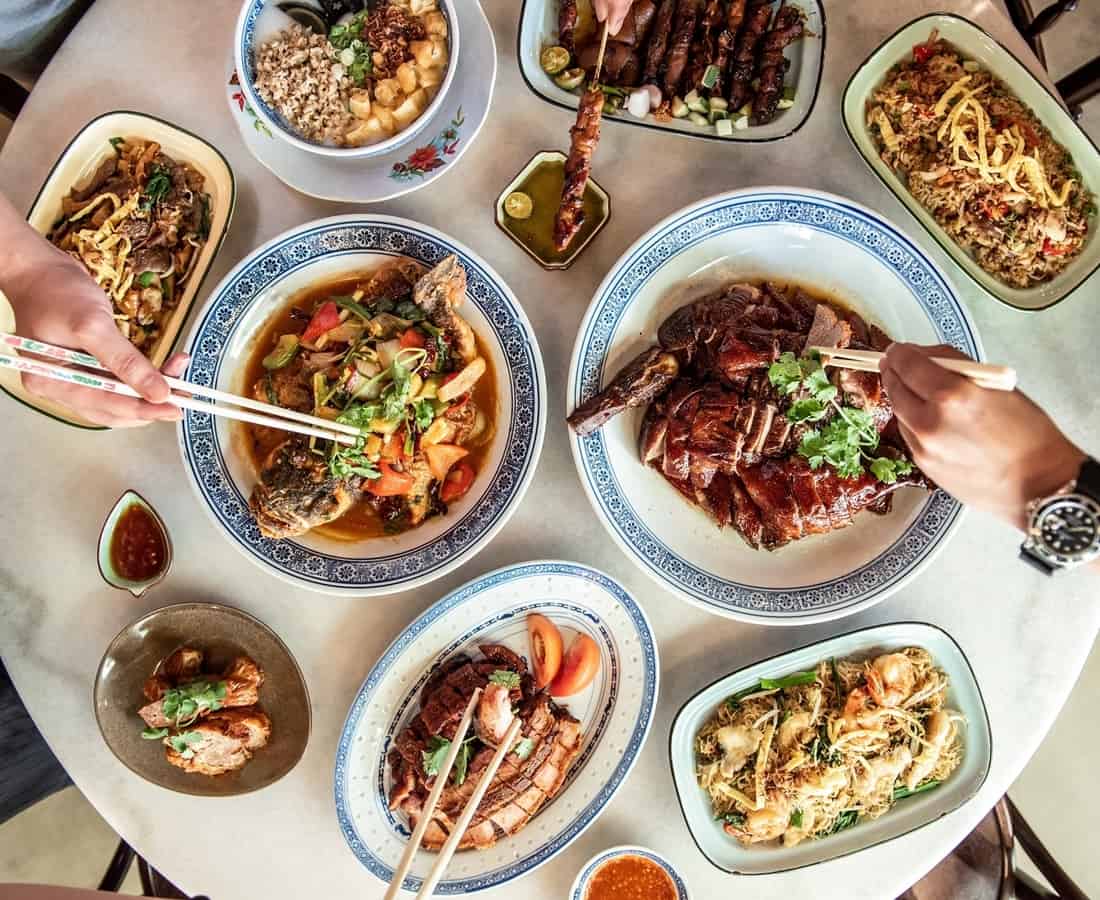 This homely joint in the East keeps the crowds coming back for its Chinese-Indonesian comforts. Favourites here include Nasi Campur Babi (S$14.88), or mixed rice blanketed with BBQ pork, roast pork, sweet pork satay, and fish dumplings; as well as Sate Babi (S$15.88) – ten succulent sticks of pork flesh or offals. We also love their Nasi Goreng Spesial Kota88 (S$13.88), which comes generously heaped with BBQ pork, chicken, and beef balls. If you're throwing a family feast, they've got set meals for four too.
Kota88 is located at 907 East Coast Road #01-02, Singapore 459107, p. +65 6242 2645. Delivery hours run from Mon-Fri 11.45am–3.15pm and 6.45pm–9.30pm, Sat-Sun 12pm–9.30pm. Order online here. 
Eat 3 Bowls
PRICE RANGE: $
Missing Taiwan's bustling night markets? Get your fix of street eats with themed Taiwanese eatery Eat 3 Bowls. Their three famed bowls in question are the lu rou fan or Braised Pork Rice (S$5) packed with fatty pork; the Oyster Intestines Mee Sua (S$7.20) featuring braised pork intestines; and the Taiwanese-style Chicken Rice (S$5) topped with shredded chicken and onions. If you can't pick just one, get 'em all in mini portions with the Eat 3 Bowls (S$13) set. Wash it all down with their bubble tea available for delivery too.
Eat 3 Bowls has outlets in Crawford Lane and Pasir Panjang. Delivery and pick-up hours run from Tues-Sun 12pm–8pm. Order online here. 
Godmama
PRICE RANGE: $$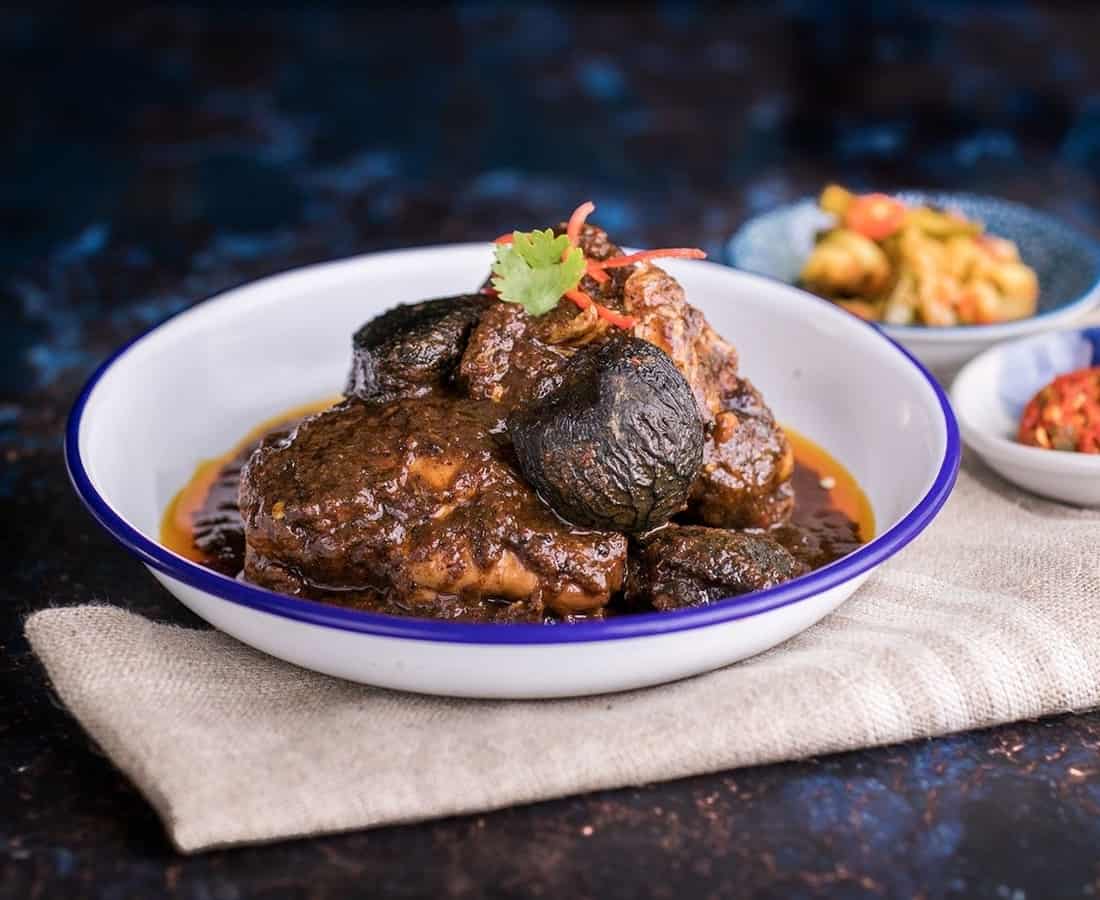 Mothers are always spoiling us with comfort food, and Godmama is no different. This modern Peranakan restaurant has cooked up hearty set menus (from S$48 for two onwards) for you and the fam to enjoy, though you can also feast on their creamy, earthy Ayam Buah Keluak (from S$21.90) and luscious Babi Pongteh (from S$18.90) à la carte. Be sure to stock up on their frozen packs of meat dishes like Beef Rendang (S$15) and Ngoh Hiang (S$9) – they're fuss-free treats when you don't feel like cooking from scratch.
Godmama is located at Funan Mall, #04-07, 107  North Bridge Road, Singapore 179097, p. +65 6970 0828. Delivery and pickup hours run from Mon-Thurs 11am–8.30pm, Sat-Sun 11am–9.30pm. Order online here. 
Enjoy Eating House & Bar
PRICE RANGE: $$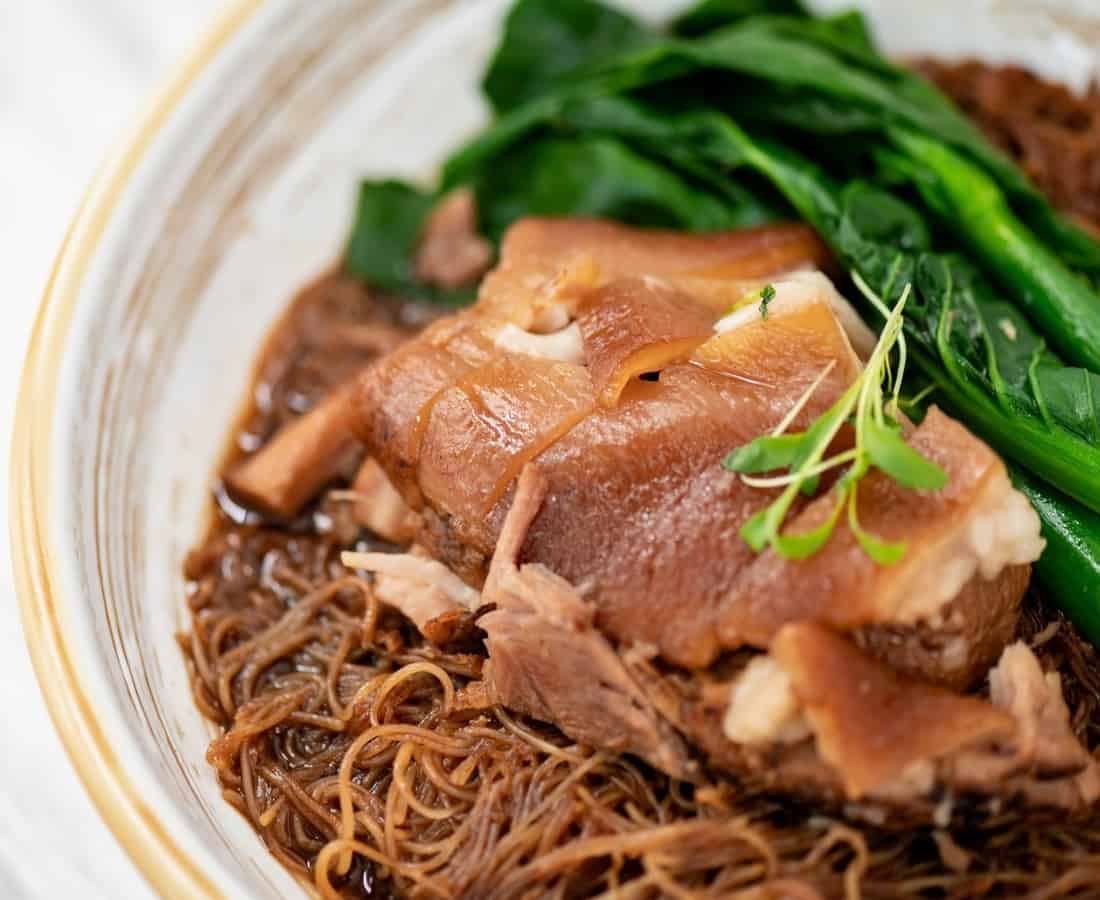 Nostalgic resto-bar Enjoy sizzles up zi char favourites with pinches of modern influence and plenty of wok hei goodness. The Grandma's 'Te Kar' Bee Hoon (S$14.30++), for one, is inspired by the braised pig trotters that chef-owner Joel's grandmother once made, here heaped atop wok-fried beehoon. The Sautéed Otah (S$22.30) sees fresh seafood sautéed in fiery homemade otah paste, while the Ugly Cabbage in Fish Sauce (S$13.30) tastes far better than it looks with its garlicky, smoky punch.
Enjoy Eating House & Bar has outlets in Jalan Besar and Stevens Road. Delivery and pickup hours run from 11.30am–11pm daily. Order online here. 
Tanuki Raw
PRICE RANGE: $$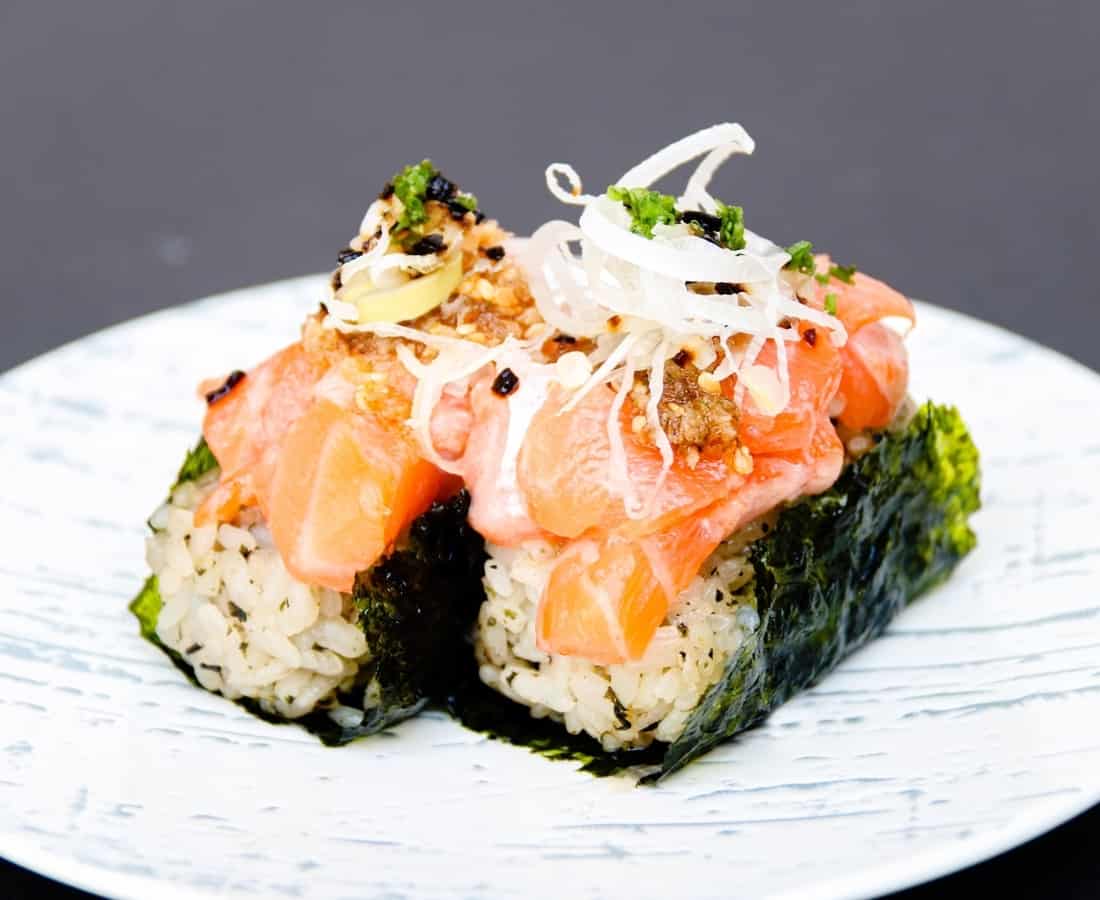 If, like us, you're addicted to Tanuki Raw's Truffle Yakiniku Don (S$19), you can now get it delivered islandwide. This funky raw bar has delivery options for everything from its donburi packed with sashimi and short ribs to its quirky futo rolls (think sushi, but monster-sized). With only two hours' notice required to get our hands on their Mentaiko Beer Cheese Twister Fries (S$15.90) and Snow Crab Bao (S$14.90), we'll just have to bid our diets goodbye.
Tanuki Raw has outlets in Orchard Central, National Design Centre, Jewel Changi Airport, and Funan. Delivery hours run from 12pm–9pm daily. Order online here.
Zaffron Kitchen
PRICE RANGE: $$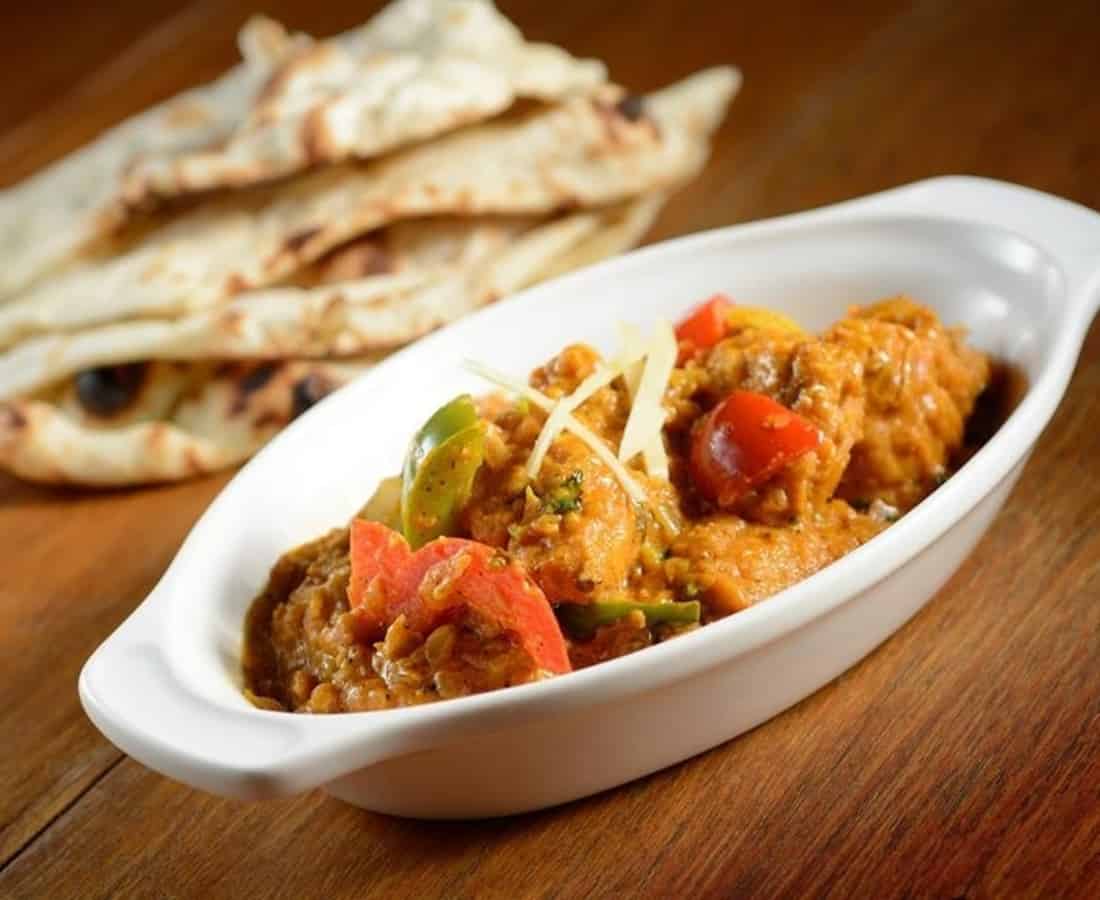 Zaffron Kitchen is set to spice up your stay-home life with a medley of North Indian classics, from curries and biryani to meats and breads fresh from their tandoor oven. The Zaffron Chicken Biryani (S$18.15) is a showstopper of fluffy, fragrant rice, while the Fish Tikka (S$17.60) is deliciously charred round the edges. You'll need some buttery Garlic Naan (S$5.80) to sop up curry comforts like the Mutton Masala (S$20.90). They've also got wallet-friendly bundle sets for two and four.
Zaffron Kitchen has outlets in East Coast Road, Great World, and The Star Vista. Delivery hours run from Mon-Fri 12pm–2.45pm and 5.30pm–9pm, Sat-Sun 12pm–9pm. Order online here. 
Social Place
PRICE RANGE: $$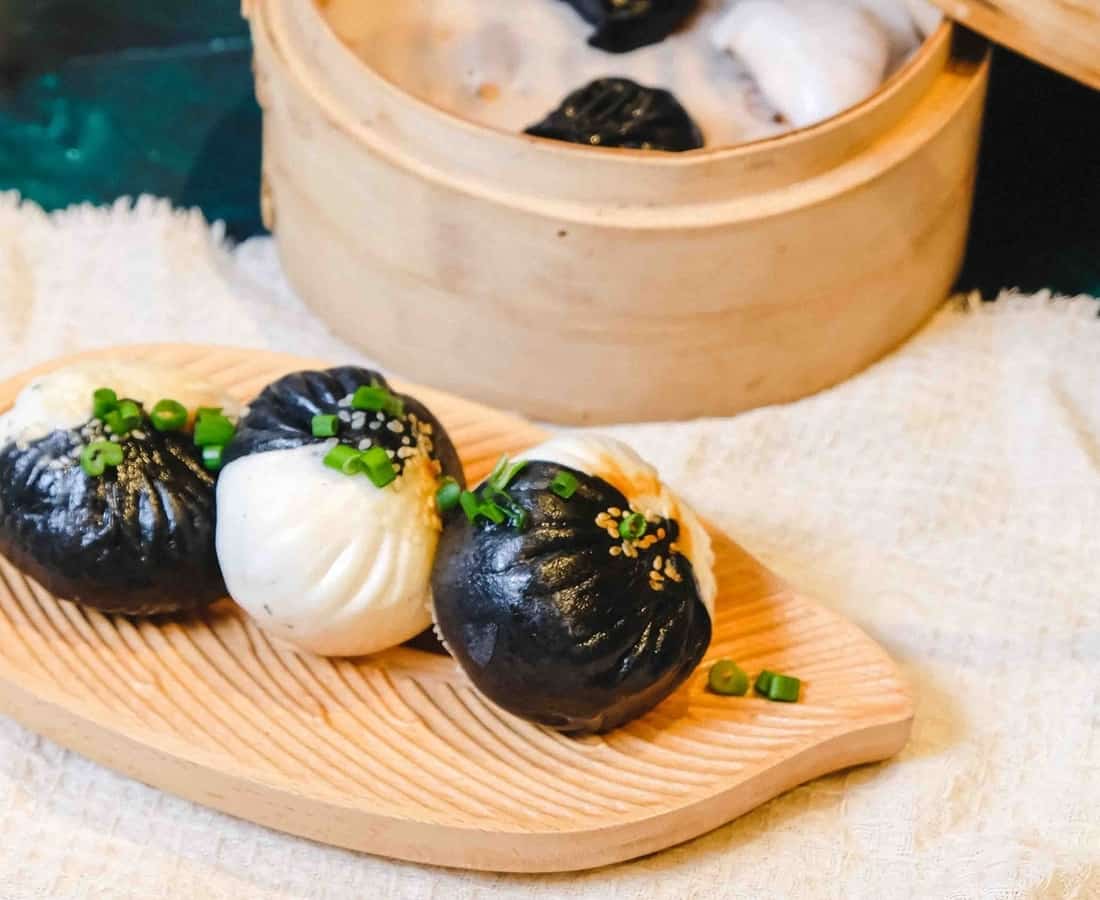 Social distancing may be the watchword for our times, but Social Place is still here for our dimsum cravings. This chic tea house steams up a scrumptious delivery and takeaway menu of reinvented Cantonese bites. Signatures here include the daring Sweet & Sour Pork on Ice (S$27.28) and Eggs (Ain't) That Simple (S$25.08), a playful riff on Sichuan fried chicken featuring mango pudding 'yolks'. The dimsum, though, is the star attraction – opt for the Dimsum Platter (S$14.08) to enjoy a range of five bites, or head straight for their pillowy Charcoal Custard Buns (S$9.68).
Social Place is located at 583 Orchard Road, Forum the Shopping Mall #01-22, p. +65 8870 2288. Delivery and pickup hours run from 12pm–2.30pm and 6.30pm–9.30pm daily. Order online here. 
Kazbar
PRICE RANGE: $$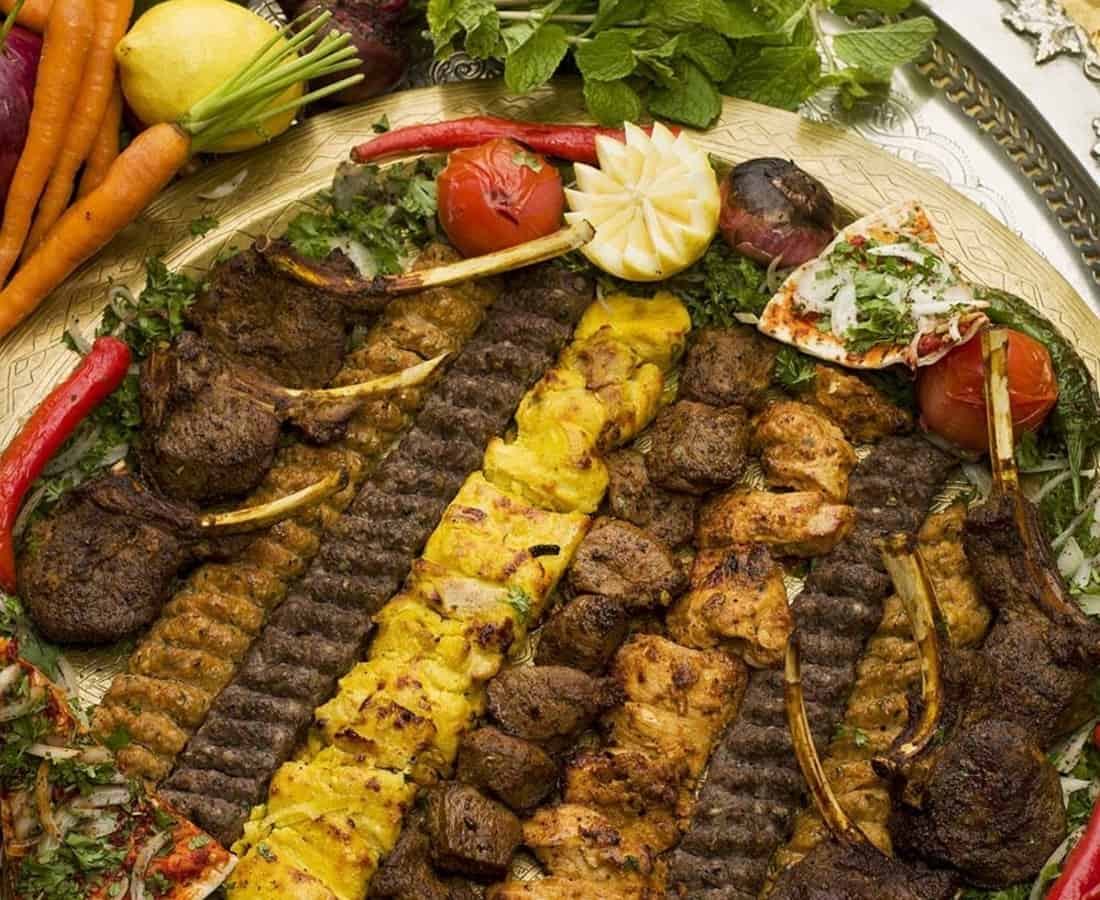 Did someone say pita party? Kazbar is sending its Middle Eastern magic to our doorstep, with a whole array of dips, salads, and grilled delights on the delivery menu. Work up an appetite with za'atar-spiced flatbread and traditional dips like Hummus (S$16++) and Babaghanoush (S$16.50++), then dig into smoke-kissed offerings such as lamb Shish Kebab (S$27.50) and Prawn Kebab (S$36.50). For a quick lunch, pick up one of their bento sets – and throw in a bottle of Lebanese wine for happy hour.
Kazbar is located at 25 Church Street, Singapore 049482, p. +65 6438 2975. Delivery hours run from Tues-Fri & Sun 12.30pm–3.30pm and 6pm–10pm. Order online here.
The Blue Ginger
PRICE RANGE: $$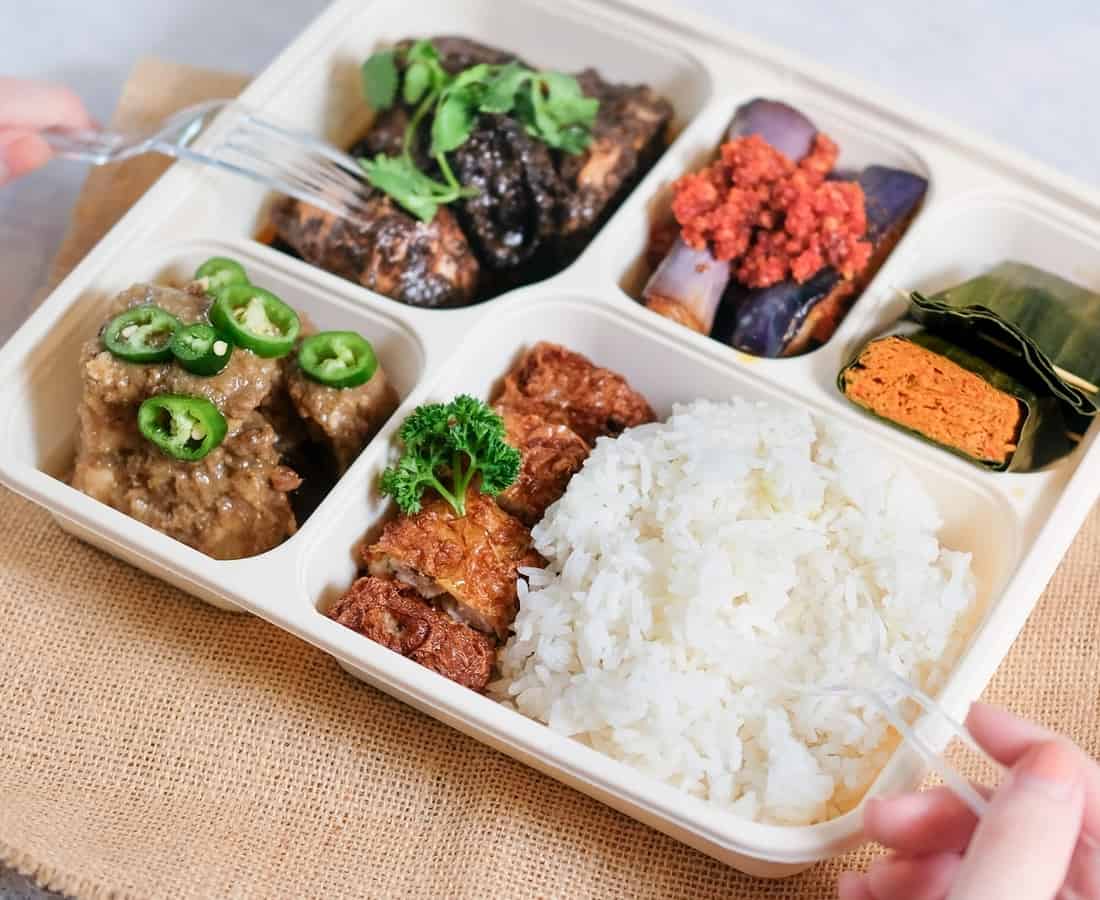 The Blue Ginger is a mainstay in our Peranakan restaurant scene, having served up time-honoured nosh for 26 years and counting. Our go-to here is the smokily good Ayam Panggang "Blue Ginger" (S$16), but we can never resist a helping of their fall-off-the-bone Pork Ribs Assam (S$16) as well. For a serious punch of spice, opt for the unassuming Terong Goreng Cili (S$13) – silky slices of deep-fried eggplant – or Udang Nonya (S$28), tiger prawns sautéed with fermented bean paste.
The Blue Ginger has outlets in Tanjong Pagar and Great World. Delivery and picup hours run from Mon-Fri 11.30am–2.30pm and 6pm–8.30pm, Sat-Sun 11.30am–8pm. Order online here. 
Si Chuan Dou Hua Restaurant
PRICE RANGE: $$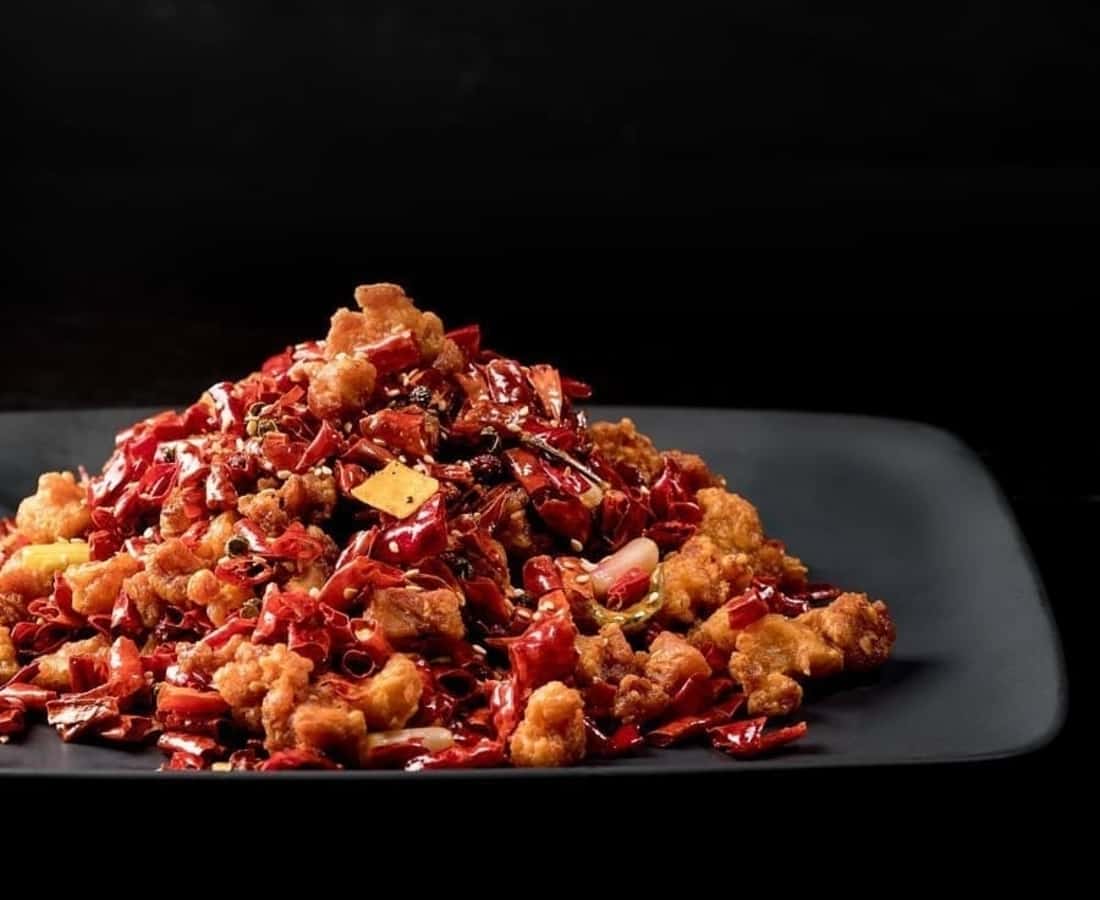 Spice up your stay-home life with Si Chuan Dou Hua's fiery delicacies. This Sichuan hotspot delivers à la carte offerings such as 'Chong Qing' Chilled Chicken with Spicy Bean Paste (from S$20), Sichuan Hot and Sour Seafood Soup (from S$12), and Stir-Fried Diced Beef with Sliced Garlic (from S$28), along with a tasty range of bento boxes. Planning a family feast? Their six-course set menus (from S$220) are enough to get your whole fam's tongues tingling.
Si Chuan Dou Hua Restaurant has outlets in UOB Plaza, PARKROYAL on Beach Road, and PARKROYAL on Kitchener Road. Delivery hours run from 11.30am–2.30pm daily. Order online here. 
ISHI
PRICE RANGE: $$$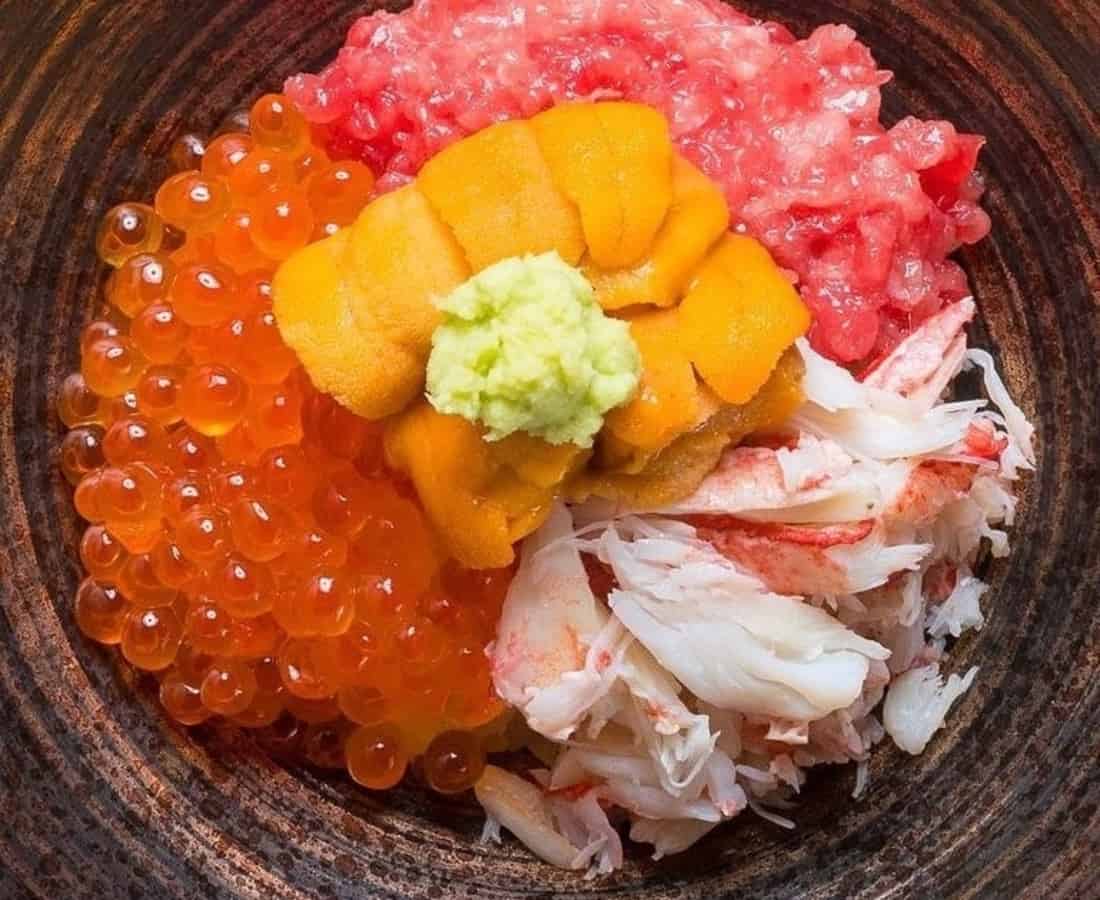 Bring the Japanese spirit of omotenashi into your home with ISHI's sumptuous offerings. This omakase restaurant delivers a curation of à la carte dons and sushi sets to our doorsteps, crafted with fresh catch from Japan. The Bara Chirashi (S$55) set brings together the chef's choice of seasonal seafood, while the Special Bara Chirashi (S$95) ups the ante with coveted gems like uni, kani, and otoro. For sushi indulgence, plump for the Toro Roll (S$75) – a set of four maki rolled with otoro, akami, and negitoro.
ISHI is located at InterContinental Singapore Robertson Quay, #02-06, 1 Nanson Rd, Singapore 238909, p. +65 9829 8239. Delivery hours run from Tues-Sun 11.30am–12.30pm and 6pm–7pm. Order online here. 
Patara Fine Thai Cuisine
PRICE RANGE: $$$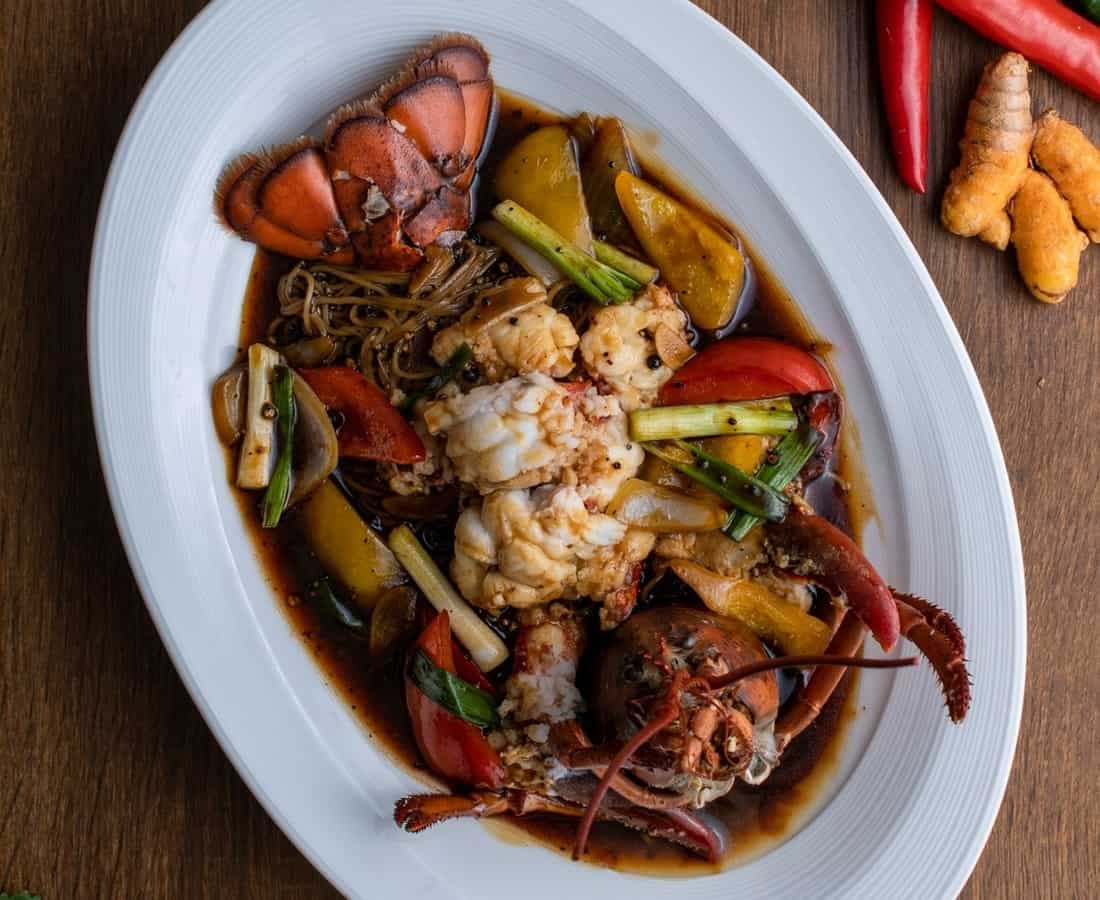 A mainstay in Tanglin Mall for over two decades, Patara Fine Thai Cuisine balances staying true to the classics with a sprinkling of inventive touches. While timeless dishes like Black Olive Fried Rice (S$23.54) are impeccably done here, they also whip up some mean Crispy Thai Tacos (S$20.33) – minced chicken, prawns, and tofu stuffed in tortillas. Comforts like the slow-cooked, meltingly soft Wagyu Beef Cheek (S$37.45) don't disappoint, nor does the Stir-Fried King Prawn (S$38.52) in coconut milk spiced with bird's-eye chilis.
Patara Fine Thai Cuisine is located at Tanglin Mall #03-14, 163 Tanglin Road, Singapore 247933, p. +65 6737 0818. Delivery and pickup hours run from 11.30am–9pm daily. Order online here. 
JUMBO Seafood
PRICE RANGE: $$$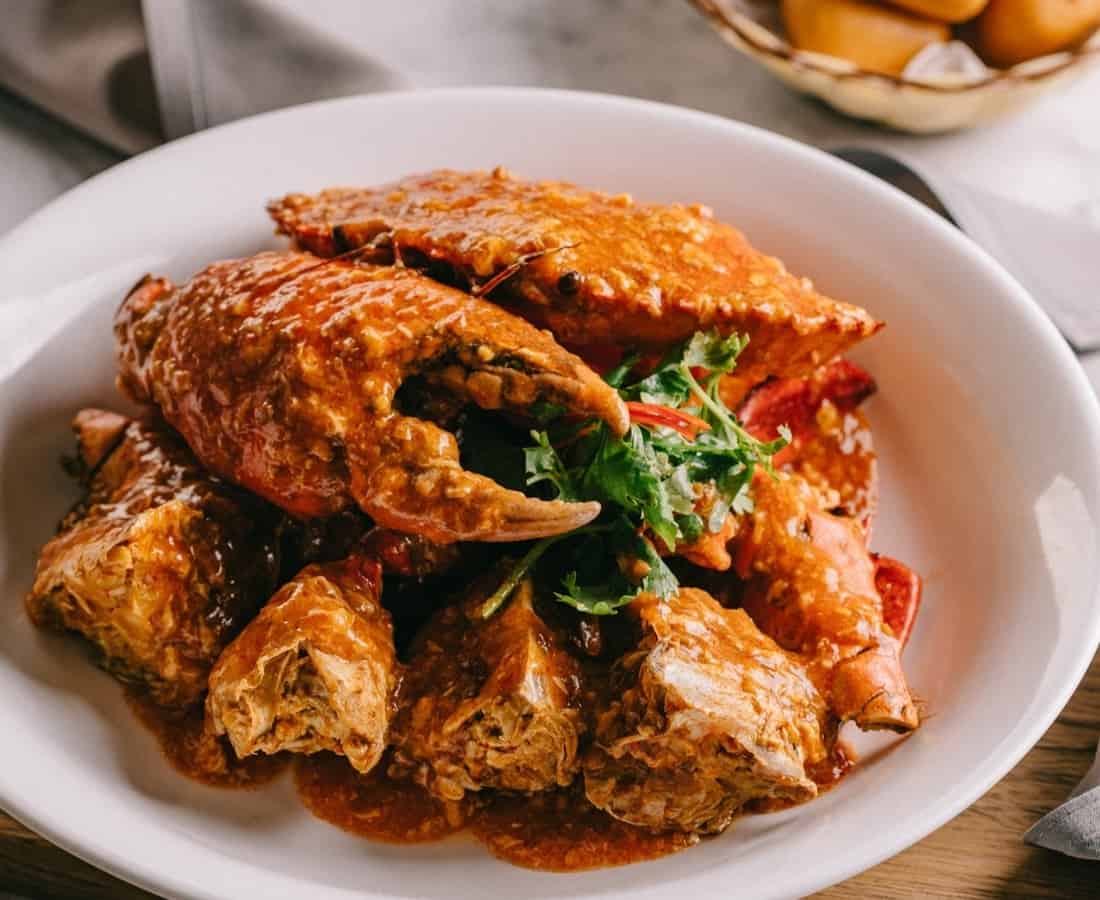 JUMBO Seafood has long been a household name for fresh catch, and you can reel in their gems from the comfort of home. Feast on signatures like Live Boston Lobster Braised in Superior Stock (S$69.50) and Deshelled Prawns Fried with Golden Salted Egg (S$28.50), alongside an array of mud crabs and live fish. Mop up their chili crab and pepper crab dishes with some piping hot Fried Mantou (S$19.90), or simply pour the leftover gravy over their Supreme Seafood Fried Rice (S$23.50).
JUMBO Seafood has outlets in East Coast Seafood Centre, Riverside Point, The Riverwalk, Dempsey Hill, and ION Orchard. Order online here. 
Top Image: The Market Grill