15 Best First Date Restaurants in Singapore To Impress Your Date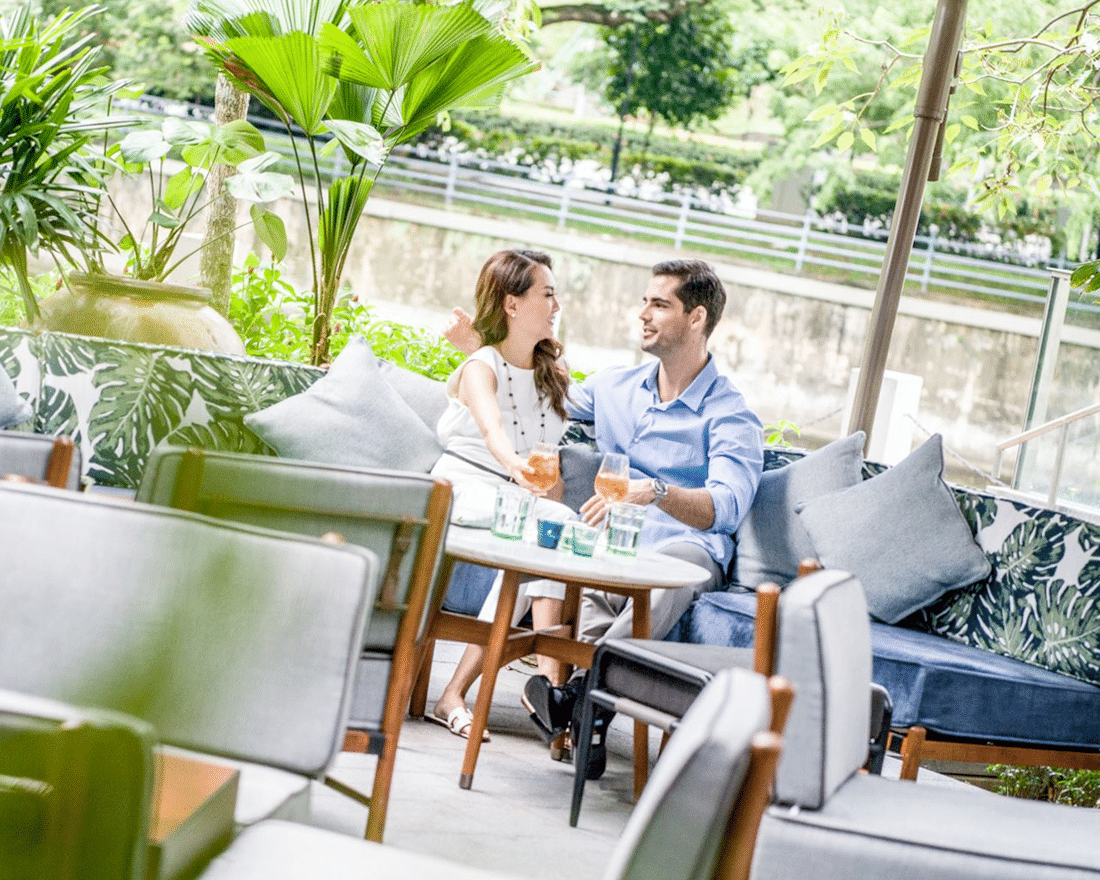 PUBLISHED May 17th, 2018 09:39 am
So, you've plucked up the courage and asked that cute guy or girl out for dinner and they said yes. Level one is a mission accomplished, but here comes stage two: where should you take them to? Oh crap.
Choosing a date restaurant can be a veritable mine field. You want a place that has a cool atmosphere, that combines a good buzz but without being so loud that you can't hear each other. And not to sound like a cheap Charlie, somewhere that isn't going to break the bank. I mean, it is the first date after all.
Bincho

Bring your date along to Bincho and she'll bound to be impressed. This super cool hidden gem by Unlisted Collection resides behind the mee pok stall (you know, the one from Eric Khoo's Mee Pok Man) at Tiong Bahru's Moh Guan Street. Walk through the old shophouse to find a magical surprise of fine yakitori – including masterful grilled skewers of chicken tail, cartilage, and liver – and Japanese whisky led by veteran Chef Asai. Progressive cocktails also await you at the bar, if you manage to get that far.
Bincho is located at 78 Moh Guan Terrace, #01-19, Singapore 162078, p. +65 6438 4567. Open Tue-Sun 12pm – 3pm, 6pm – 12am.

The Black Swan

If you're feeling like a classic night kind of date, The Black Swan gives you that rare chance to dress up go all Great Gatsby. Specialising in chophouse specials (think wagyu steaks and pork chops) with a modern twist, there should be something for everyone here, even if your date's a vegetarian. And of course, the bar isn't too shabby at all. In fact, they're building up quite a good reputation for their wines, courtesy of Sommelier Xi Yang. Read our review here.
The Black Swan is located at 19 Cecil St, Singapore 049704, p. +65 6438 3757. Open Mon 11.30am – 11pm, Tue-Thu 11.30am – 12am, Fri 11.30am – 1am, Sat 5pm – 12am. Closed Sun.

The Summerhouse

Romance is in the air at this serene hideaway tucked away at Seletar Aerospace Park. Even if you don't splurge on one of the restaurant's three garden domes, dining inside the Colonial-era bungalow will earn you plenty of brownie points. The fare here? Farm-to-table cuisine with a focus on produce harvested fresh from their garden. Read our review here.
The Summerhouse is located at 3 Park Ln, Singapore 798387, p. +65 6262 1063. Open Wed-Fri 6pm – 10pm, Sat-Sun 12pm – 3pm, 6pm – 10pm.
FOC PIM PAM

Aside from serving up some spectacular Spanish tapas (Cherry Gazpacho or Tuna Belly Salad, anyone?) and a mouthwatering array of gourmet canned seafood, FOC PIM PAM is a good place to grab a glass of premium sherry (they do delicious G&Ts as well) and watch people go by – so you know, things don't get too awkward. Read our review here.

FOC PIM PAM is located at #01-29 Claymore Connect, 442 Orchard Rd, Singapore 238879, p. +65 6100 4242. Open daily 8am – 12am.
Publico Ristorante

Publico Ristorante is set by Robertson Quay, which makes for a great place to take a stroll if things go smoothly. Casual Italian food is the name of the game here, and if their twin wood-fired ovens are anything to go by, the eight-inch pizzas are spankin' delicious – great with a signature spritz or two. And what better way to break the ice than to share from the same pan? Read our review here.

Publico Ristorante is located at 1 Nanson Rd, Singapore 238909, p. +65 6826 5041. Open Mon-Thu 6pm – 11pm, Fri-Sat 6pm – 11pm, Sun 1pm – 6pm (pizza & drinks), 6pm – 10pm.
Moosehead Kitchen-Bar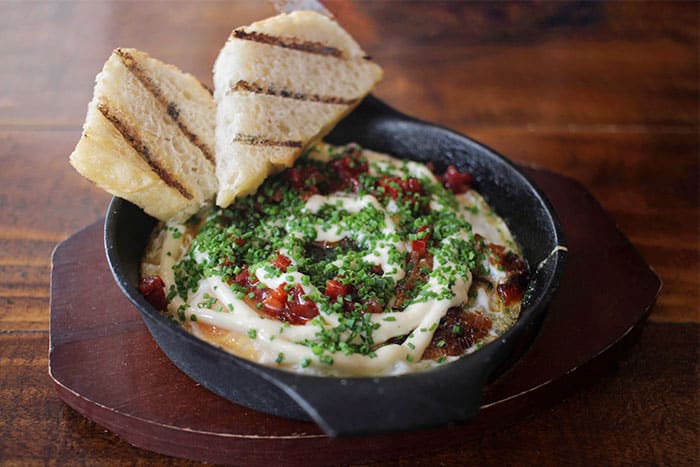 Located at Telok Ayer in the middle of Singapore's CBD, Moosehead is as convenient as it gets for an after-work date. With cosy seating and a relaxed atmosphere, the restaurant is all about hearty Mediterranean-influenced dishes, from meaty cuts of O'Connor sirloin to fried artichokes with taramasalata. And don't forget the wines too. Read our review here.
Moosehead Kitchen-Bar is located at 110 Telok Ayer Street, Singapore 068579, p. +65 6636 8055. Opens Mon-Fri 12pm – 2.30pm, 6pm – 10.30pm; Sat 6pm – 10.30pm. Closed Sun.

Firebake

If rustic bread is your kind of thing, look no further than Firebake for an yeast-y date. Think woodfire-baked loafs of artisanal sourdough, accompanied with incredible Norwegian butter and options of lemon vanilla marmalade and vegemite – and that's not all you'll find from their kitchen. They do a mean chicken liver pate, an excellent Ranger Valley striploin, and grilled pork belly dish as well. Read our review here.

Firebake is located at 237 East Coast Road, Singapore 428930, p. +65 6440 1228. Open Tue-Fri 6pm-10pm, Sat-Sun 11.30am-2.30pm, 6pm-10pm. Closed Monday.
Caffe Fernet

Imagine dining on bright Italian-inspired dishes and your favourite Italian cocktails against the backdrop of Marina Bay – makes for a sweet first date, don't you think? Caffe Fernet is the latest venture by the Jigger & Pony Group, and the waterfront spot is already one of those places to be seen at. As they like to say, will you be finding the 'cacio' to your 'pepe' anytime soon? Read our review here.

Caffe Fernet is located at Caffe Fernet is located at #01-05 Customs House, 70 Collyer Quay, Singapore 049232, p. +65 9178 1105. Open Mon-Thu 5pm – 12am, Fri 5pm – 2am, Sat 11am – 2am, Sun 11am – 5pm.
Bochinche

Sultry, sexy, and Argentinian – surely there could be no better combination for a first date? Sit up at the counter looking into the open kitchen and you'll have plenty to talk about, plus a chance to get a little bit closer.  With delicious Argentinian small plates made for sharing, a buzzy vibe, and the option to move on for cocktails nearby along Amoy Street, Bochinche absolutely hits the first date spot.

Bochinche is located at 115 Amoy Street #01-02, Singapore 069935, p. +65 6235 4990. Open Mon-Thu 12pm – 2.30pm, 6pm – 10.30pm, Fri-Sat 12pm – 2.30pm, 6pm – 11pm. Closed Sun.
Sumo Bar Happy

Sumo Bar Happy is the place for big bowls of ramen, cup sake, and yes, a very casual first date. Tonkotsu ramen is the name of the game here, its creamy broth prepared by boiling bones and fat for a good 48 hours. In particular, the massive 600g Bone-in Short Rib Ramen is perfect for sharing – because that's something cute that people do on dates, right? Read our review here.

Sumo Bar Happy is located at #01-24, Waterloo Centre, 261 Waterloo St, Singapore 180261. Open Mon-Sat 12pm – 12am, Sun 12pm – 10pm.
Birds of a Feather

Nothing sets the mood like dim lighting and lush indoor plants, and with the spicy Sichuan-inspired dishes at Birds at a Feather, the heat will be turned up in no time. Highlights at this stylish restaurant include the Bird' Signature Burger (charcoal-grilled beef patty, foie gras) and Spicy Oriental Bolognaise – even the cocktails here are pretty as heck. Read our review here.

Birds of a Feather is located at 115 Amoy St, Singapore 069935, p. +65 6221 7449. Open Mon-Thu 10am-11pm, Fri-Sat 10am-12am, Sun 10am-6pm.
Lucha Loco

Is your idea of a first date one with tacos and tequila shots? Lucha Loco, with its tropical beer garden and fairy lights, is your best bet. Put on some cheap sombreros, grab a maracas, and start shaking that body in between bouts of tostaditas, street-style grilled corn, and Asado barbecued chicken. Your date is bound to be impressed, or well, unimpressed – but hey, it's still a lot of fun. Read our review here.
Lucha Loco is located at 15 Duxton Hill, Singapore 089598, p. +65 6226 3938. Open Tue-Fri 12pm – 4pm, 5pm – 11.45pm, Sat 6pm – 1am.
Amò

If you want your special occasion  to look like a tropical getaway, Amò's outdoor courtyard is a good bet. This smart-casual Italian eatery and bar is launched by established restaurateur-chef Beppe De Vito, bringing you fresh pastas (think spaghetti chitarra with crab in seafood sauce and gnocchi coated in butternut and orange salmoriglio) and all sorts of pizzas that stray away from the conventional. And if it were up to us, pizza would be the language of love. Read our review here.

Amò is located at 33 Hong Kong St, Singapore 059672, p. +6723 7733. Open Mon-Fri 12pm – 3pm, 6pm – 11pm, Sat 6pm – 11pm. Closed Sun.
L'Entrecote (Glasshouse by DHM)

L'Entrecôte has a solid reputation for dishing out some of Singapore's best steak frites, presenting premium cuts paired with free-flow crispy fries and a fresh salad with mustard dressing and walnuts. And don't get us started on the wide selection of starters (try the Escargots de Bourgogne if your date isn't, you know, too squeamish) and more than 10 dessert creations on offer. The newest outlet at The Heeren is particularly romantic with its lavish decor and romantic red table setting.
L'Entrecôte (Glasshouse by DHM) is located at 260 Orchard Rd, Robinsons The Heeren #01-40, Singapore 238855, p. +65 6235 4475. Open Mon-Thu 11.30am – 10.30pm, Fri 11.30am – 12am, Sat 11am – 12am, Sun 11am – 10.30pm.
Summerlong

Best for a weekend brunch date, this idyllic Robertson Quay restaurant and bar dishes out fairly delicious Eastern Mediterranean grub that looks amazing to boot. Soak in the 'city beach' vibes as you lovebirds gobble up plate after plate of hummus, flat breads, black kale salads, and our top pick, the charred octopus by the river. Read our review here.

Summerlong is located at 60 Robertson Qy #01-04, Singapore 238252, p. +65 6235 1225. Open Mon-Fri 5.30pm – 12am, Sat-Sun 10.30am – 3pm, 6pm – 12am.
Top Image: Summerlong